30+ Spring Decor Ideas for 2023
So I have to admit, Spring is probably my least favorite season. Why? Springtime in Minnesota isn't all raincoats and rainbows. It's usually cold, slushy, dreary, and an extension of our already long winter.
But there is nothing like after a long, cold winter, then seeing spring decor ideas pop into my Pinterest feed! It reminds me that there is hope for brighter, sunnier days and most importantly…time to change up my home decor!
Honestly, it's amazing what a transition from deep, wintery tones to vibrant spring color can do for not only your home but your mood as well.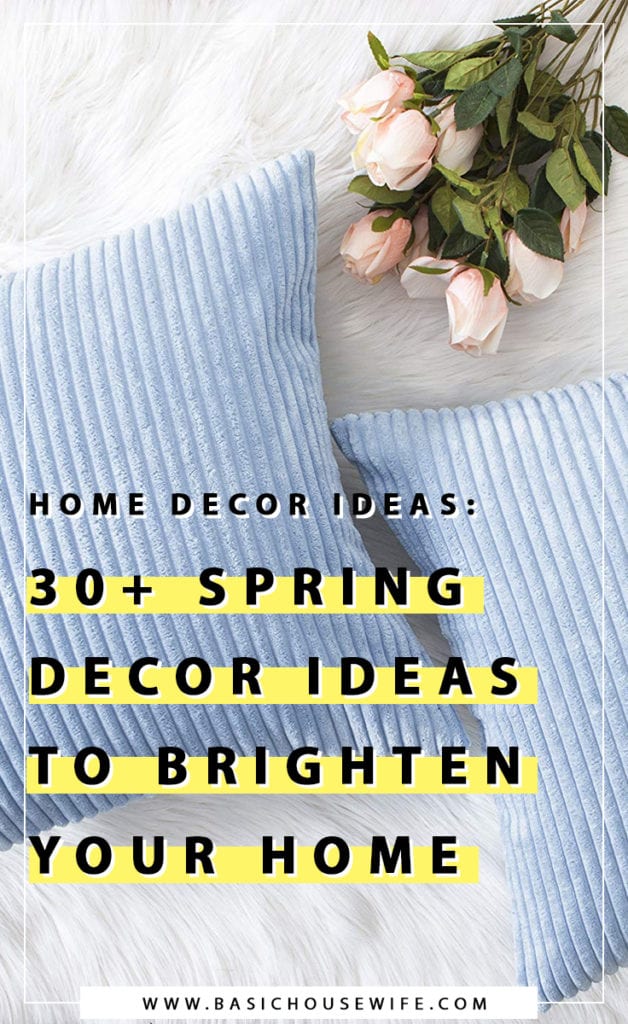 30+ Spring Decor Ideas for Your Home
So that's why I'm here: To help you brighten up your home and your mood. I've rounded up 30+ spring decor ideas to get your home in gear for the spring season. Not to mention, they are super affordable options as well!
Ready to get started? I've broken the items into categories so whether you're shopping for spring table decorations or spring door wreaths, you'll hopefully find something you love!
---
Spring Table Decorations & Mantle Decor
Looking for the perfect spring decor ideas for your kitchen table, mantle, or windowsills? This section has all of the spring table decorations you could need!
Artificial Potted Shrubs, Set of 3

This set of potted shrubs are so dang cute and are the perfect way to welcome spring! I'm picturing these as a table centerpiece or sitting along a windowsill. So pretty!
Shop these potted shrubs here.
---
Pastel Ceramic Vases, Set of 4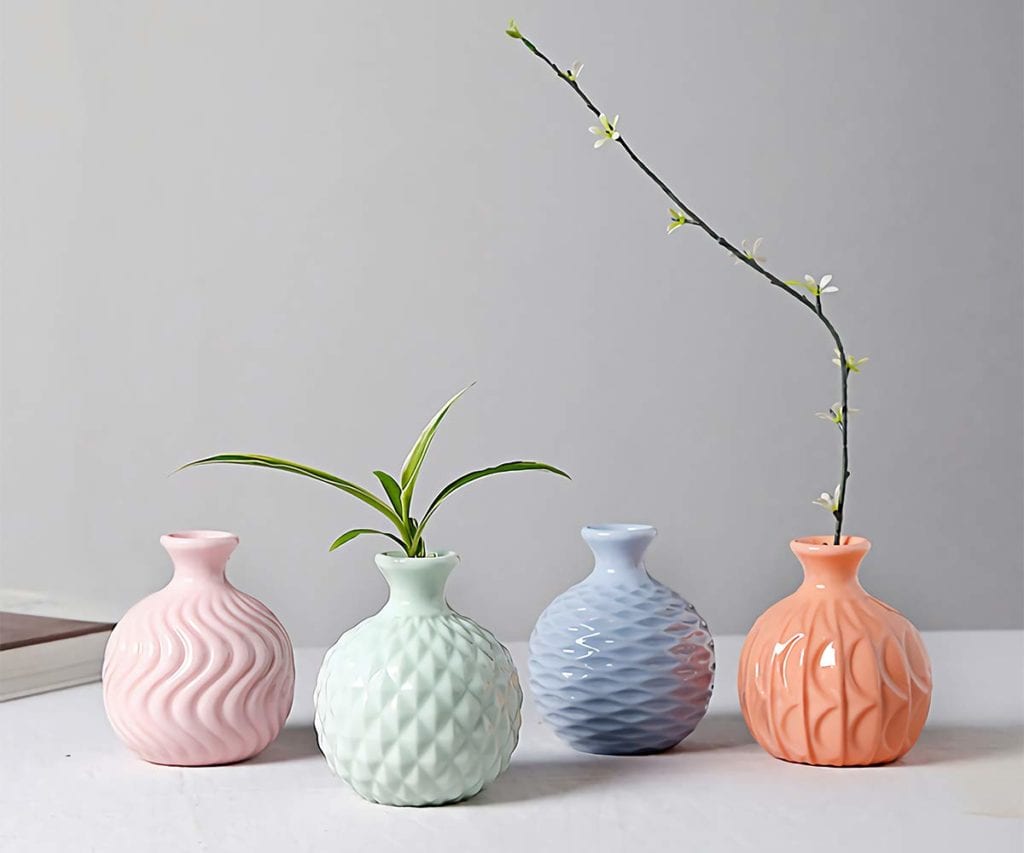 How freaking cute are these little vases? These would be so adorable on a windowsill or on a decorative tray in a living room or bedroom.
Shop these ceramic vases here.
---
Rustic Wood "Home" Sign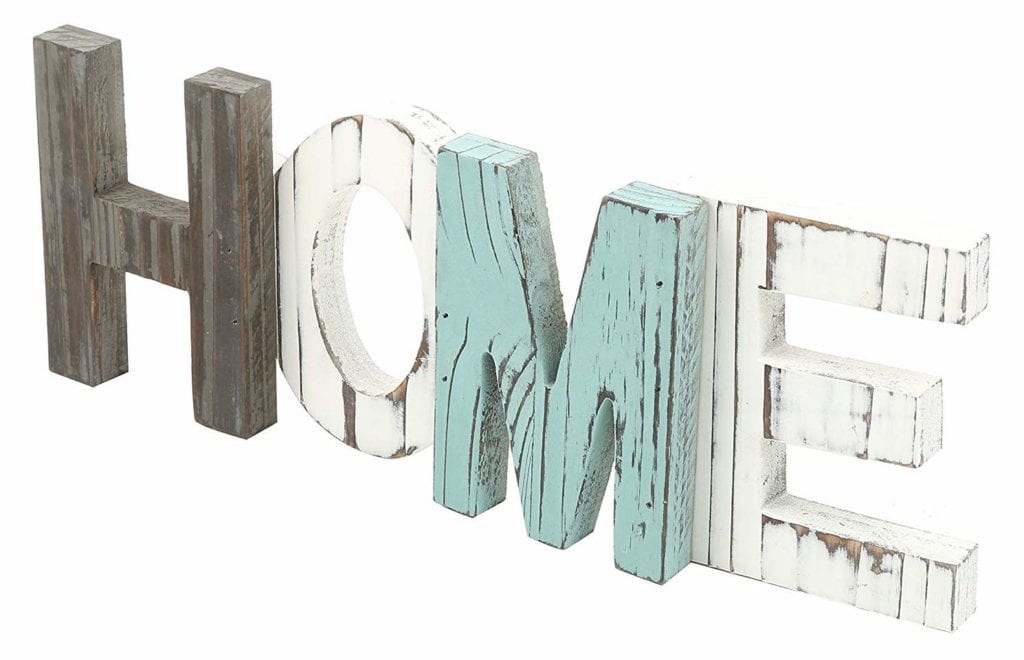 This cute wooden "Home" sign would look perfect on a mantle or bookcase for a rustic spring touch! If you want something even more colorful, it comes in two other color options.
---
Geometric Gold Tea Light Votives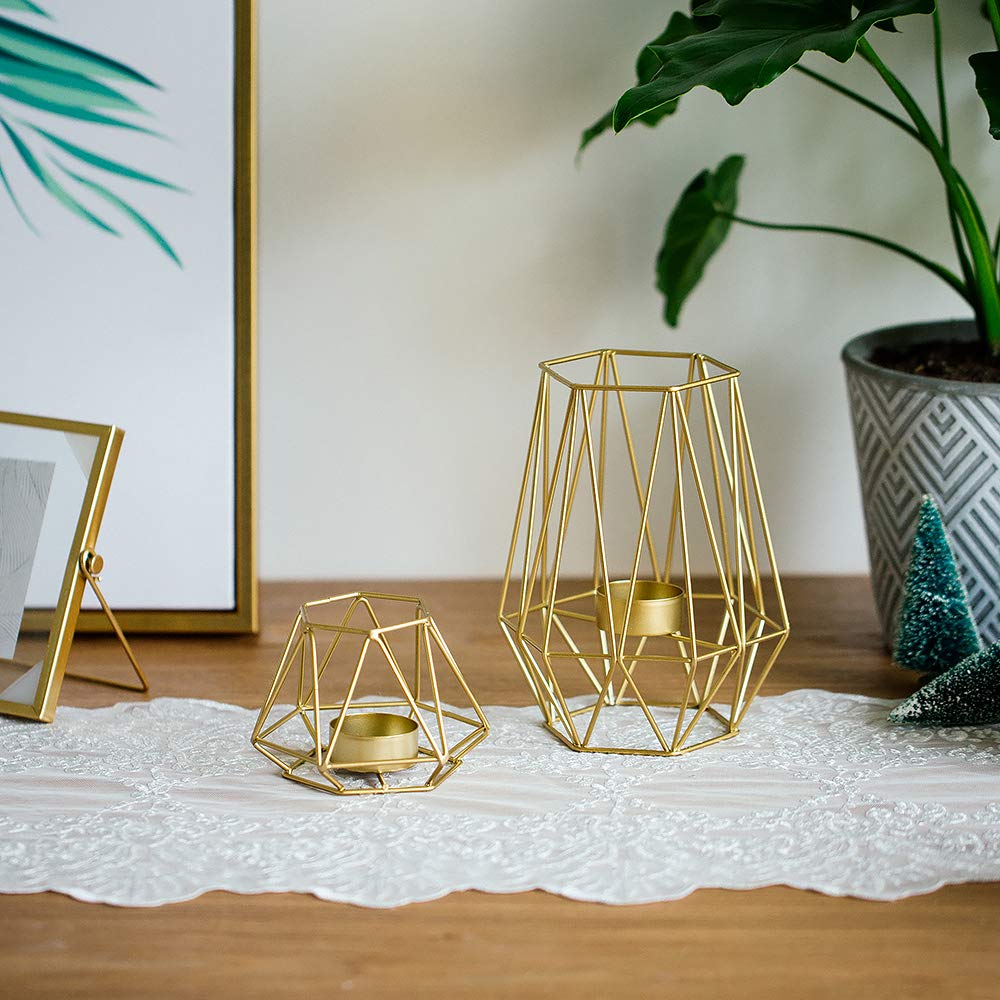 Okay, I am obsessed with how pretty these are. Imagine them next to some green plants or complemented with pastel decor. So chic!
Shop these tea light votives here.
Artificial Potted Lavender Plant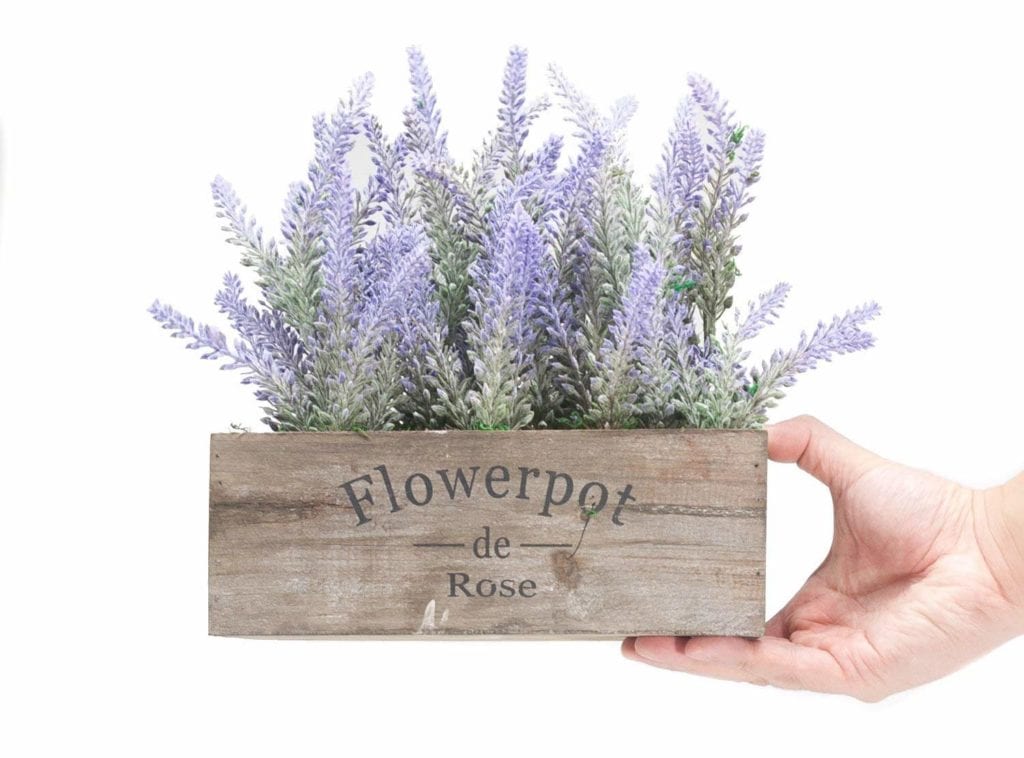 There is just something about Lavender that screams springtime to me. This adorable artificial plant will brighten up your home look perfect on a mantle or windowsill!
Shop this lavender plant here.
---
Embroidered Linen Tablecloth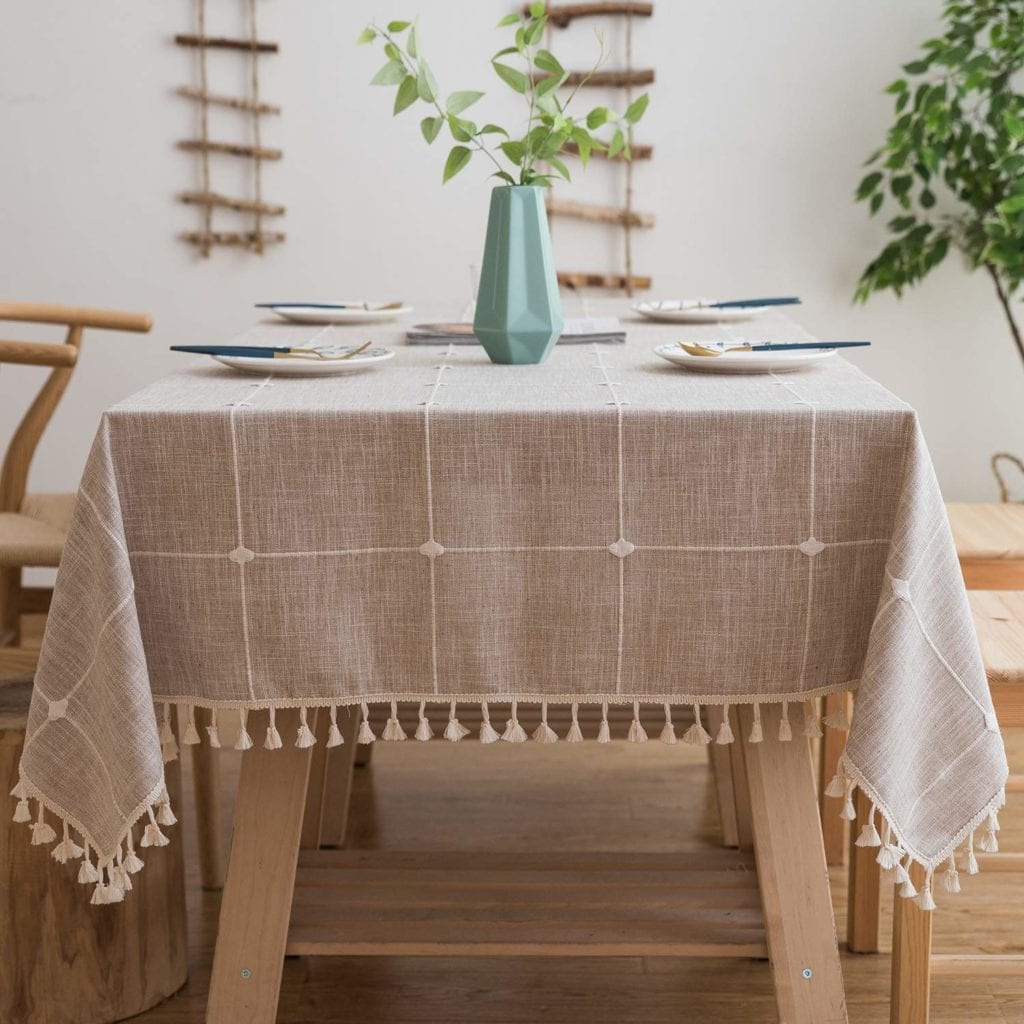 While these may not scream "spring" to you, the light and airiness of this look is what totally got me. Picture this on a sunny day, the light coming through your windows, and some gorgeous florals or greenery sitting as the centerpiece of this tablecloth. SO PRETTY.
It comes in a variety of sizes and colors so make sure to select the one you need.
---
Artificial Mini Potted Plants, Set of 3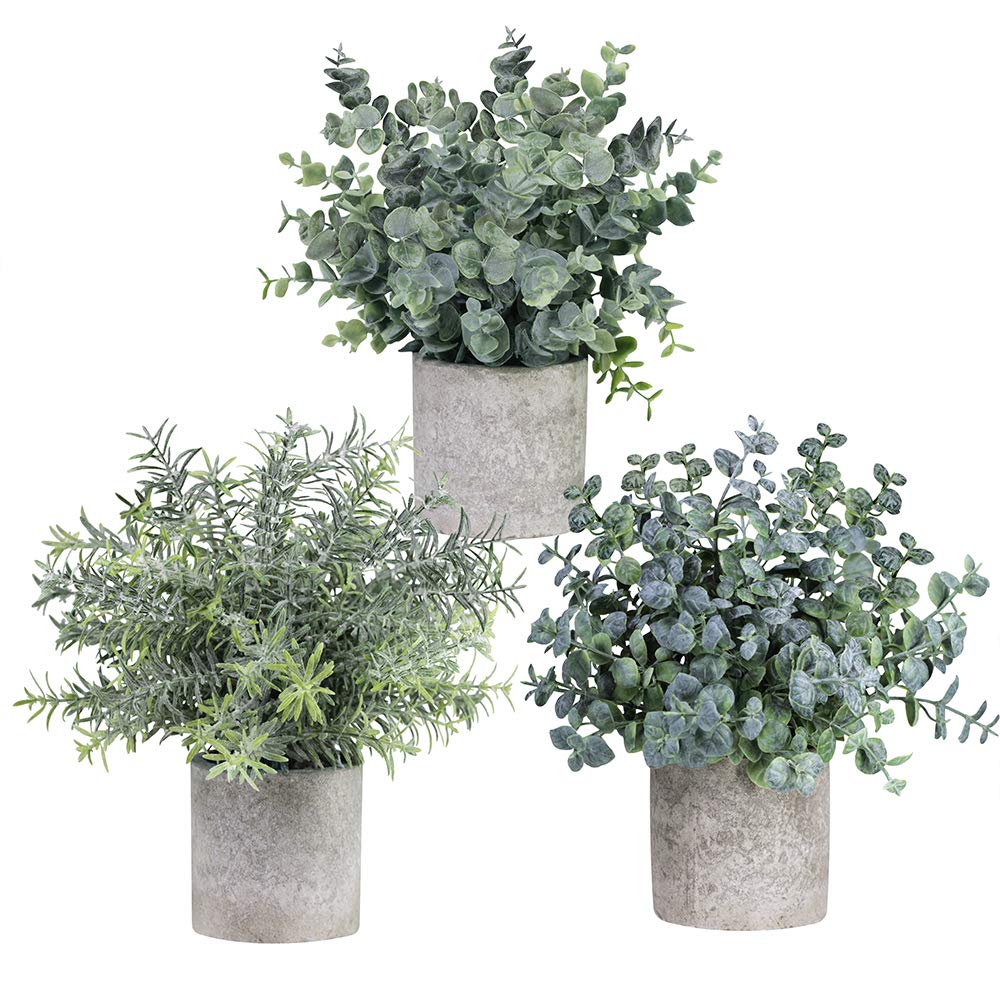 Greenery adds a bright touch to any room its in. And if you're like me, even the sturdiest of plants seem to die after a few weeks. Freshen up your home with this adorable 3-pack of artificial plants that have 5-star reviews!
---
White Lantern with Flameless Candle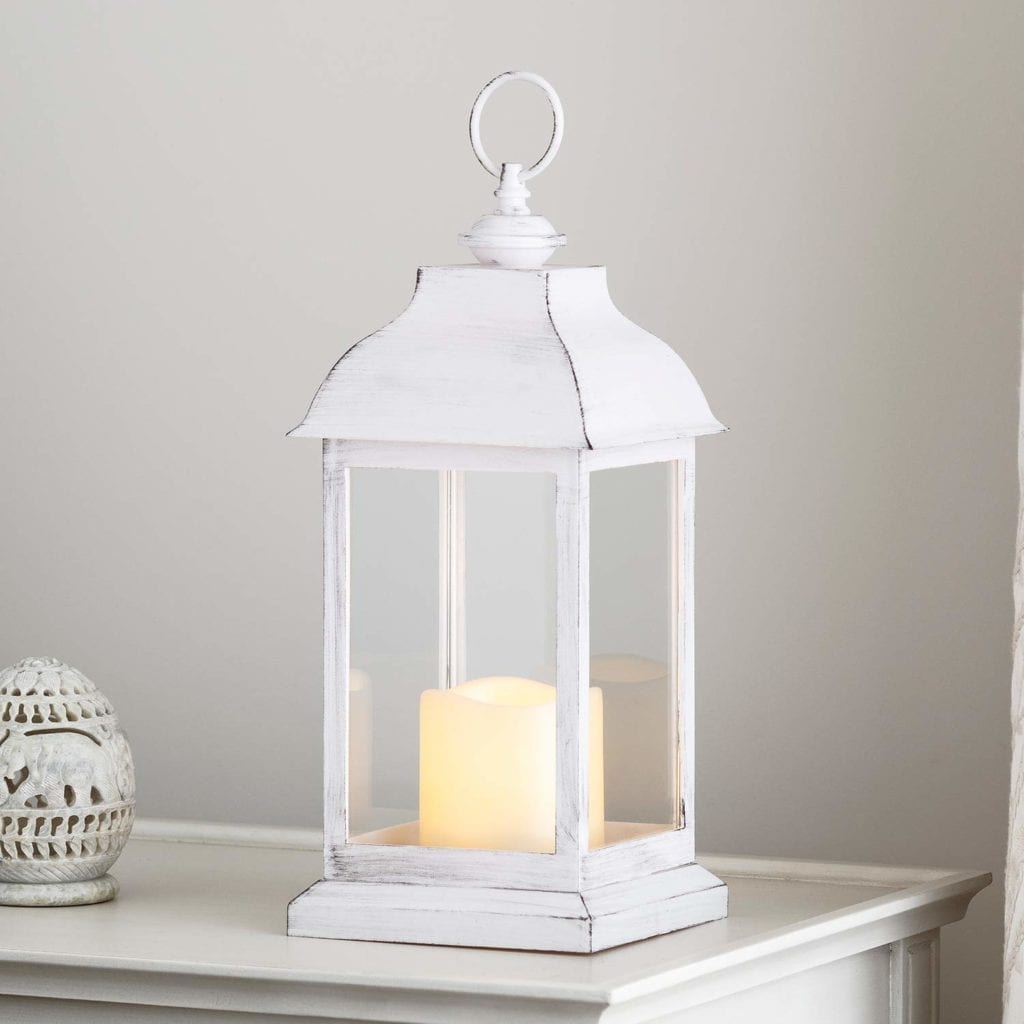 White and teal lanterns seem to be staple items in spring home decor. This adorable 12″ white lantern comes with a battery-operated candle for a safe glow!
---
Spring Kitchen Decor
Bring some spring cheer into your kitchen by changing out a few basic, everyday items. These spring kitchen decor ideas will brighten up any space and are perfect for the transitions from winter to summer.
Lemon-Print Placemats, Set of 4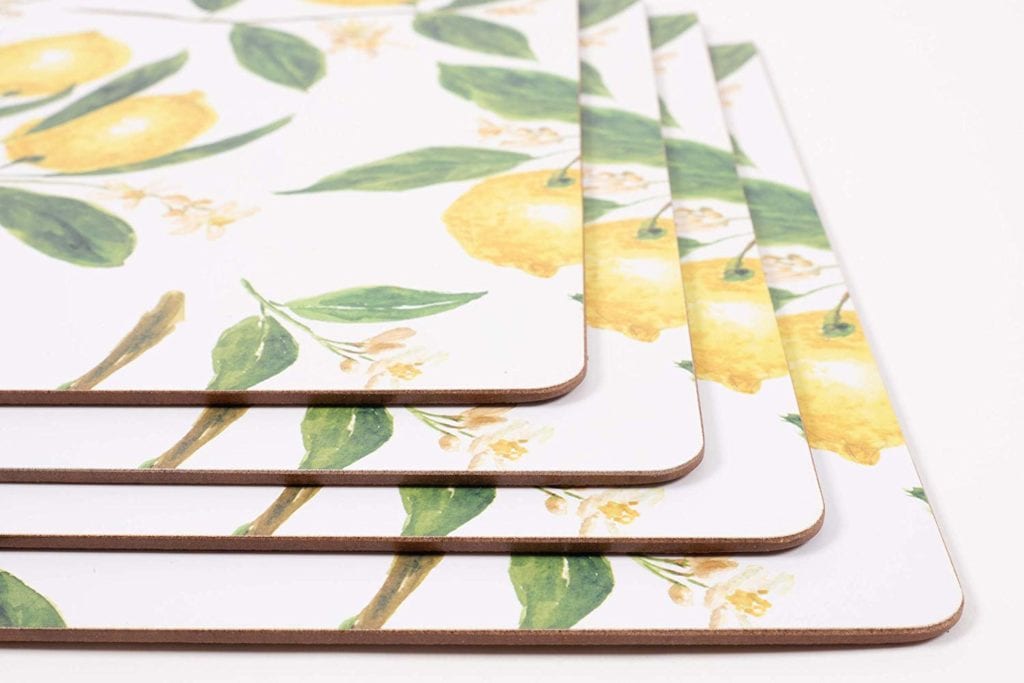 These cork placemats are such a vibrant addition to any dining table! If you aren't loving the lemon print, they also have some pretty pink floral ones that would be perfect for spring! They also perfectly pair with a set of dishcloths listed below!
---
Lemon Dish Towel Set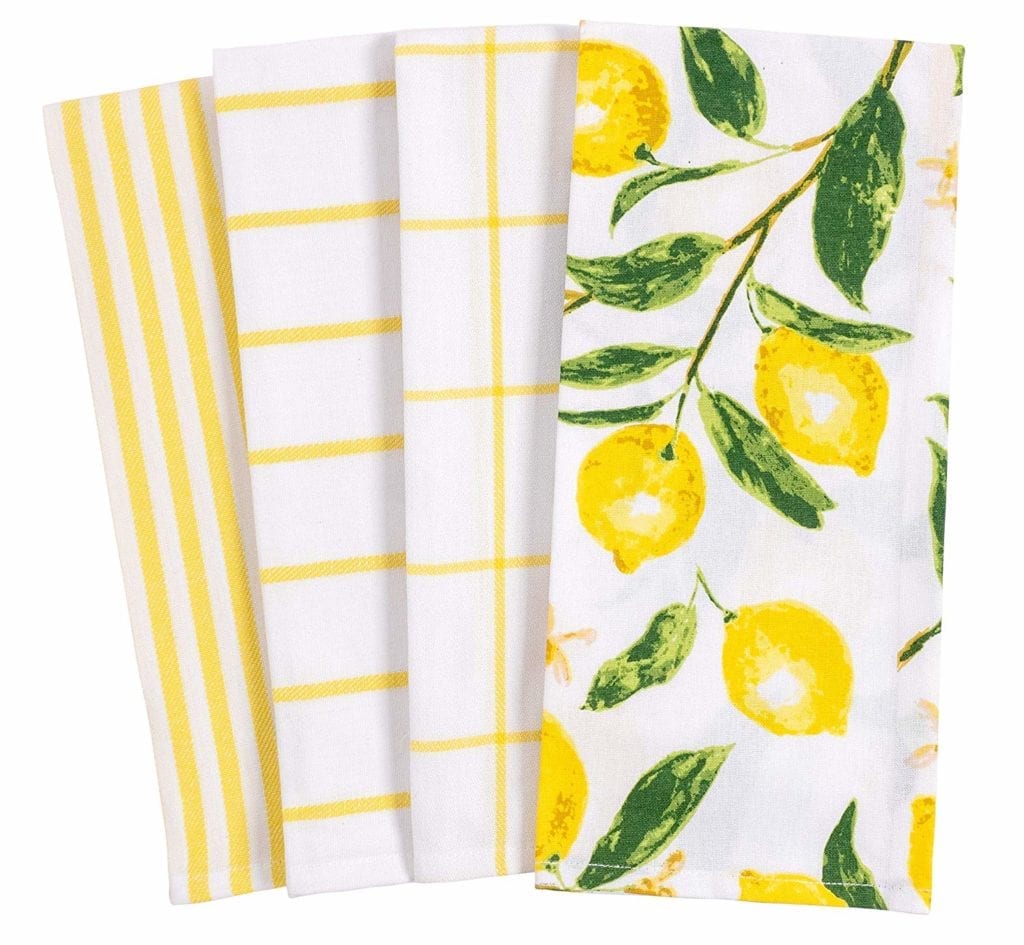 This adorable set of four lemon-themed dish towels will add a fun, vibrant pop to any kitchen. These would also make an adorable hostess gift if you're attending any parties this spring!
---
Round Cottom Placemats, Set of 4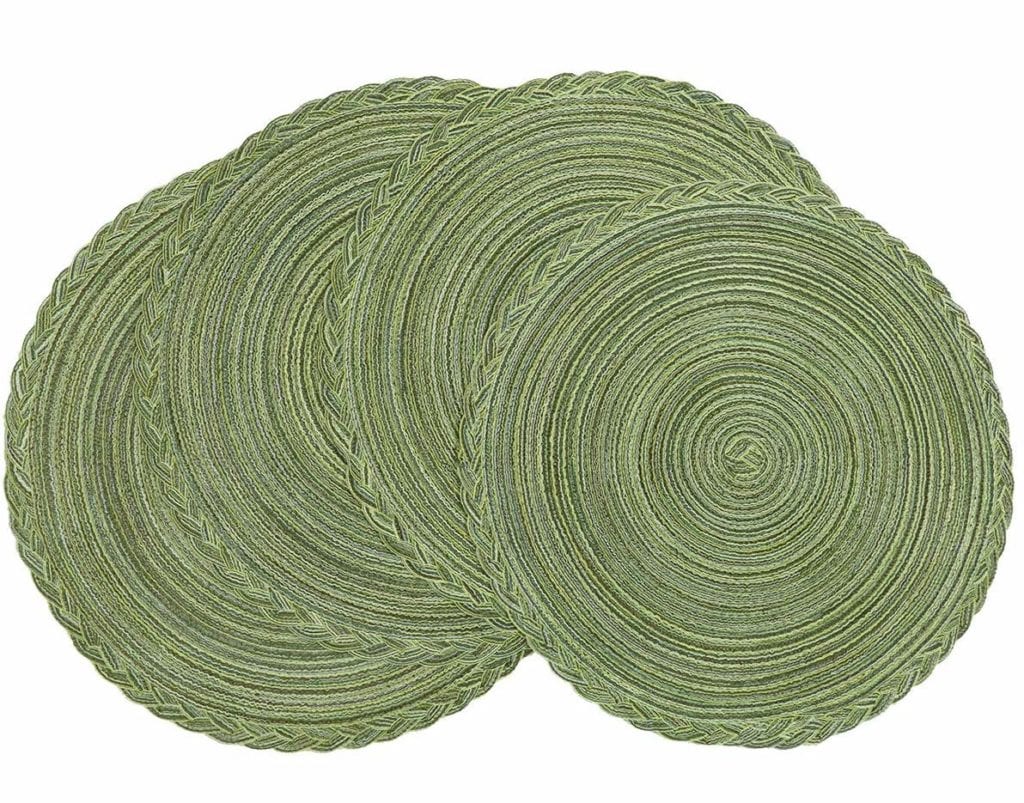 Available in a variety of different colors, these placemats are a quick and easy way to adjust your home to spring. I personally love the green, yellow, and blue for springtime!
Marble Mugs, Set of 4
---
This set of mugs are elegant and good for all ages, they also come in a variety of different colors!
---
"When Life Gives You Lemons" Hanging Sign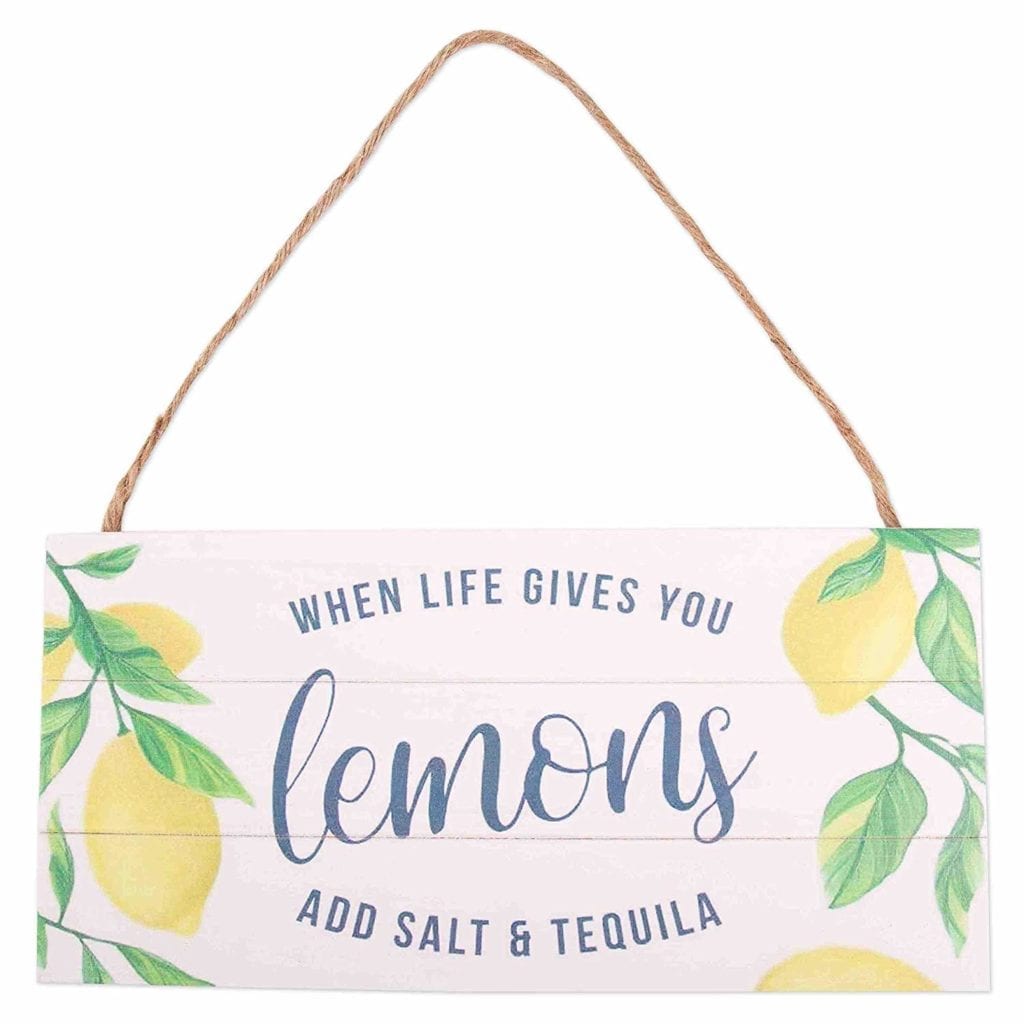 Im loving this fun sign for a kitchen or bar area. The yellow lemons are perfect for spring and the saying is perfect for well…every day! 🙂
---
Turquoise Ceramic Cookie Jar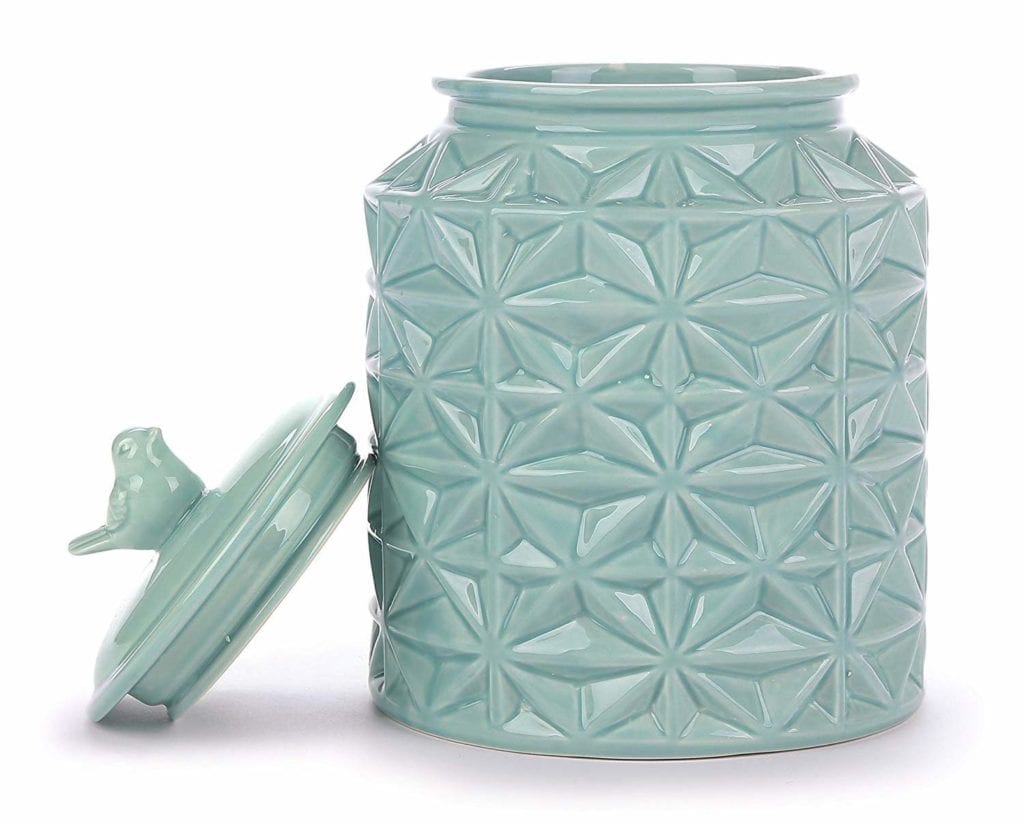 This vintage-inspired cookie jar is so cute and the perfect way to incorporate spring colors into your kitchen!
---
Yellow Acrylic Canisters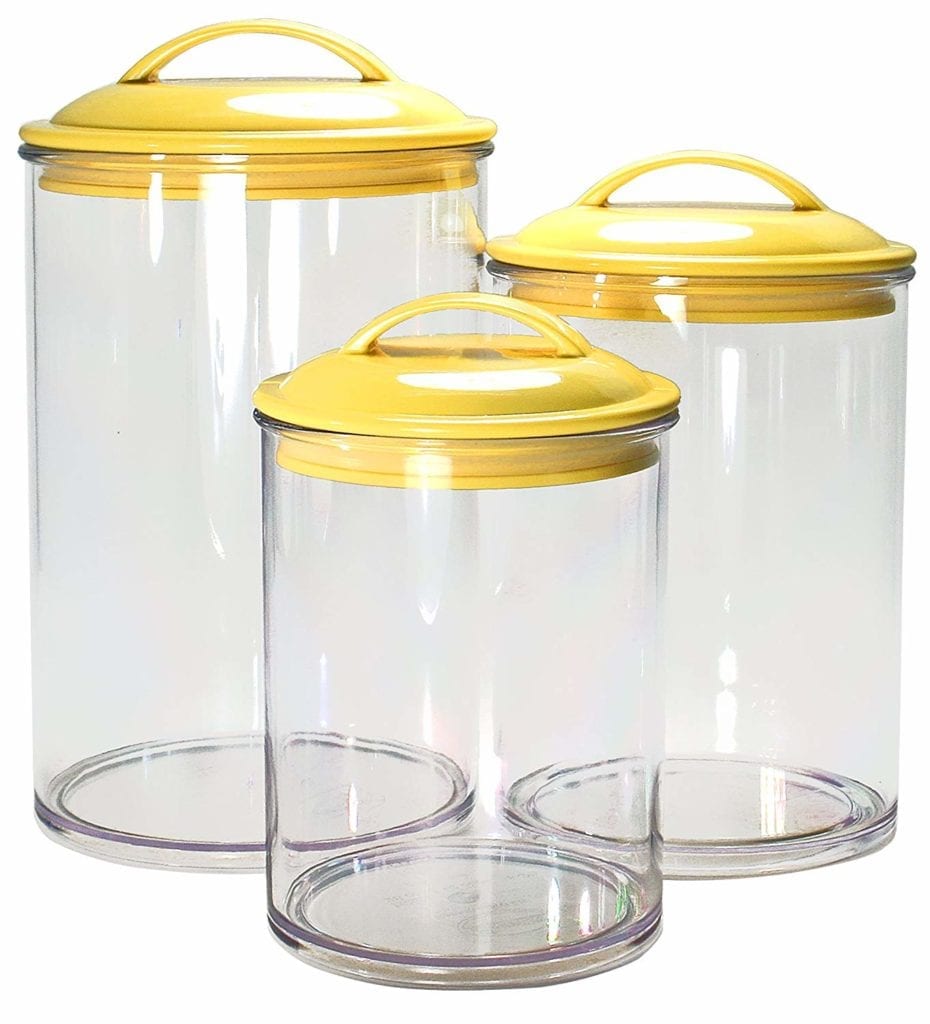 I love the look of these vintage-inspired food canisters. I never would have thought to change our these types of standard kitchen items for my seasonal decor, but I'm loving it! These also come in a variety of different colors.
Shop these acrylic canisters here.
---
Stoneware Canisters with Bamboo Lid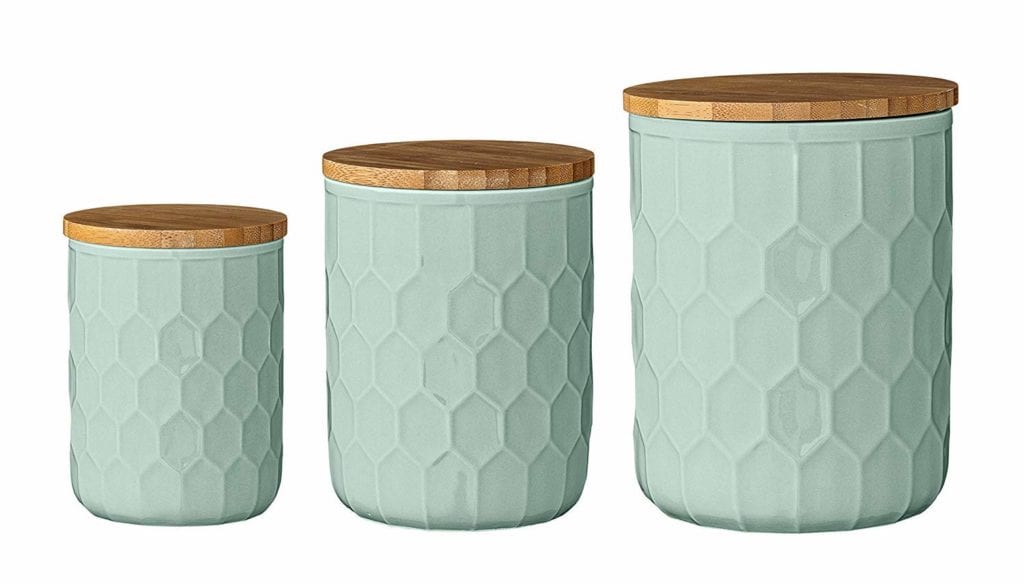 And if bright yellow isn't your jam, you might like these pastel green canisters instead! They come as a set of 3 and are also available in light pink and gray!
---
Pastel Porcelain Tea Set, 22 Pc Set
Holy moly, how cute is this porcelain tea set? Available in pastel shades of lavender, pink, or white, this 22 piece set will definitely give you the seasonal feels!
If you don't want to splurge for the 22 peice set, you can get just the cups, saucers, and spoons for a significantly lower price!
---
Spring Throw Pillows and Blankets
If you're looking for quick and easy spring decor ideas, changing up your linens is a fast and affordable way of doing so! Check out some of these spring throw pillows and throw blankets that will perfectly freshen up your seasonal decor!
Corduroy Throw Pillow Covers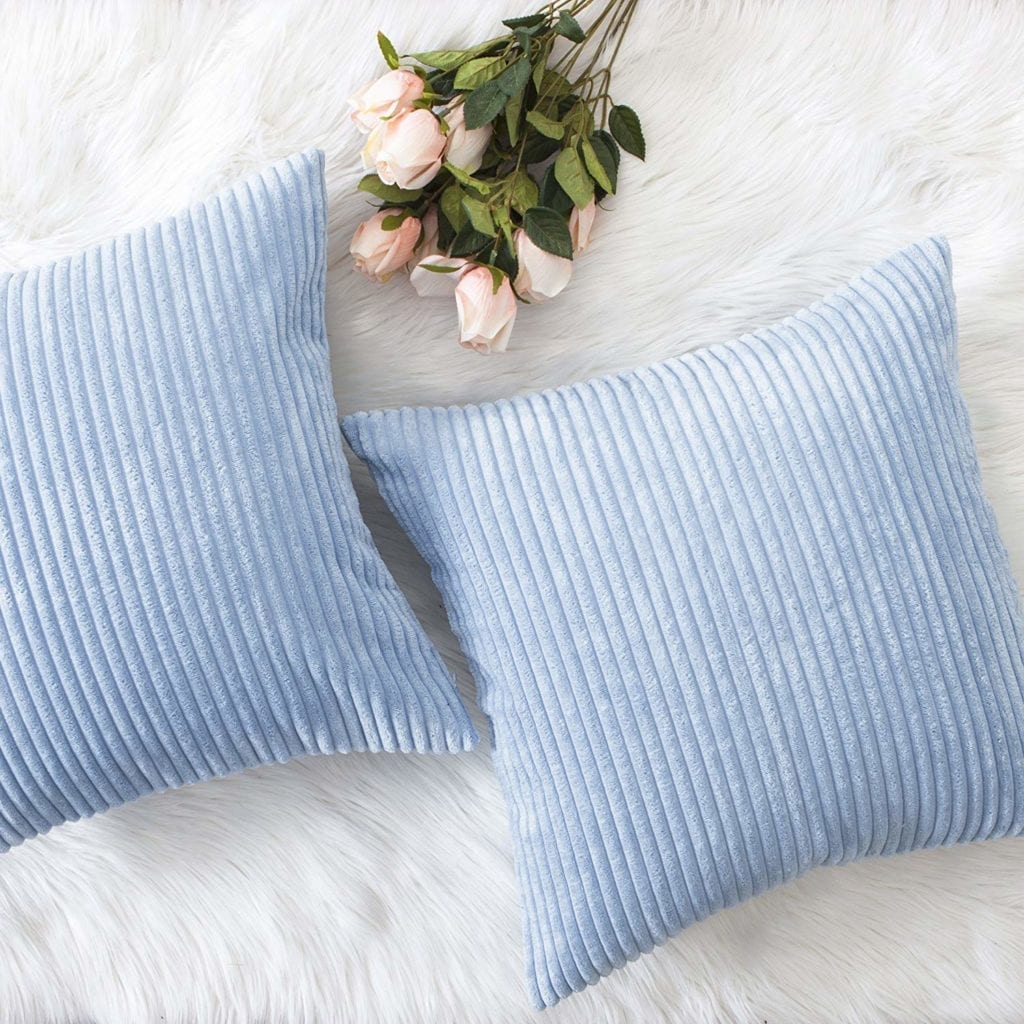 Available in 15+ colors and a variety of sizes, these Corduroy pillow covers will add a perfect touch of spring to your home. I especially love the blue, pink, and yellow colors for springtime!
---
Textured, Decorative Throw Blanket
This throw blanket will brighten up your home for spring! Available in a variety of different colors, you'll find one that perfectly complements your decor. Plus, the reviews are phenomenonal!
---
Pom Pom Pillow Covers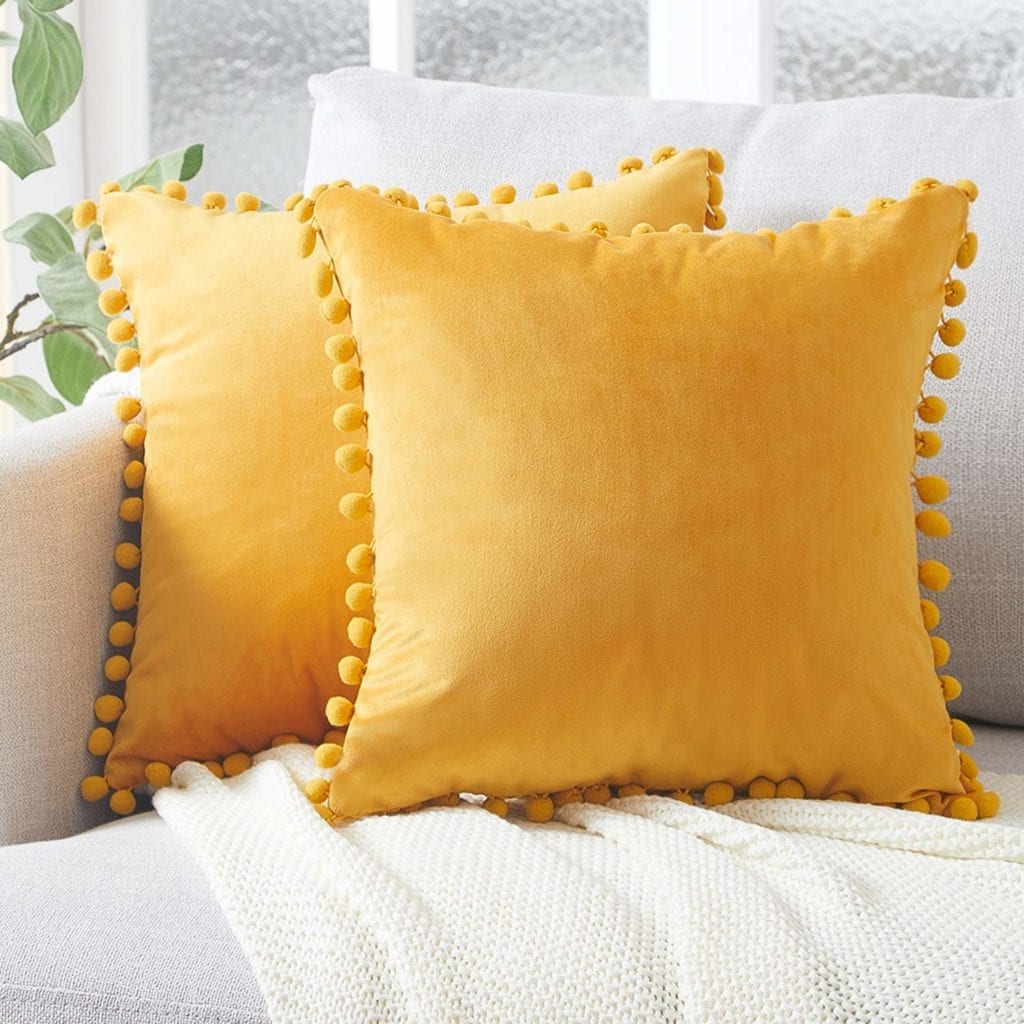 These pillows are what spring home decor dreams are made of! The color is so fresh and vibrant and the pom poms add a fun, boho touch. Did I mention, this pack of 2 is available in 20 different colors!
Shop these pillow covers here.
---
---
Farmhouse Floral Pillow Covers, Set of 4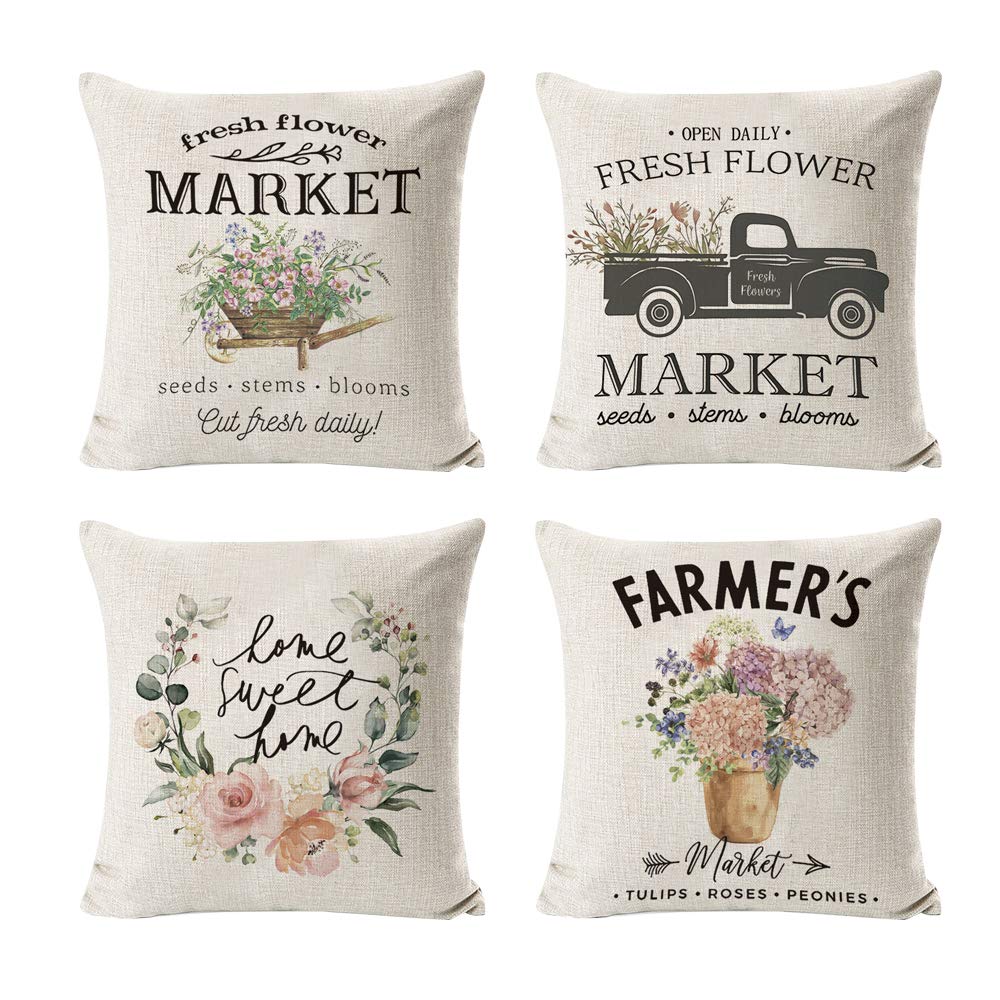 I am not usually one for pillows with graphics on them, but these are so tastefully done, I love them! These throw pillow covers are perfect for spring farmhouse decor. Plus, they come in a set of 4, which is a total steal for the price!
Shop these farmhouse pillow covers here.
---
Buffalo Plaid Throw Pillow Covers, Set of 2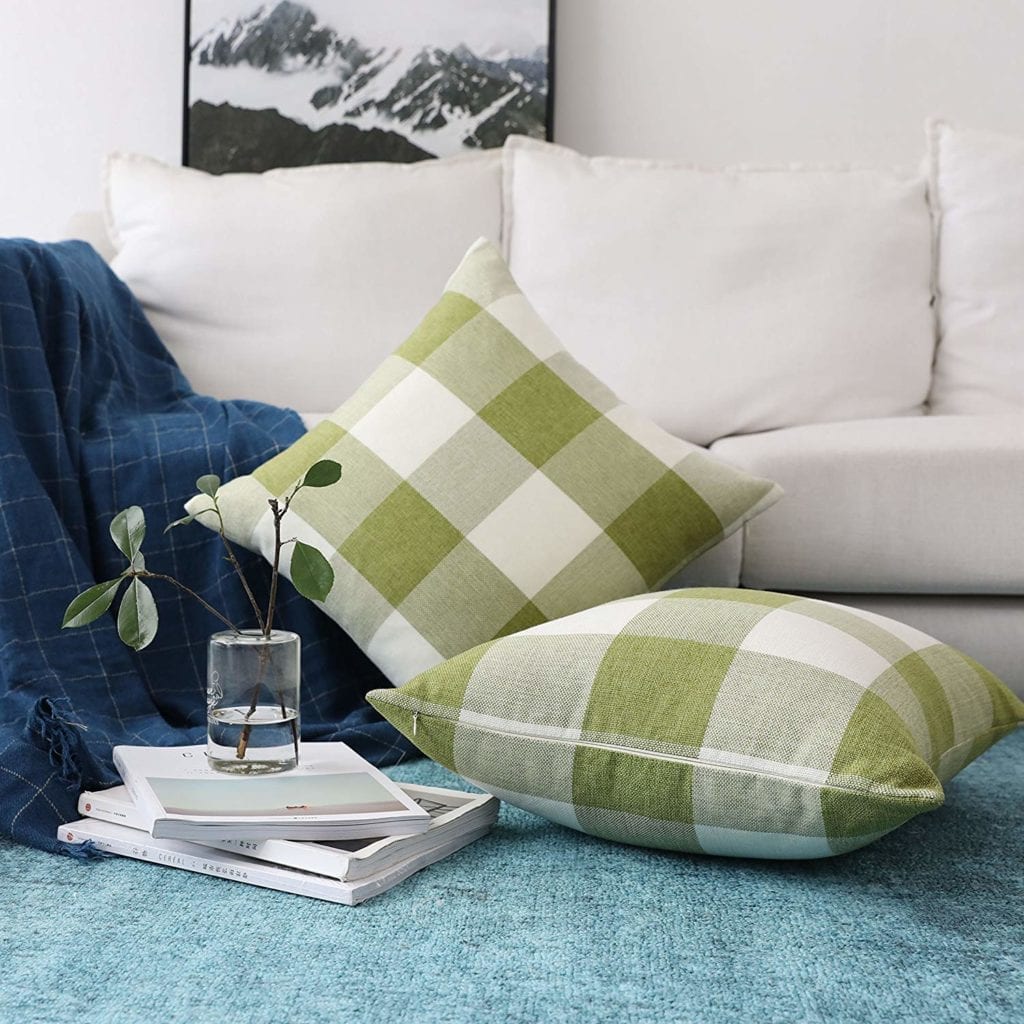 I am honestly obsessed with these green plaid pillow covers and if they at all went with our decor at home, I would order them instantly. Made from a cotton linen fabric and available in two sizes, these would make the perfect addition to your spring decor!
Shop these pillow covers here.
---
Spring Door Wreaths and Garlands
I absolutely love switching up my door wreaths depending on the holiday and season and spring is no different. These spring door wreaths and garlands can be used on doors, mantles, windows, etc. and make the perfect spring decor!
20″ Eucalyptus Wreath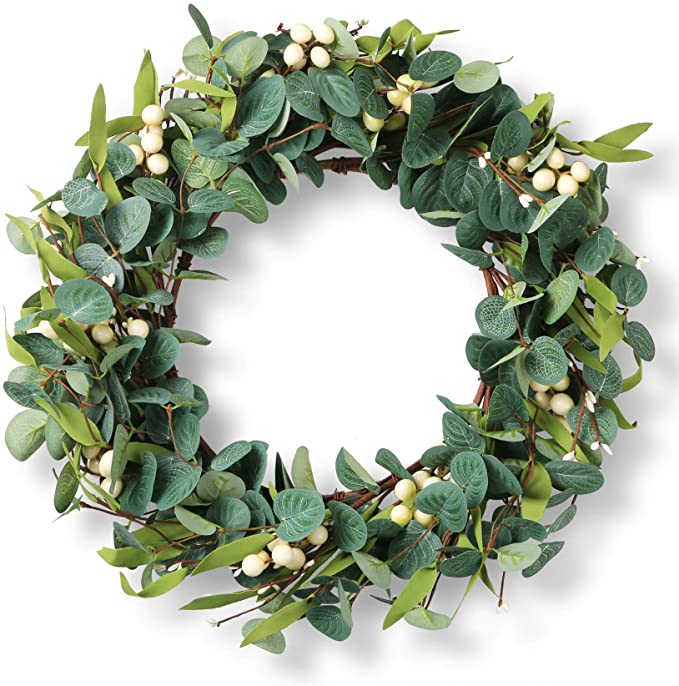 I don't know about you, but I'm obsessed with the simplicity of this eucalyptus wreath. Hang it on your front door or inside your home on a wall for springy touch!
---
Lush, Hydrangea Wreath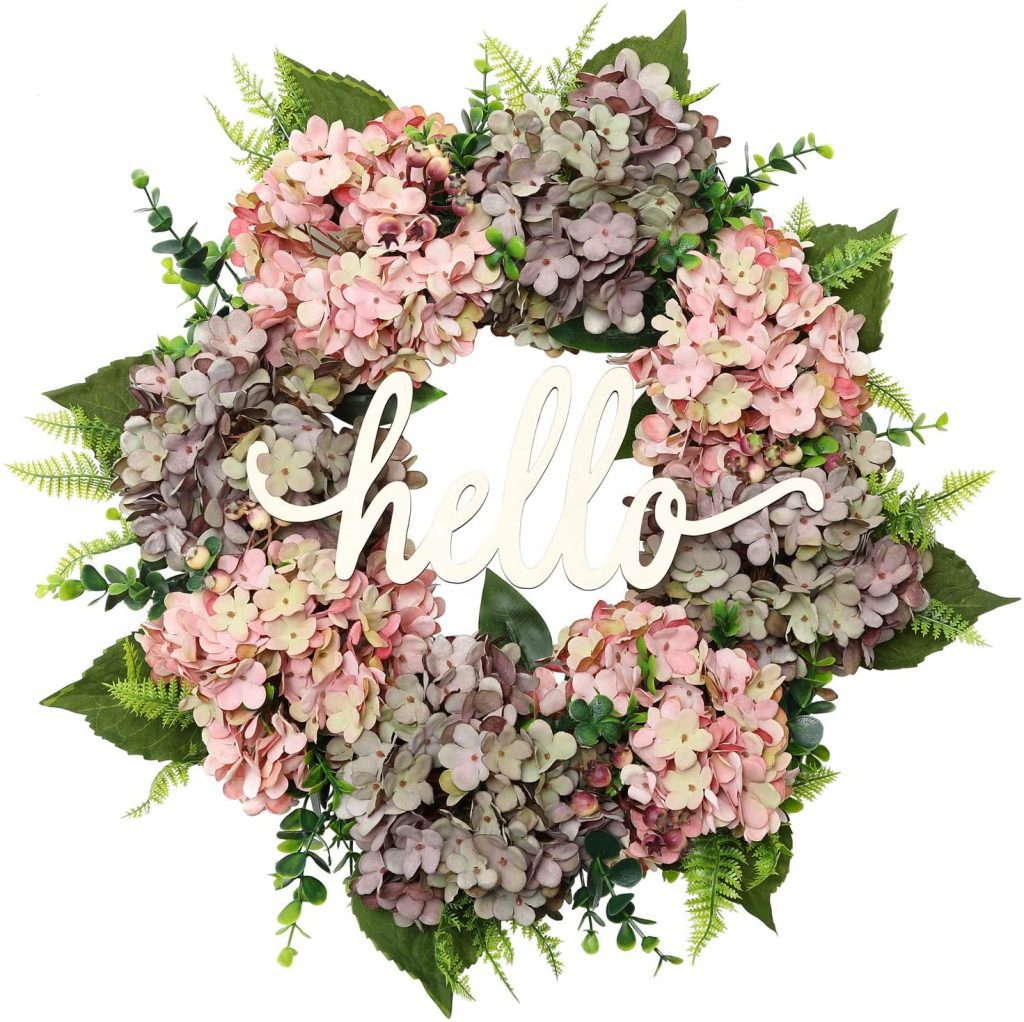 Welcome friends and family with this gorgeous hydrangea wreath on your front door! Its perfect door wreath for spring and into summer.
---
Silver Dollar Eucalyptus Garland, 2 pc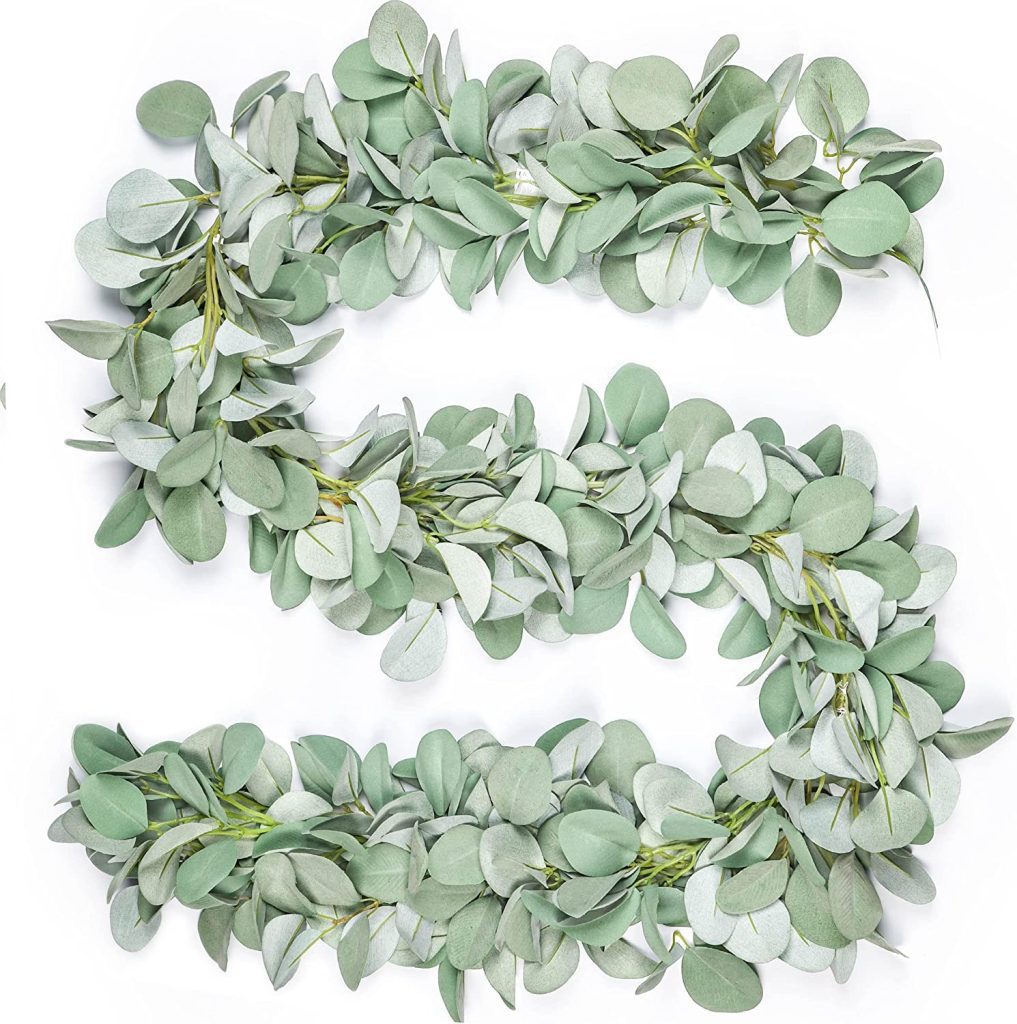 This gorgeous set of garlands would make the perfect accent on a mantel, windowsill, along a dining table, and more! You can use them separately or wrap them together for a more lush look.
---
Lavender Wreath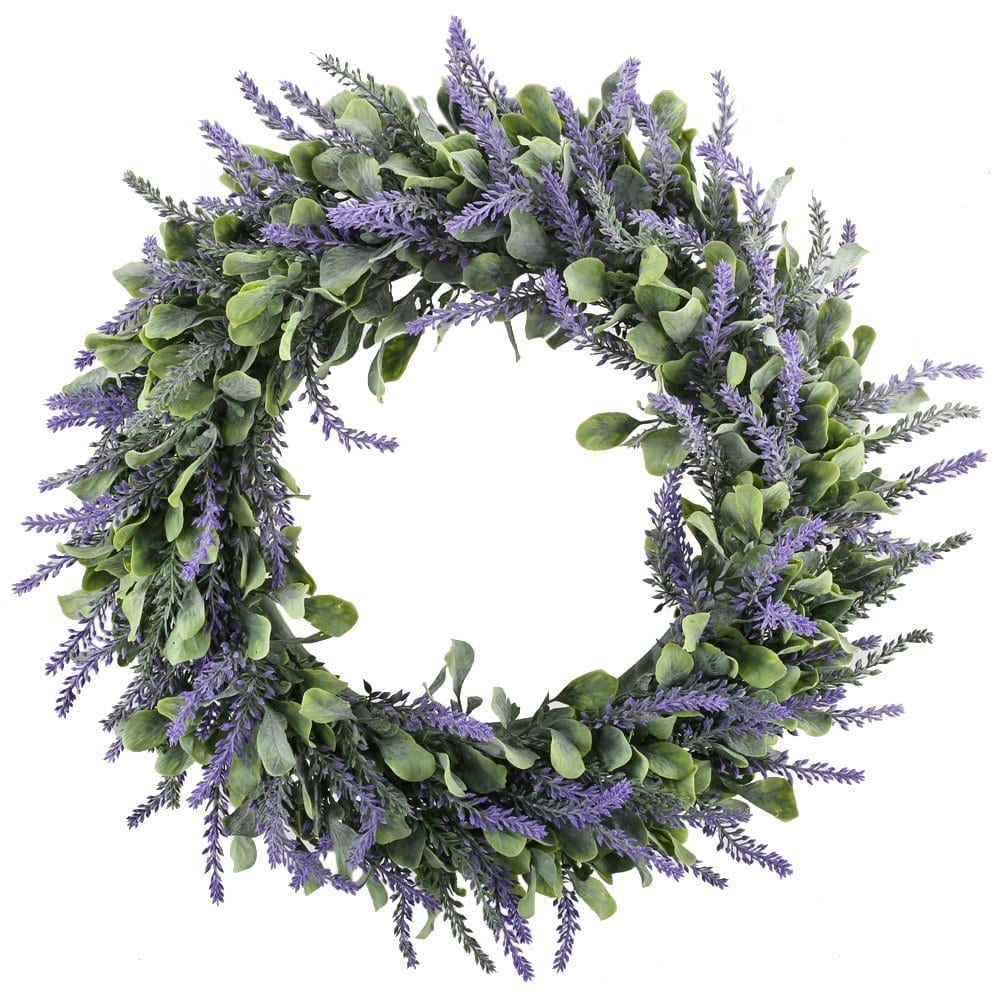 I personally prefer more understated wreaths so this one is right up my alley. Plus, there is just something about the combination of greenery with lavender that I just LOOOOVE.
---
Yellow Daisy Wreath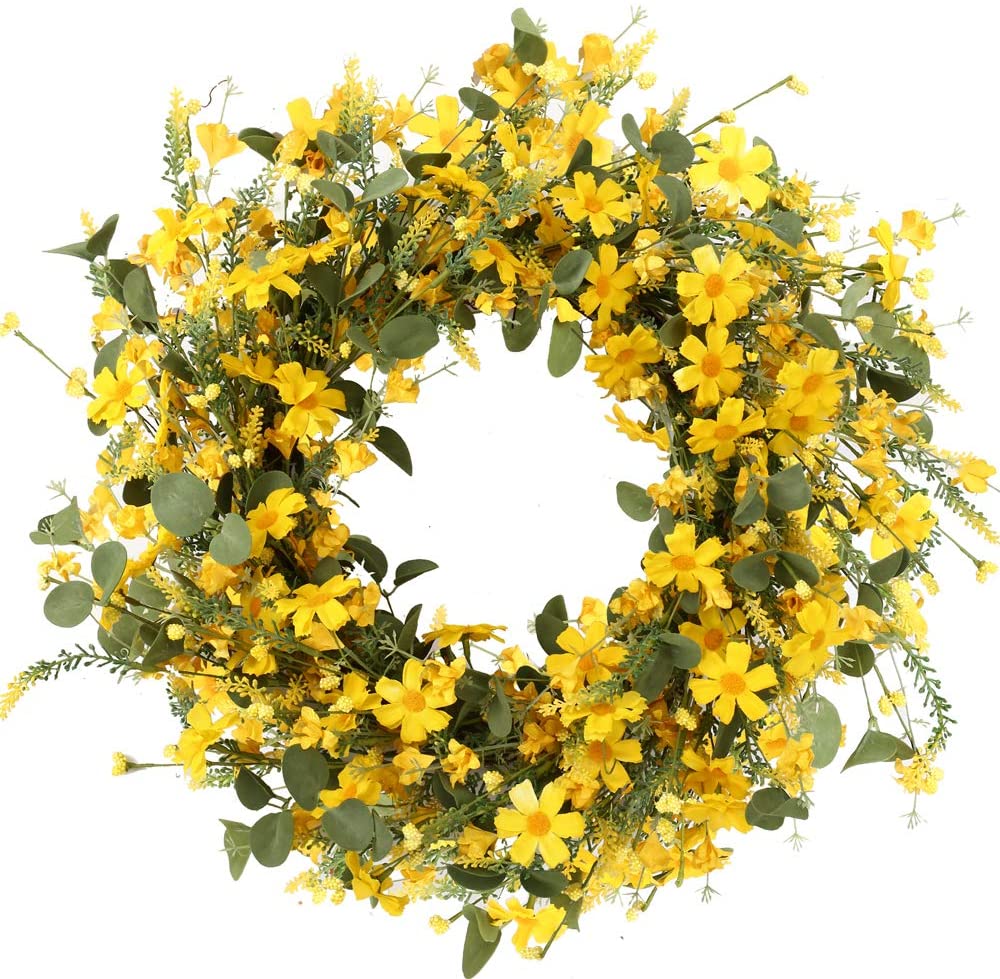 If you're looking for something to brighten up your entryway, this yellow wreath is it! Made of artificial orchids, this vibrant wreath will cheer up any home from the outside!
---
Spring Outdoor Decorations
Looking for outdoor spring decor ideas other than just flowers? Whether you are decorating a front porch or back patio, bring the brightness of spring outside with these colorful outdoor decorations!
"Hello" Outdoor Doormat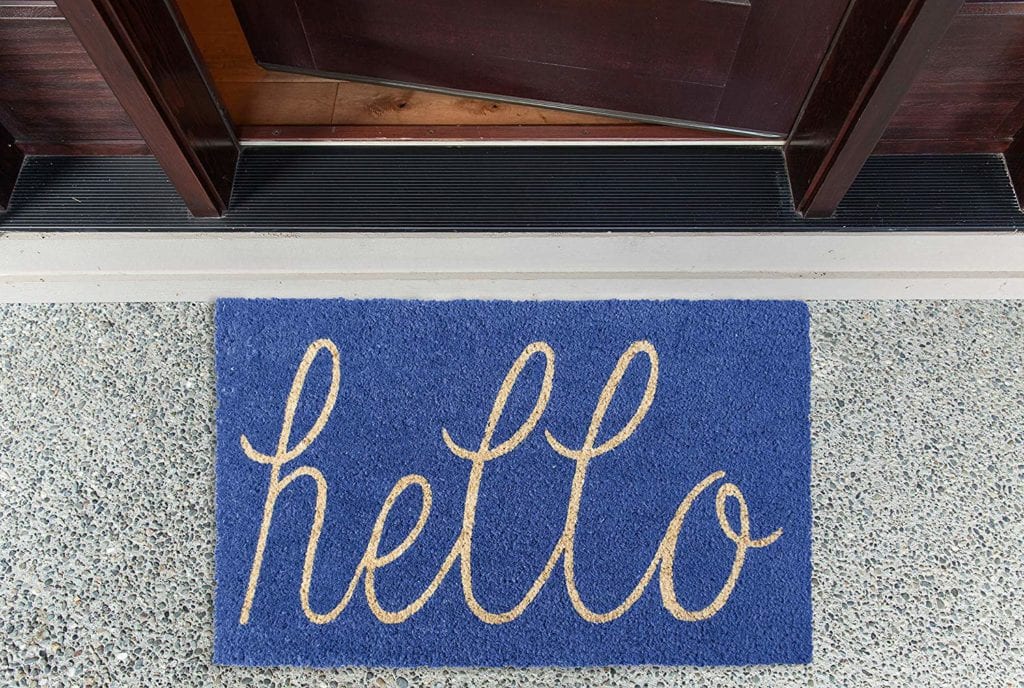 Brighten your outdoors with this adorable doormat. Nothing will greet your loved ones like a vibrant "hello"! It's also available in a few different colors if blue isn't your jam.
Shop this outdoor doormat here.
---
Amish Wagon, Indoor/Outdoor Planter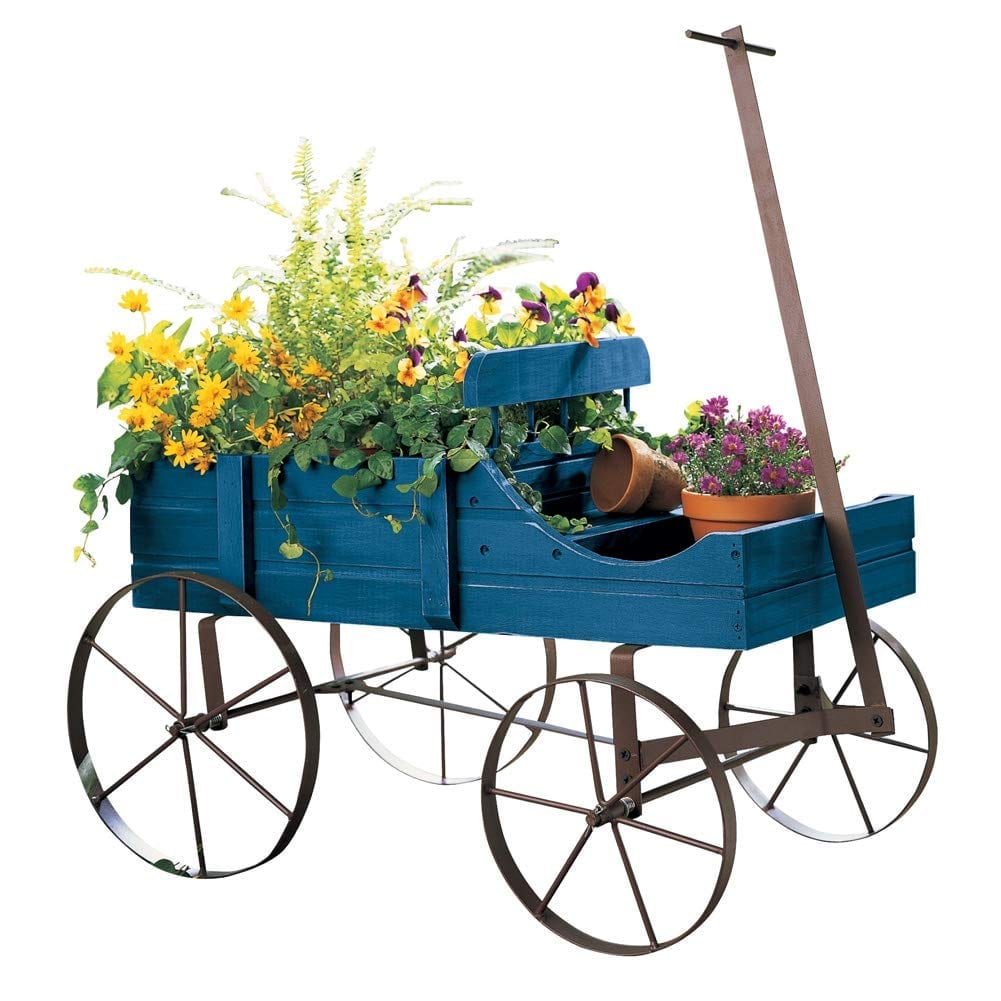 Okay you guys…this thing is a STEAL and so freaking cute. This decorative wagon is the perfect way to showcase your plants. I'm picturing this displayed on a front porch in a backyard garden for a colorful touch! It's available in 3 different colors and the reviews amazing. Check it out!
---
Vintage String Lights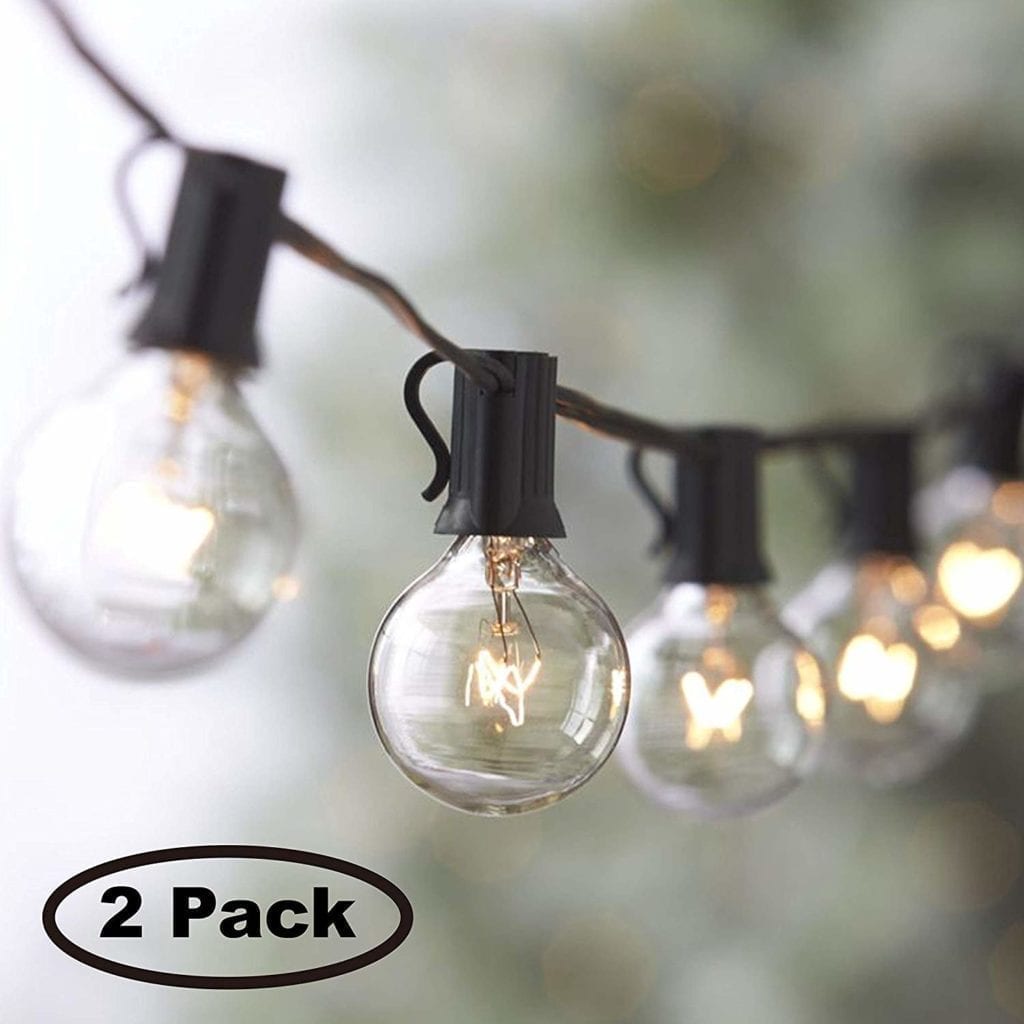 These may just look like your ordinary string lights but the reviews on this thing are incredible. These lights have over 2,000 reviews and 5 stars! Unheard of! If you need some simple, vintage-inspired string lights, try these out!
Shop these vintage string lights here.