The Birthday Candles for Zodiac Lovers That Everyone's Obsessing Over
If you're looking for the best astrology gift ideas, these birthday candles for zodiac lovers are a must-buy! Check out everything you need to know about these astrology candles and my Birthdate Candle review below!
This post contains commissionable links but all opinions are honest and my own.
I'm a sucker for any type of personality assessment and since I was a kid, have found astrology to be super fun and interesting. So when I found these birthday candles for zodiac lovers, I knew I needed one!
So whether you're shopping for yourself or looking for the perfect astrology gift ideas, you're definitely going to want to check out these astrology candles from Birthdate Co!
What Is A Birthdate Candle?
Birthdate Candles are personalized astrology candles for every single day of the year.
Birthdate Co. combines astrology, numerology, and tarot to create 365 individualized candles with carefully designed fragrances.
At 13.5oz, these candles are a perfect size and burn for 60-80 hours each! They are made from a natural soy and coconut blend wax and use natural fragrances.
But the best part about these birthday candles? Each candle has a full reading of your birthday that includes the following:
A Personality Description: You'll get a detailed character reading that highlights your strengths, weaknesses, and an overall profile of your unique personality and relationships.

Your Tarot Card: You'll learn what it is and how it impacts you.

Your Ruling Number: You'll learn what it is and how it influences your life.

Your Ruling Planet: You'll learn what it is and how it effects your mood and personality.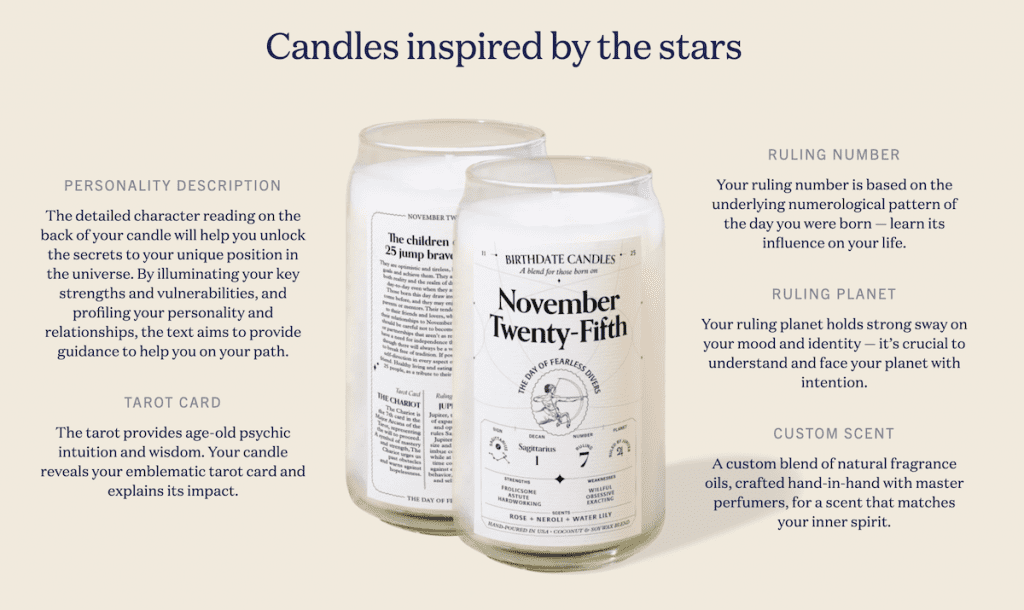 Ready to snag one for yourself? Use code FOREVERBOOKEDUP10 to save on a Birthdate Candle here >>
---
My Birthdate Candle Review
I had seen these candles all over the internet for months and as an astrology lover, I was super curious, but as a candle lover, I was skeptical, because when it comes to gimmicky products, I never know what to expect.
However, I received my Birthdate candle a few months ago and I must say, I absolutely love it and want to get one for everyone I know.
From the size and quality to the gorgeous personalized scent, these zodiac candles from Birthdate Co. are a must-have. Plus, the personality descriptions and SO detailed — it's amazing how much info they can fit on a small label!
So if you're looking for the perfect gift idea for a zodiac lover or have been debating on getting one for yourself, I definitely say do it!
It's a unique purchase that will last you a long time and has such personalized meaning behind it, making it extra special!
Save 10% On A Birthdate Candle
If you want to get your first birthdate candle — whether for you or a friend — you can save 10% by using the promo code FOREVERBOOKEDUP10.
Save 10% on a Birthdate Candle here >>