Drunk Elephant Skin Care Reviews: What To Get and What to Skip
I recently tried a number of different Drunk Elephant skin care products and wanted to share what I think are their absolute must-have's and maybe-not's.
So I love trying new skincare products and had always been super drawn to Drunk Elephant because of their colorful packaging and fun marketing.
Literally, I knew NOTHING about the actual formulation, but I was willing to drop $90 on a sample pack because their marketing is just that good and we were in the middle of quarantine so…treat yourself, amiright?
BUT, after trying out 8 of the best selling Drunk Elephant skin care products, I have to say, that $90 ended up being totally worth it…kind of.
*This blog contains affiliate links, meaning I earn a small commission when you purchase through them, but I truly appreciate all of your support!
5 Drunk Elephant Products to Get
Okay, let me start by saying that all skin is super different and I have fairly in-sensitive skin so I RARELY have a bad reaction to trying new products.
That being said, what works for me (or doesn't work for me) might be different for you! Either way, let's dive into my favorites, because you guys, these products are GOOD.
C-Firma Day Serum
I'm just going to start this list off with a bang because when I first tried it, I thought I was lifted off to the skincare heavens because I died of both amazement and the smell (more on that below.)
This Vitamin C Serum helps to brighten and tighten up your skin, while also evening out its tone and texture.
What I Love: This stuff gives me the most natural glow and I kid you not, I noticed a visible difference within literal days of first using this!

What I Don't Love: It smells like cold hotdogs. Straight up, this was the hardest thing for me to get past, but after a few weeks, my nose got so used to the wet dog food smell that I didn't even notice it.
Check out the C-Firma Serum here >>
---
T.L.C. Framboos Glycolic Resurfacing Night Serum
I don't know what the heck a "Framboo" is but I don't frambooing care, because this stuff is magical. This is an AHA/BHA night serum that helps to resurface congested skin to improve skin tone, texture, fine lines, wrinkles, and pores.
I mean, IS THAT ALL? Just kidding, but basically, this stuff will give you a new face overnight.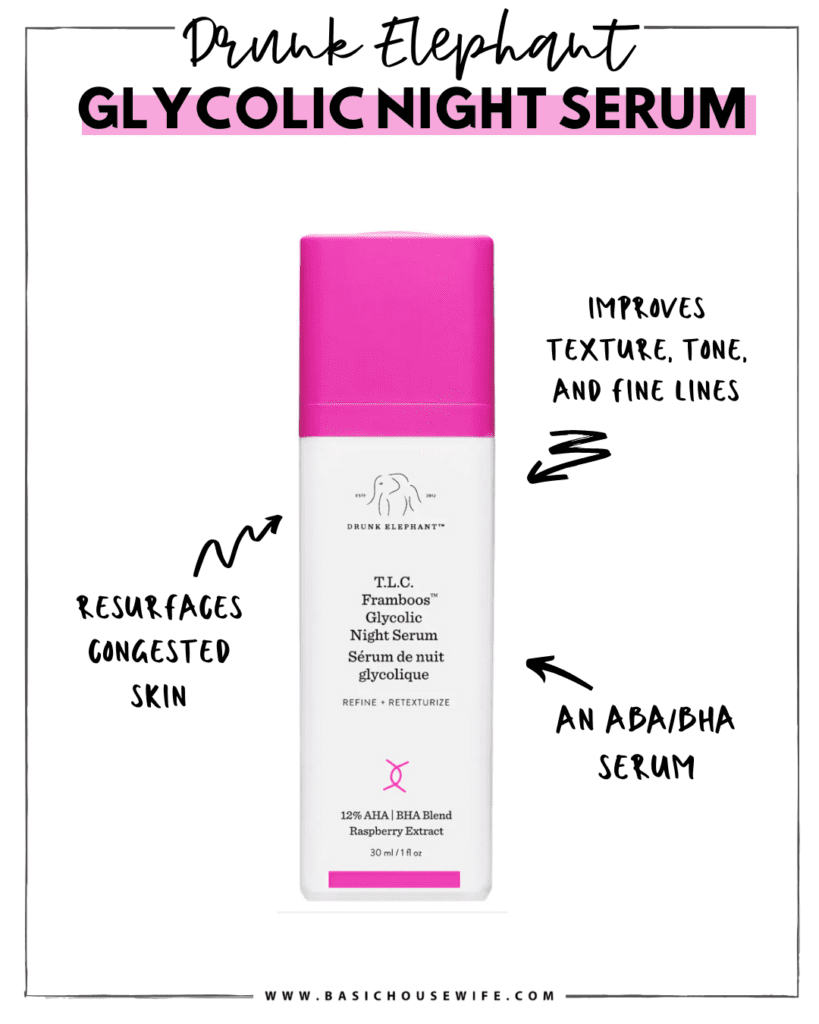 What I Love: Literally everything. When I wake up, my skin feels more firm, more glowy, and the coloring is so much more even!

What I Don't Love: Other than it being a little bit sticky when first applied (don't worry, it soaks in just fine!), I have no complaints. I love it.
Check out the Glycolic Resurfacing Night Serum here >>
---
B-Hydra Intensive Hydration Serum
If your skin is lacking moisture, this hydration serum is the answer to your thirsty-skin prayers. Praise, be.
The B-Hydra serum helps to renew your complexion and improves overall texture and tone.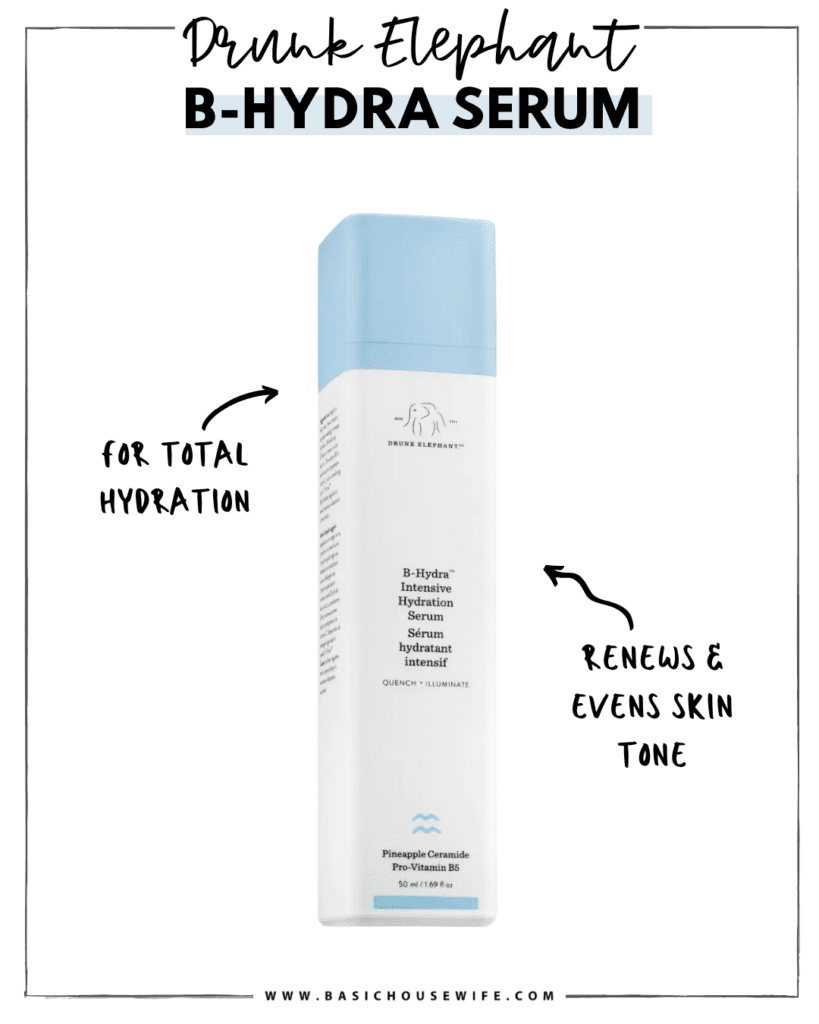 What I Love: I feel immediate hydration when using this and I love that it doesn't feel heavy when layering it with other products. For me, it replaces a moisturizer and works wonders on my dry, winter-time skin.

What I Don't Love: Honestly nothing, but in comparison to the other products, it just doesn't feel like a 5-star to me.
Check out the B-Hydra Intensive Hydration Serum here >>
---
Beste No. 9 Jelly Cleanser
Drunk Elephant gets the award for weirdest product names, but they also get the award for being one of my favorite jelly cleansers.
This gentle cleanser removes the day's makeup, dirt and grime while leaving skin clean and soft.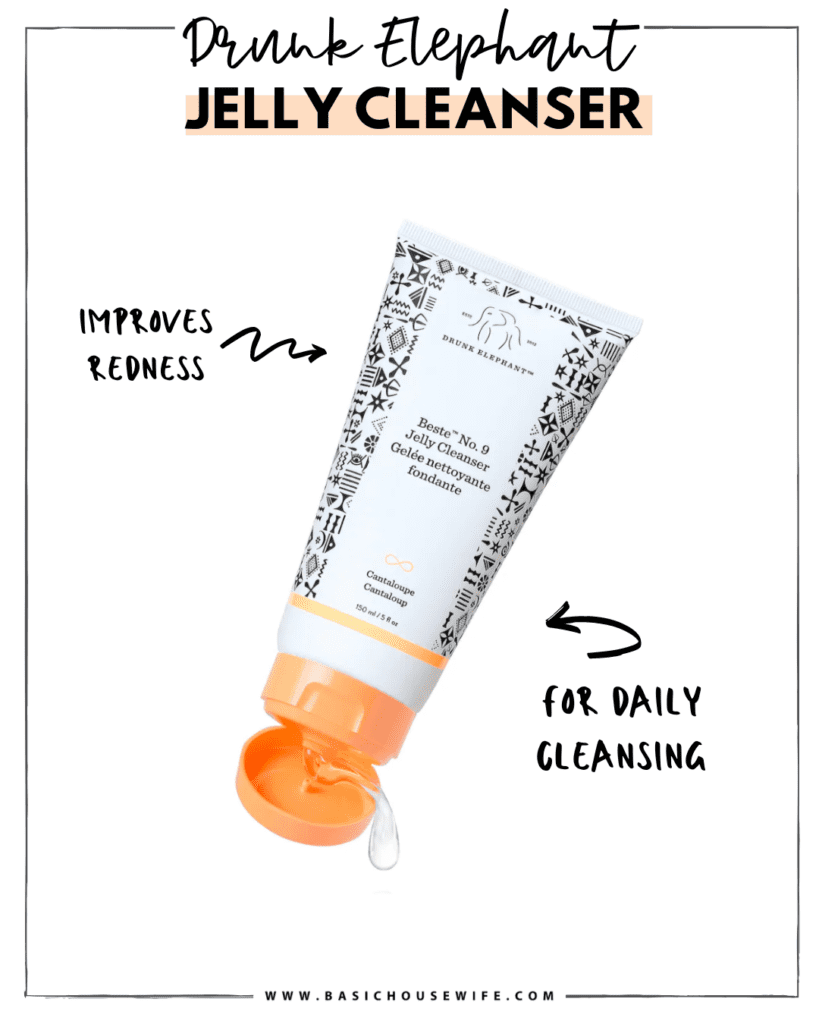 What I Love: It made my face feel baby-soft and actually made me excited to wash my face at night. Honestly, that's something it should be very proud of.

What I Don't Love: For what it is, it could certainly be cheaper, but all of the gel cleansers that I love seem to fall in this price range, so I can't be too mad.
Check out the Beste No. 9 Jelly Cleanser here >>
---
Virgin Marula Luxury Face Oil
If you have tired, aging skin and are willing to fork up the big bucks for a good product, this luxury face oil is worth a try!
This Marula face oil moisturizes, nourishes, and balances while restoring a youthful-looking glow.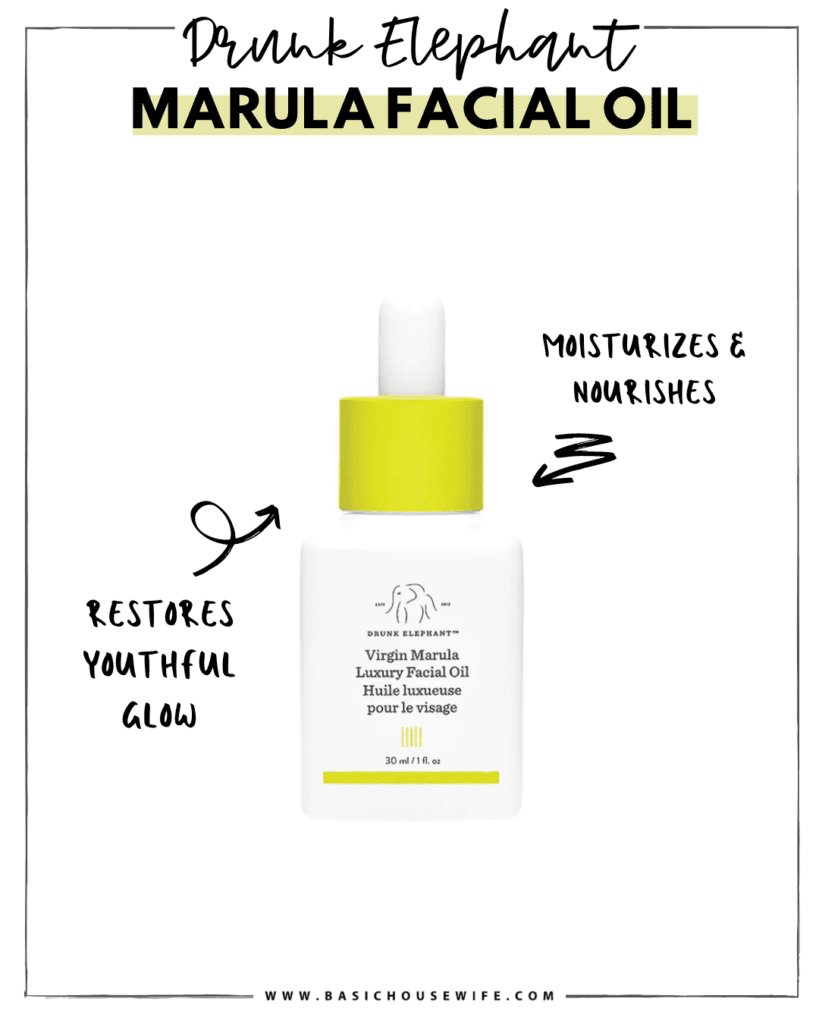 What I Love: It made my skin GLOW and left it feeling butter soft all day long.

What I Don't Love: I've tried many a face oil, but this one never fully absorbed into my skin so it left me feeling oily throughout the day, which was totally fine as long as I'm having a makeup-free day or only using it at night.
Check out the Virgin Marula Luxury Face Oil here >>
---
3 Drunk Elephant Products to Skip
Below are four Drunk Elephant skin care products that either didn't impress me OR I loved, but were not worth the price.
C-Tango MultiVitamin C Eye Cream
I am not much of an eye-cream person so take this review with a grain of salt.
The Vitamin C Eye Cream is FILLED with peptides and vitamins to help firm and brighten skin for younger-looking eyes.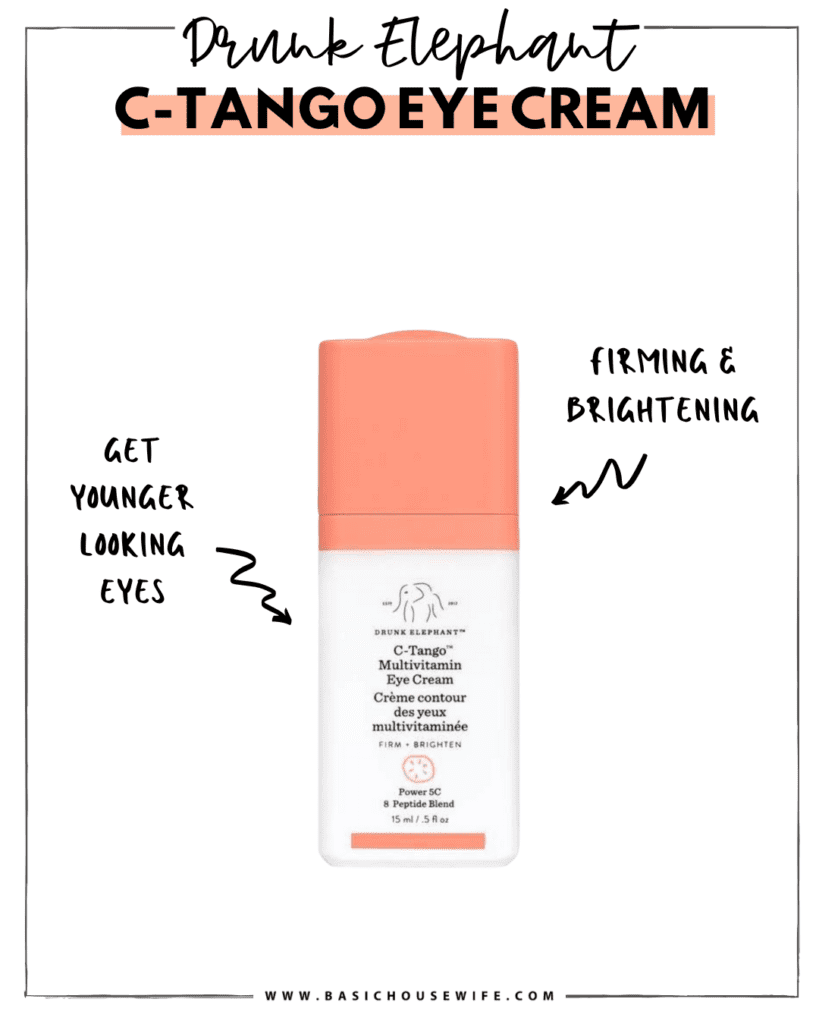 What I Love: The texture was good and a container will last you FOREVER.

What I Don't Love: I just found this formula to be so meh for the price. The skin around my eyes is not a problem area so I didn't visibly notice a difference, so many if that's an area you want to improve, this would be the right product for you?
Check out the C-Tango Vitamin C Eye Cream here >>
---
Protini Polypeptide Moisturizer
This Polypeptide Moisturizer helps to improve skin's tone, texture, and firmness.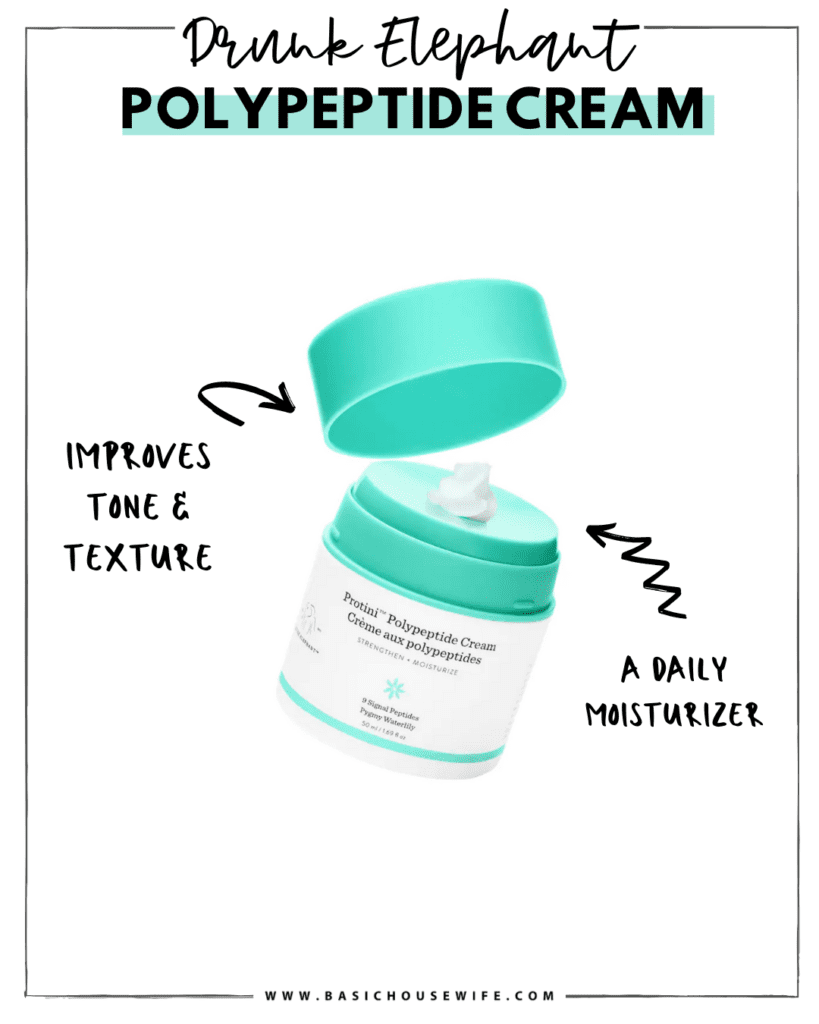 What I Love: The absorption is good for a day-time moisturizer. It also is very mild for sensitive skin and has no scent.

What I Don't Love: To me, this product is definitely not worth the money and the packaging, although cool, is not efficient for being able to use all the product! The texture of this was also a bit heavy for my liking.
Check out the Protin Polypeptide Moisturizer here >>
---
Umbra Sheer Physical Daily Defense SPF 30
Great for all skin types, this daily defense SPS 30 helps in the prevention of free-radical and oxidative damage.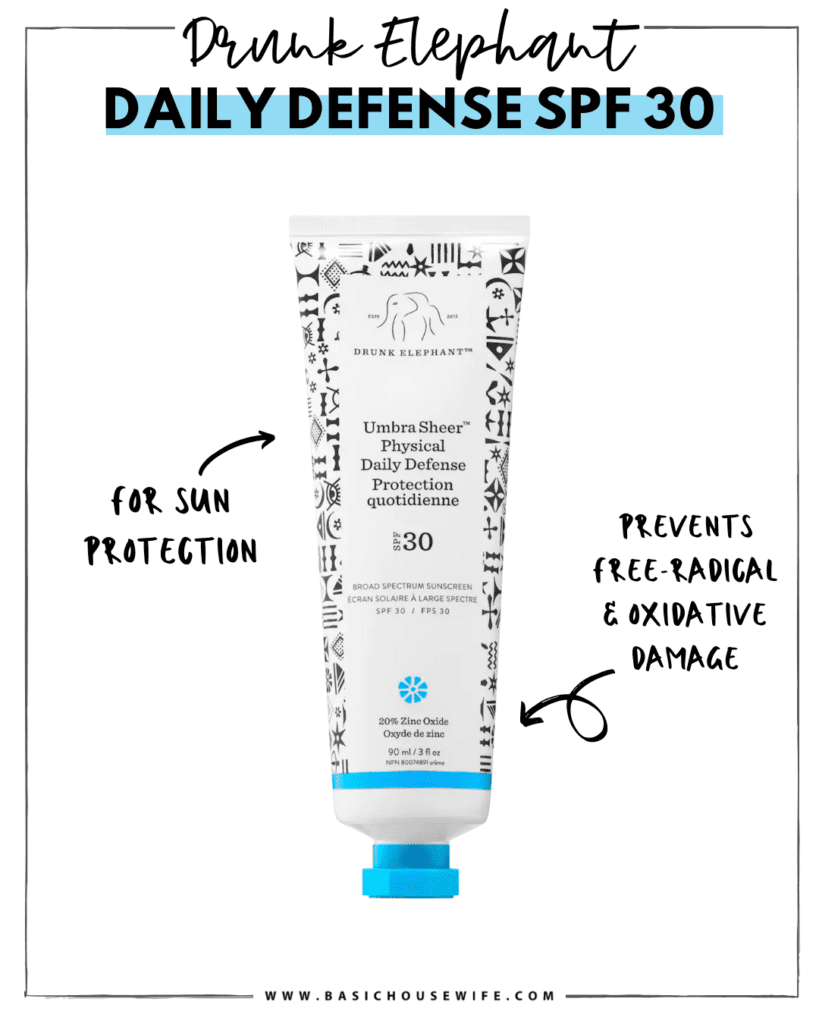 What I Love: Oof…maybe that it's an SPF and SPF is good?

What I Don't Love: Everything. The smell was bad, the absorption was terrible, it leaves a chalky film on your skin, and it is 100% not worth the $30-some dollars that it is.
Check out the Umbra Sheer Physical Daily Defense SPF 30 here >>
---
Drunk Elephant Skin Care Sample Kits
The majority of their full-size products range from $30-90 so as I mentioned before, I choose to start with The Littles kit, a sample pack features 8 of their top-selling products (all featured above).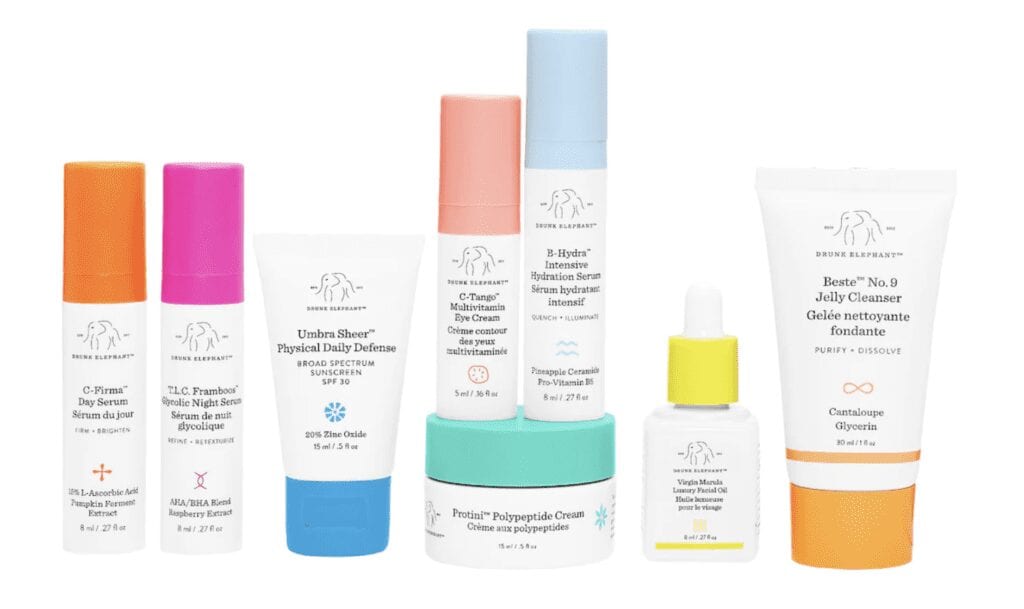 Personally, even though I didn't love all of the Drunk Elephant skin care products, finding ones that I did love, without having to commit to the full sizes, was totally worth it.
And although the samples are SMALL, like super duper small, they lasted me about a full three weeks — some even longer!
Click below to check out some of their other mini sample packs:

---
Pin It!