Reveal Romance Book Subscription Box: Everything You Need to Know
If you love romance books and the surprise of subscription boxes, you're going to want to check out the Reveal Book Box! In this post, you'll learn everything you need to know about this romance book subscription box, how it works, how much it costs, and a look inside my very first box!
This post contains affiliate links, meaning I earn a small commission when you purchase through them. Also, I was gifted a free Reveal Romance box in exchange for social posts, but all opinions are my own and I am writing this review of my own free will.
Just here for a promo code? No worries. Use BOOKEDUP25 to save 25% on your first box!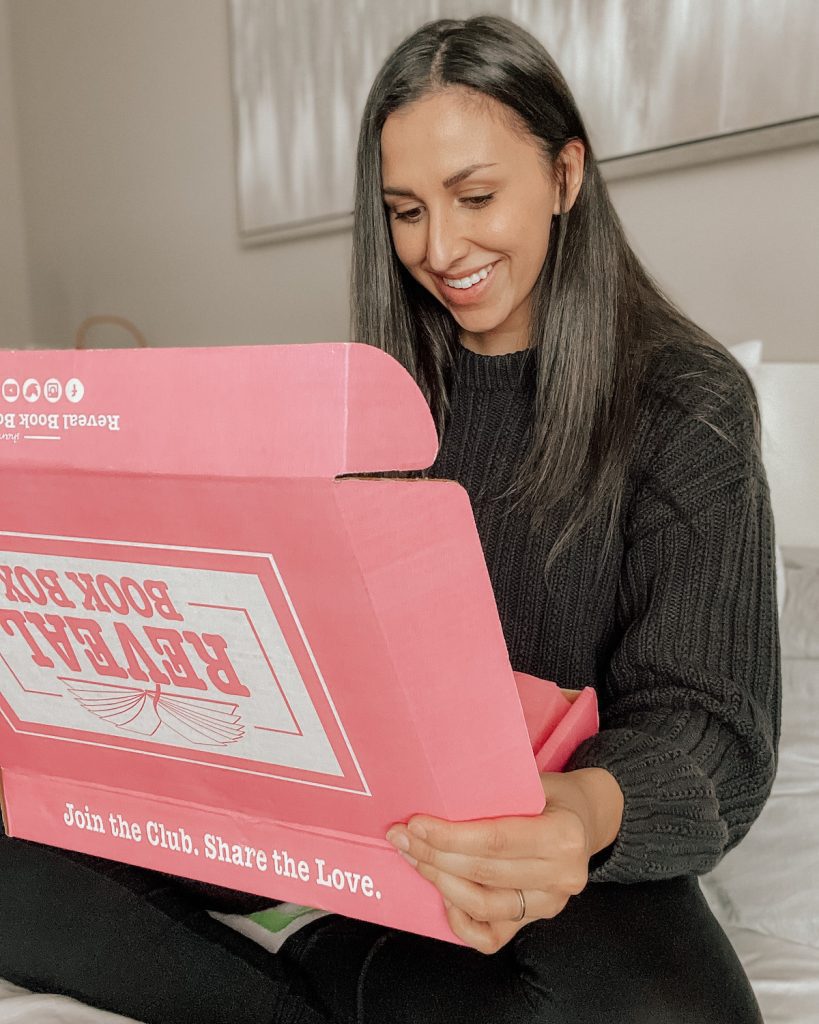 I am a HUGE romance reader and indie romance books on Kindle Unlimited are my absolute fave.
So when I realized that they made a romance book subscription box that was basically filled with the books I love to read, I was ecstatic!
So if you are a romance reader and love to read indie authors, have specific tastes in tropes, and want the opportunity to get new books shipped to you monthly, you'll definitely want to check out Reveal Book Box.
What is the Reveal Book Box?
The Reveal Book Box is a romance book subscription box that brings your favorite tropes right to your front door. Each month, you will receive signed paperback books that are hand-selected for you based on the tropes and themes you love!
There are 4 different membership levels so your monthly box can include anything from 1-6 books.
---
How does the Reveal Book Box work?
When you first sign up for the Reveal Book Box, you fill out a short questionnaire regarding your favorite book tropes. The sign-up process is super fast and painless.
Each month, you will receive a bright pink box filled with signed paperback books.
The majority of books are from indie authors. You can see a list of featured authors here. As far as I know, you cannot make special requests for books or authors, but the surprise is part of the fun!
Depending on your membership level, your box may also include promotional swag such as bookmarks, buttons, stickers, etc.
The focus on this box is books vs lifestyle items, which helps keep the cost low!
Memberships renew automatically, but you can cancel anytime before your renewal date. At this time, there are only a limited number of boxes available, so if you cancel, you may have to wait for a spot to open up again.
Currently, Reveal Book Box only ships to the U.S.
---
How Much Does the Reveal Romance Box Cost?
A Reveal Book Box starts at just $12.95/box + shipping. However, there are three different membership levels you can choose from:
Individual Signed Romance Book (no frills): $12.95/box + shipping
Romance REVEAL Book Box (2 books): $24.95/box + shipping
Romance Reveal BIG Book Box (4 books): $39.95/box + shipping
What's Inside a Reveal Romance Book Box?
You can check out a full unboxing of my latest Reveal romance book subscription box below.
Reveal Romance Review: Is This Romance Book Subscription Box Worth It?
First off, as a romance reader, I think the concept of this box is so cool. I love that the box specifically caters to the types of books you want to read and the initial process of choosing my favorite tropes was so fun! Honestly, it was really hard not to just pick them all.
The swag in the box was super underwhelming, but as the site promotes, to keep costs low, they focus on the books –which I love! Honestly, I would just prefer to not even have the swag included, but I'm assuming most of it is promotional materials that are sent by the authors themselves.
I got the 4-book box and the books I received are SO fun. They are probably not ones that I would have picked myself, but these are definitely don't-judge-a-book-by-its-cover type of books.
However, I read enough books on Kindle Unlimited to know that there is great content hidden behind some not-so-amazing covers so always read the synopsis. Trust me.
While I haven't read any of the books at the time of writing this review, I can say with absolute certainty that I'm SUPER excited to read 3/4. One of them I'm not totally sold on yet, but who knows, maybe once I read it, it will become one of my favorites.
Overall, I had such a great time opening this box and think that the value for what you get is 100% worth it.
Will I be getting this box again? Absolutely! I also think this box would make such a fun gift for a friend. Whether you gift a subscription or just a one-time box, it's a great gift idea for a romance reader.
Ready to check it out? Use the code BOOKED25 to save 25% on your first box!