Scribd: The Best Audible Alternative for Audio & E-Books
Are you looking to find the best Amazon Audible alternative for your audiobook needs? Check out my full review on Scribd, a monthly subscription for ebooks and audiobooks that you need to know about!
This post does contain affiliate links, meaning I earn a small percentage if you sign up through them. All opinions are my own and I greatly appreciate your support!
I absolutely love reading, but if I'm being completely honest, for many years I looked down on the idea of consuming books in any way other than by reading a physical book.
Let's be real — there's nothing like the smell of a new book and the feel of crisp pages. But my bookshelves were quickly filling up, I was spending a lot of money on books that wound up in the donation pile, and overall, realized I needed a more affordable, waste-efficient option.
I decided to give eBooks a try and quickly fell in love. I loved the idea of being able to read in bed without a lamp. I loved that I could curl up in weird positions with my phone and consume at my leisure.
So then I tried audiobooks and I loved those even more. I started listening to books while working, cleaning, showering, getting ready, working out – literally any time that I had the mental capacity to consume a book audibly.
I WAS THE PERSON WHO WAS SO ANTI-AUDIO AND EBOOK, yet here I am now, a total advocate for both.
My Mission to Find the Best Audiobook App Out There
So it came down to finding a subscription because buying one-off audiobooks and eBooks was starting to get spendy.
I tried Audible for audiobooks. It was fine, but my listening was limited to one book/month and I knew there had to be a better Audible alternative out there.
I tried Kindle for e-books. Again, fine, but I still had to pay a lot for 90% of the books I wanted on top of the subscription.
That's when I found Scribd and you guys, it was a total game-changer for me. After partaking in Scribd's 30-day free trial, I quickly realized it was and is the best Audible alternative out there.
So that's why I'm here. I literally want to scream my love for Scribd off the rooftops, but since I don't want my neighbors to yell at me, a blog will have to do.
What is Scribd?
Scribd is an online membership for book lovers. It offers its members unlimited access to its vast library of eBooks, audiobooks, magazines, sheet music, and more!
They offer thousands of professionally published books, including tons of top sellers from all genres. In addition, they offer millions of user-contributed written works such as short stories and essays.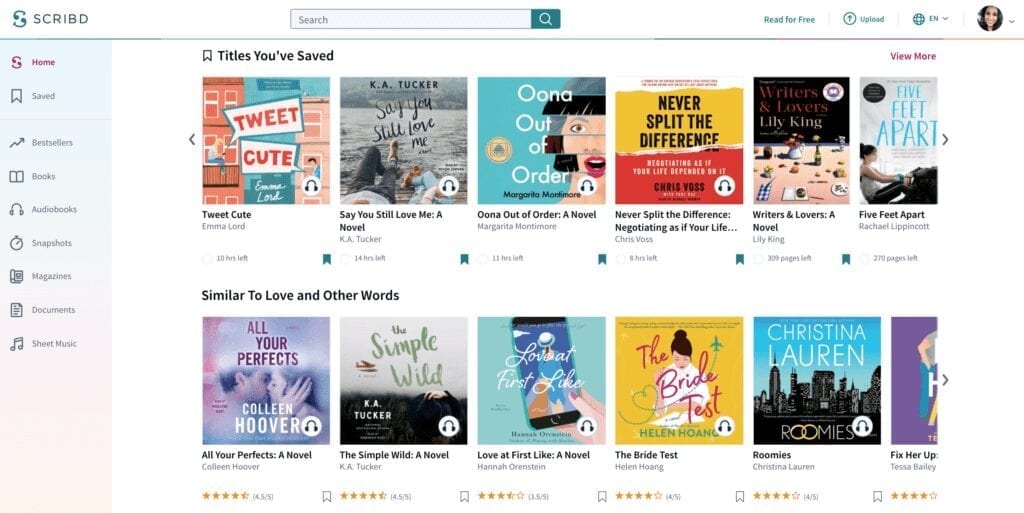 How does Scribd work?
Once you are a Scribd Member, you will get full access to their library of content. You will be able to search by the type of content you want to consume: Audiobook, ebook, magazine, etc or use the search bar to find specific titles.
If you find titles you like, you can flag them and they will be stored in your "Saved" library. You can add as many items to this as you wish and can even categorize them. I like to categorize mine by genre, but you can use any method that you prefer!
Are Scribd books free?
Yes and no. In order to access the Scribd library, there is a monthly membership cost of $9.99. However, once you are a member, there are no additional costs to purchase books, audiobooks, etc. That monthly payment gives you unlimited access to anything in the Scribd library.
If you want to try it out before making a commitment, Scribd offers a 30-day free trial! This trial will give you all of the benefits of a paid membership.
How many books are included in the service?
Scribd offers hundreds of thousands of titles, in a variety of different platforms (e-book, audiobook, magazine, etc.) There is a mix of old, new, best-sellers, and new releases in every genre so there is literally something for everyone!
How many books can I read or listen to per month?
Scribd is a completely unlimited service so there are no limits on how much you can consume.
What devices can I use with Scribd?
Scribd is a web-based platform so you can read on just about any computer, tablet, or phone that has a web-browser built-in. Scribd even offers an app for iPhone, iPad, Android, Amazon Fire tablet, and nook tablet users.
For a complete list of compatible devices, you can check out Scribd's support page here.
Can you download books on Scribd?
Yes! If you have the app on one of the devices mentioned above, you can download any titles you wish.
Where do those downloads go? They will be stored within the app for easy access!
Can Scribd be read on Kindle?
Unfortunately, no. E-ink readers like the Kindle Paperwhite or Nook Simple Touch are not supported.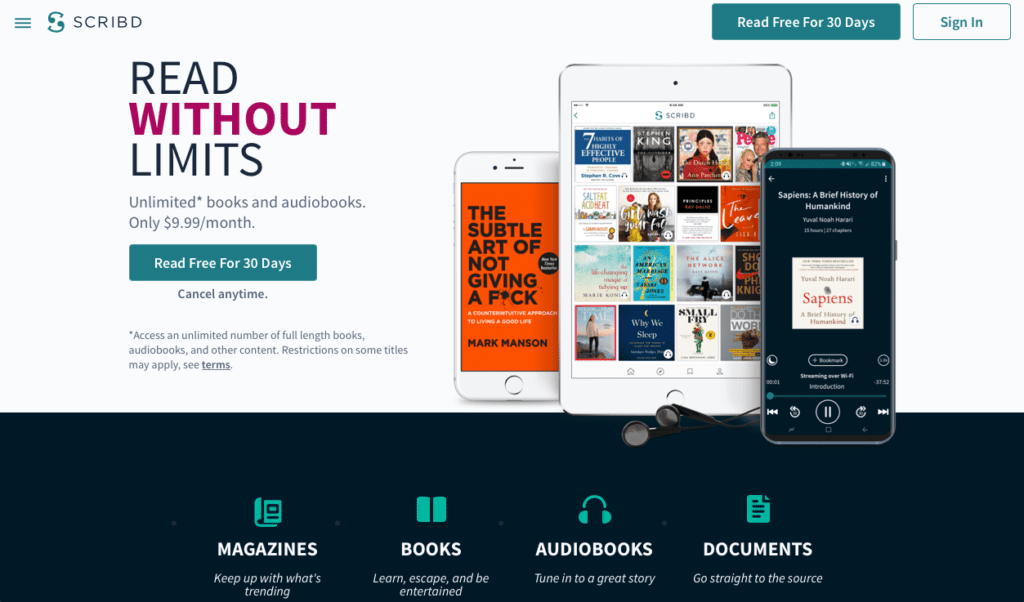 Does Scribd offer a free trial?
It sure does! Scribd offers a 30-day free trial so you can check out their huge library of titles before making a commitment. Once you're signed up and you decide it's not for you, just make sure you cancel your free trial or you will get charged the next month.
Why Scribd vs Kindle or Audible?
From my personal experience, Scribd was a total no-brainer to me and gave me way more bang for my buck. At $9.99/month, I am able to read and listen to unlimited titles, with zero additional fees. Whereas with Kindle and Audible, my reading and listening was limited and I still had to pay for some of the titles that I wanted.
Keep in mind, Scribd doesn't offer every single book title in the world, but what platform does? Of course, there have been books that I've wanted that aren't available on Scribd, but that number far outweighs the number of books that I HAVE found available in its library.
Do you recommend Scribd?
Overall, if you like audiobooks, e-books, or both, I HIGHLY recommend checking out this app. It's affordable, has an ever-growing library, a super easy app, and in my opinion, is the perfect Kindle or Audible alternative.
Had you asked me 6 months ago, I never thought that I would be advocating for an app like this, but I truly do love it, and just talking about it gets me super excited! It truly is the best audiobook app in the game.
Ready to give Scribd a try? Click here to start your 30-day free trial!
Share Your Thoughts
Have you tried Scribd or any other Audible Alternative before? What do you think is the best audiobook app out there? Leave a comment below and let me know about your thoughts or experiences with one!