Prime Wardrobe Try-On: 7 Amazon Sweaters To Get This Fall
Looking to refresh your fall wardrobe!? I used the try-before-you-buy service, Prime Wardrobe, to try seven Amazon sweaters that are perfect for fall! Check them out below.
This blog contains commissionable links, but all opinions are my own and I greatly appreciate your support!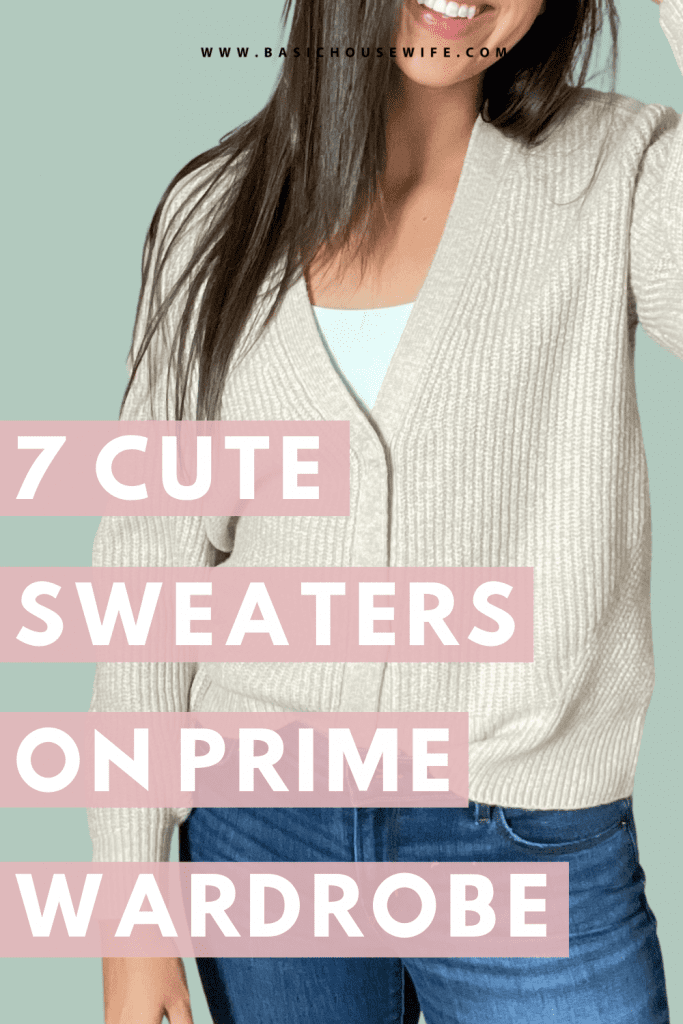 Autumn is here, which means it's time to revamp our fall wardrobes!
And I don't know about you guys, but sweater weather is my absolute favorite.
I mean, what's better than wrapping up in a cozy sweater on a cool fall afternoon!? Nothing. That's the only acceptable answer.
So if you're looking for some new fall sweaters for your wardrobe, you should definitely check out Prime Wardrobe!
Not familiar with Prime Wardrobe? Here's what you need to know…
Prime Wardrobe is a try-before-you-buy service for Amazon Prime members. It's completely free and you get to try up to 8 pieces for 7 days and you only get charged for what you keep.
You can learn more about Prime Wardrobe here >>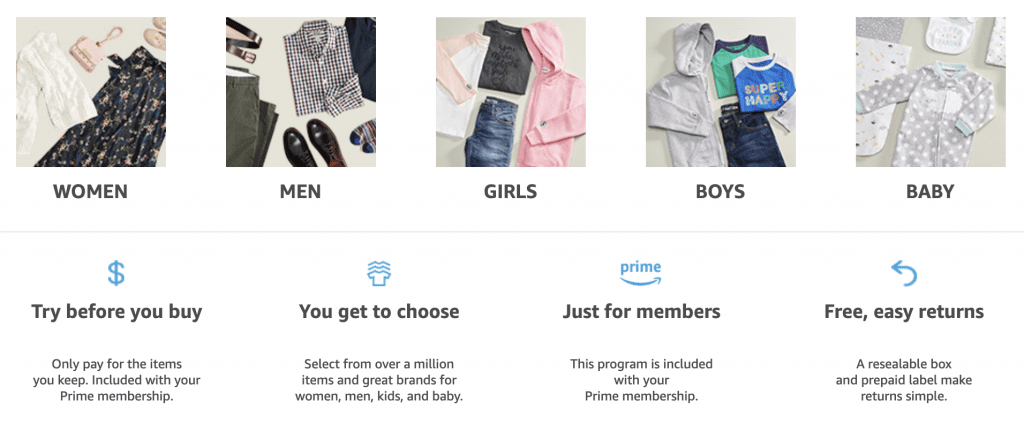 My Amazon Sweaters HAUL From Prime Wardrobe
I recently wrote a blog on some of the best Amazon sweaters available through Prime Wardrobe and thought it would be fun to try some on for myself!
Based on availability with sizing and styles, I ended up picking 7 sweaters to try on at home.
For sizing reference, I am normally a size Medium in tops (or 6-8) and am just under 5'8″ in height. I ordered sizes based on what Amazon recommended to me.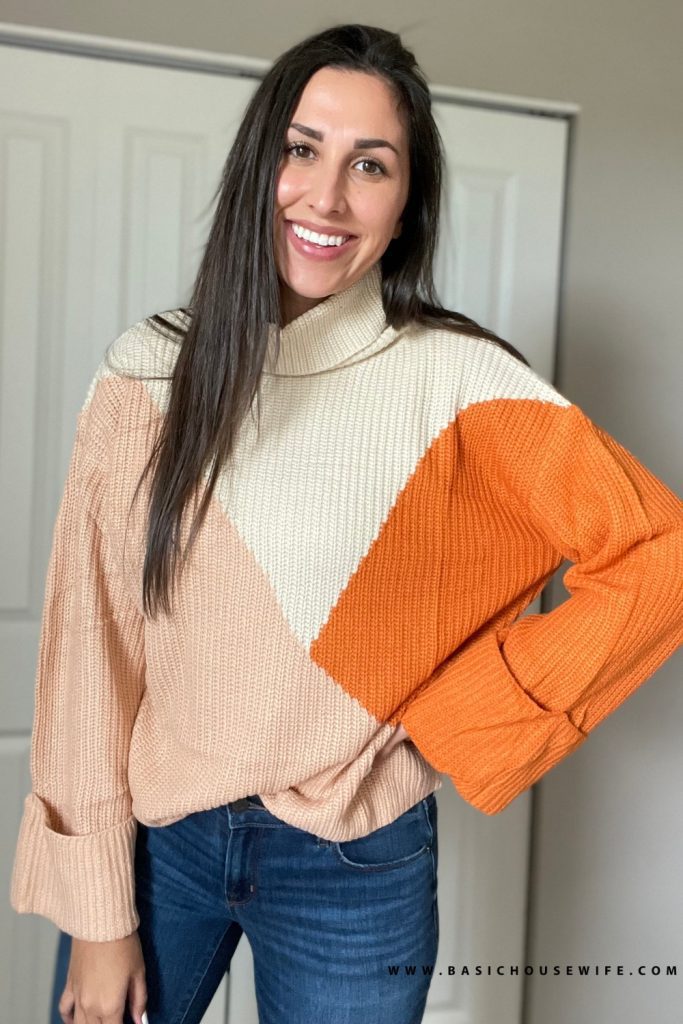 This color block sweater just screamed fall to me and I was very impressed with the quality! I ordered up one size and loved the baggy sleeves with the cuff detail at the wrist. And the turtleneck neckline was comfy without feeling constricting.
Overall, the quality was great, but the colors and fit were a bit out of my comfort zone.
Shop this color block sweater here >>
---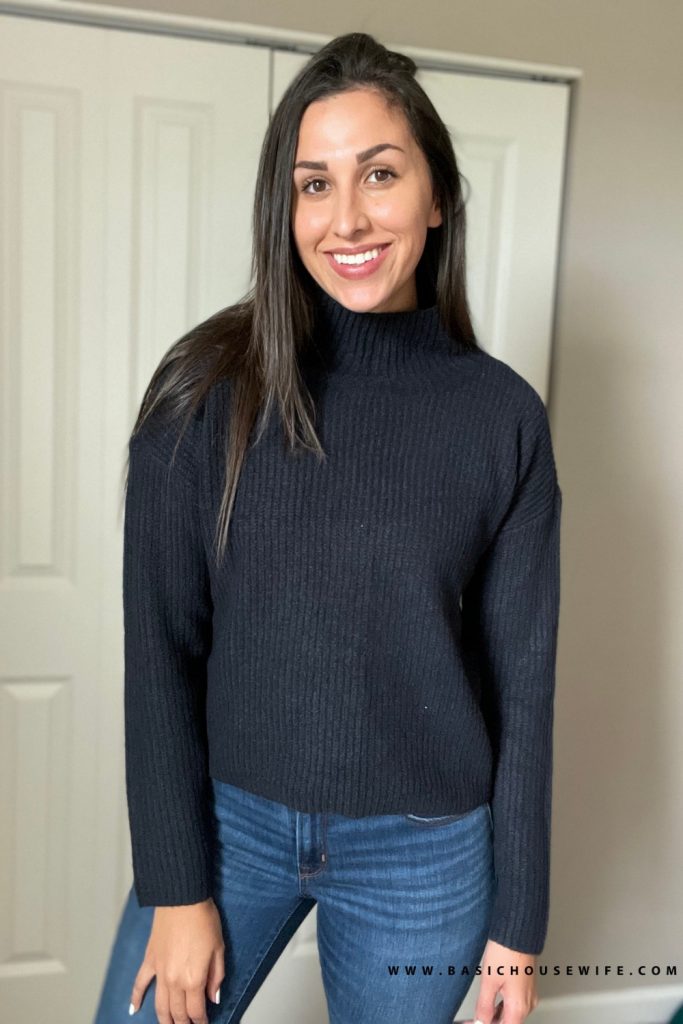 I LOVE mock-neck sweaters and this one was no exception. The material was super cozy and stretchy but is definitely one that attracts lint. The length was perfect for me. Not long enough to feel boxy, but not short enough to be cropped.
I ordered true-to-size and I thought the fit and quality were great.
Shop this mock-neck sweater here >>
---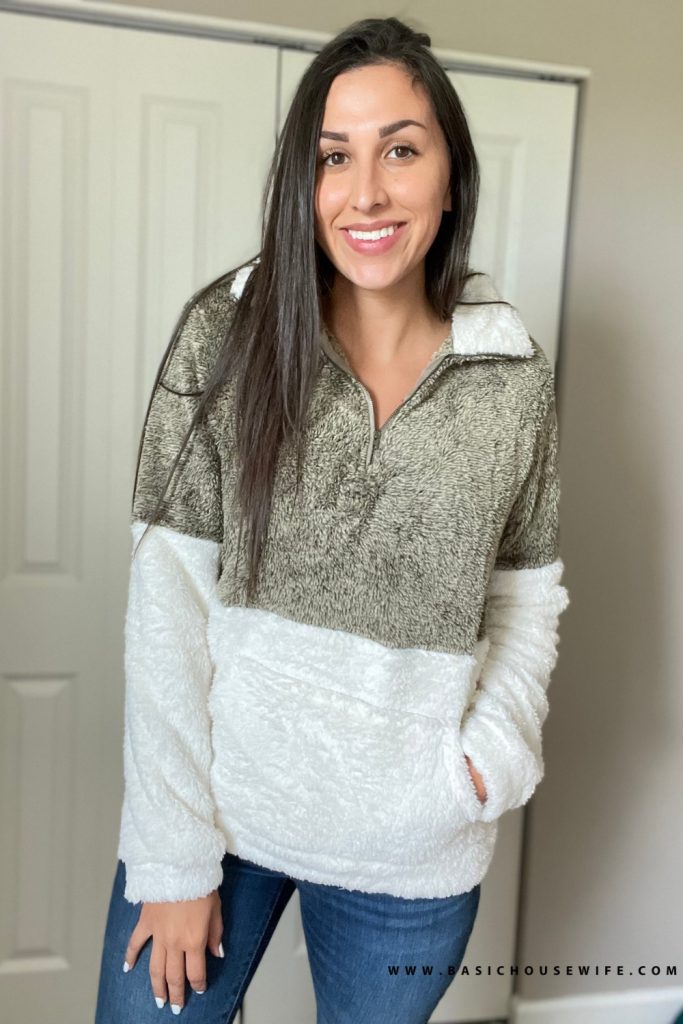 This is honestly probably the best Sherpa pullover I have ever worn. Everything about it was perfect in my opinion. The length was great, it has a Sherpa lining on the inside, and it's warm and cozy without feeling heavy.
I ordered true-to-size and this was a total win for me.
Shop this sherpa pullover here >>
---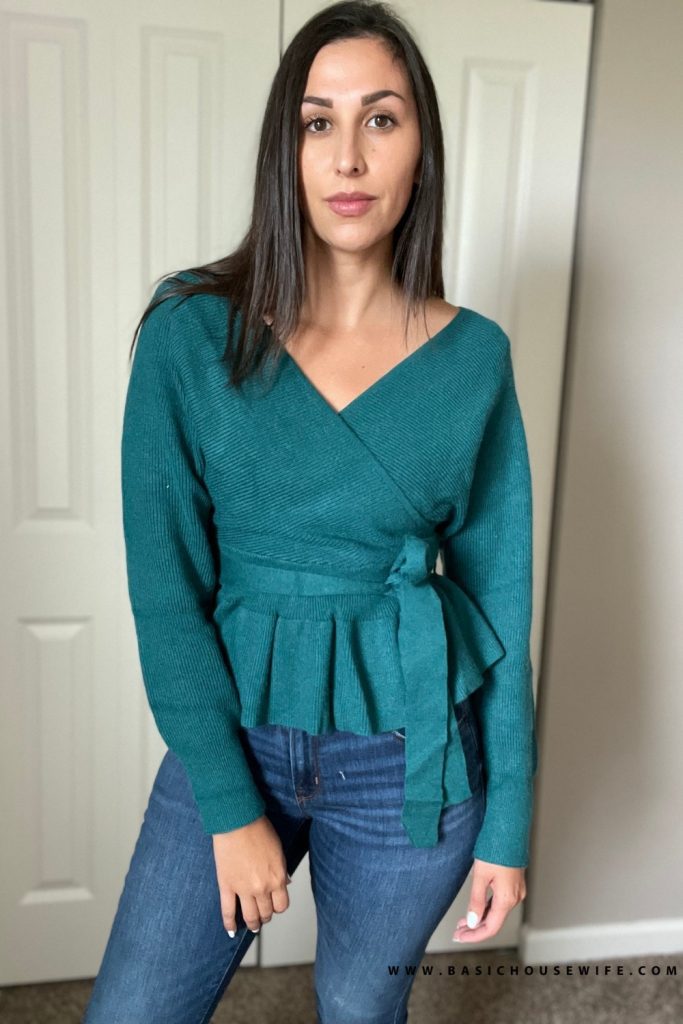 This sweater is so dang cute and I picture this off-the-shoulder sweater being perfect for a date night, girls night out, or holiday party.
I ordered true-to-size on this one and thought the fit and fabric quality was excellent. It was thick (in a high-quality way) but stretchy for a super comfy fit. And I loved the detail of the ruffled peplum. The neckline can be worn higher or off-the-shoulder (depending on how much skin you want to show off) and it also has a super fun cut-out back!
Shop this peplum sweater here >>
---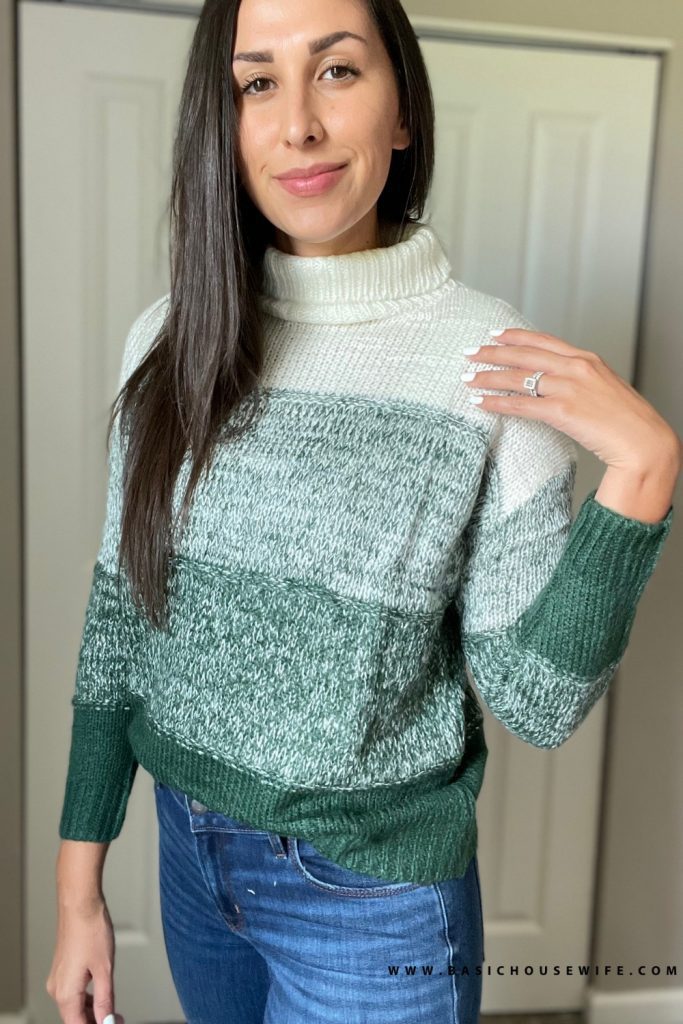 This was my most anticipated sweater and also my biggest disappointment. While the fabric quality and coloring looked good, the sizing was not for me.
I ordered true-to-size, but the head hole was SO hard to squeeze through and the arms were too short. I was hoping for a baggier fit and I think had I ordered up 1-2 sizes, I would have been happier. It also had a really chemically smell, but I'm sure that's something that could be washed out.
---
This ribbed cardigan is such a staple piece and is SO comfy cozy. The material is thick without feeling heavy, but also really soft. I ordered true-to-size and I thought it was a perfect length and fit.
Overall, this was a total win and one that everyone should have in their closet!
---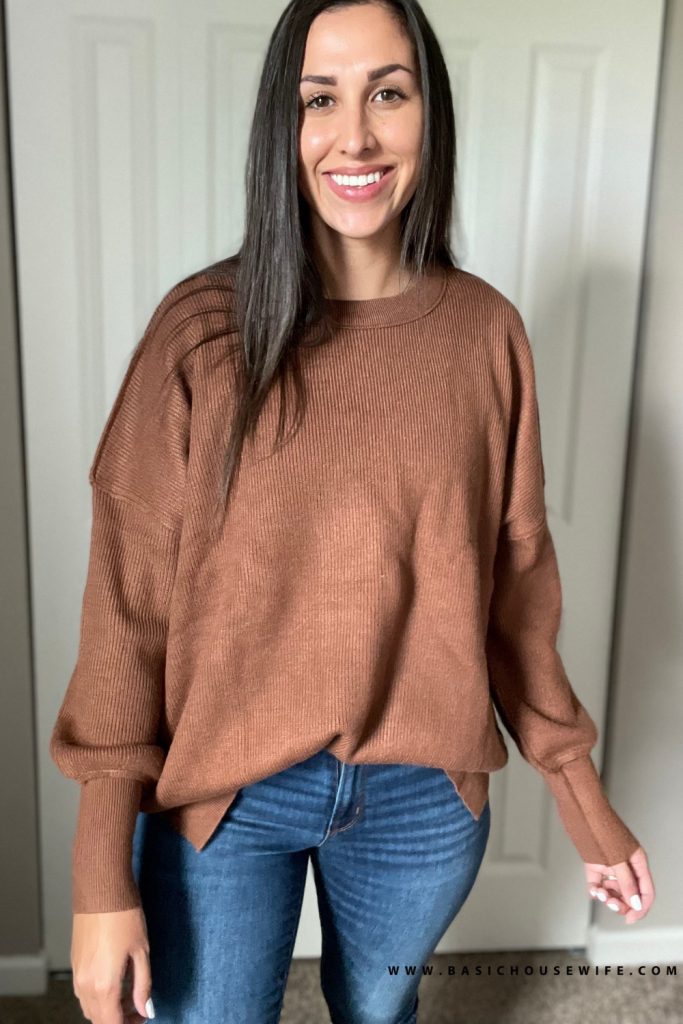 This was probably one of my favorite items from this HAUL because I love anything oversized and comfy. This oversized sweater is perfect for pairing with leggings, is super soft and stretchy, and the batwing sleeves made it feel extra cozy.
I ordered true-to-size for this one and loved everything about it.
Shop this oversized sweater here >>
---
Check Out My Prime Wardrobe Try On
If you want to learn more about Prime Wardrobe, see my initial reactions to the clothes, and see a full try-on, check out my video below.
---
Overall Thoughts on this Amazon Sweater HAUL
I must say, this was one of the best Amazon clothing HAUL's I've had in a while. There was only one major dud for me (again, mostly a fit issue!) but the other 6 out of 7 were super cute and the quality was WAY better than I was expecting.
Overall, I was very impressed and can't wait to try on more!
Again, if you want to check out my post featuring these sweaters plus 20+ more available through Amazin Prime Wardrobe, check out my post here.