40+ Life-Changing Gifts for People With Anxiety
Are you looking for the best gifts for people with anxiety? Check out this list of 40+ products that make the perfect gifts for the anxious people in our lives.
This blog contains affiliate links, meaning I earn a small commission when you purchase through them, but all opinions are my own and I truly appreciate your support.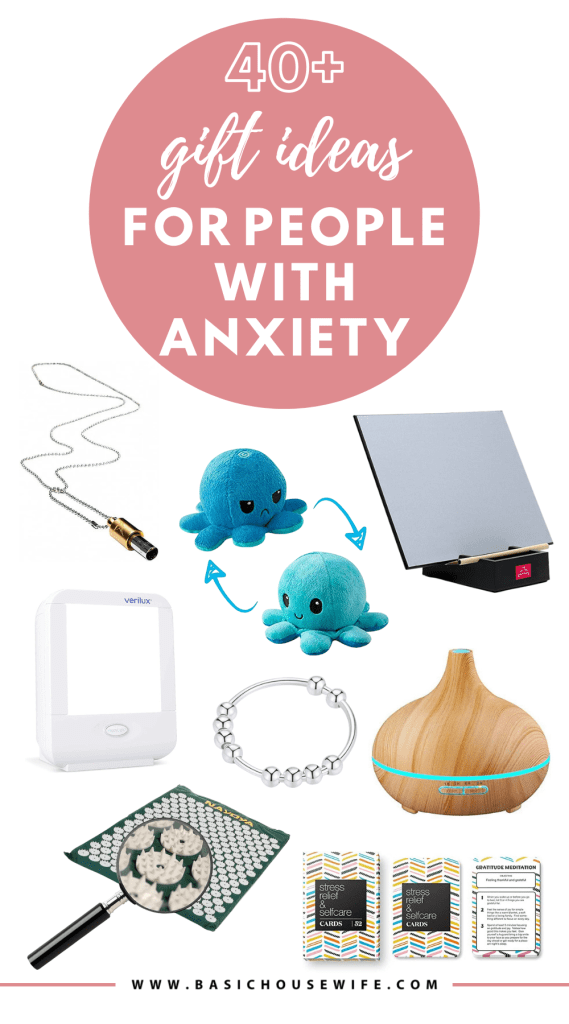 I think we all can say that we know someone close to us who deals with anxiety (or high levels of stress) on an all-too-regular basis. It's hard to watch such wonderful people deal with such an array of emotions and oftentimes we wonder, 'what can I do to help?'
As much as we all love gifting coffee mugs and Target gift cards, sometimes all that someone needs is an outlet from their emotional stress and anxiety.
I've gathered a list of gifts for anxiety that are perfect outlets, stress-relievers, and make for the best gifts for anxious people. Let's dive in…
Since you're here, you might also like:

– The Ultimate Guide to Self Care + 80 Practices to Try
– 50 Must-Have Motivational Books for Women
This post is all about gifts for people with anxiety.
---
40+ Gifts for People With Anxiety
DISCLAIMER: None of these products claim or are meant to cure anxiety, depression, ADHD, SAD, or any other mental illness. These gift ideas are strictly to help bring some comfort and joy to someone's day.
A Weighted Blanket. I just recently discovered these and man, what a game-changer. Weighted blankets provide sensory pressure to help you relax and are the perfect anti-anxiety gift. Basically, it's like receiving a giant, warm hug and is so comforting that it helps to calm anxious feelings. Shop my personal favorite weighted blanket here >>
A Himalayan Pink Crystal Salt Lamp. Salt lamps provide a gorgeous amber glow that helps to create a relaxing atmosphere by detoxing the air of negative ions. Shop the highest-rated salt lamp on Amazon here >>
An Aromatherapy Heating Pad for Neck & Shoulders. The perfect way to relieve stress and tension after a stressful day. This heating pad is filled with lavender, chamomile, peppermint, and lemongrass to also relax your mind. Shop the heating pad here >>
A White Noise Machine. I love the idea of this, especially for those who have a hard time drowning out noise to relax. Shop this top-rated white noise machine here >>
A Craft Kit. Art is one of the greatest forms of therapy and a perfect gift for anxious people. Not to mention, these craft kits are super fun, adorable, and practical. Shop these trendy craft kits here >>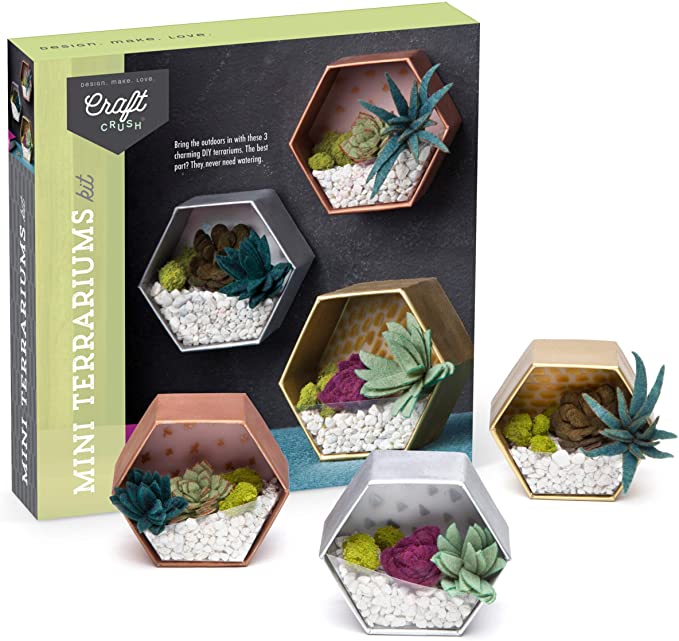 Stress Soothe Balm. When applied to temples or under nose, this herbal balm is meant to help reduce strain and anxiety by soothing the mind and body. Shop this soothing balm here >>
Comforting Compression Socks. It's that whole idea of feeling like you're getting a giant hug, ya know? Just like…a calf hug. Either way, compression socks promote blood flow, relieve discomfort, and are proven to reduce anxiety. Shop this fun pack of compression socks here >>
An Infinity Fidget Cube. Fidget toys are a great distraction from anxious feelings, will help you focus, and are the perfect stress-relief tool. Shop the fidget cube here >>
My TheraBox. My Therabox is the #1 self-care subscription box that aims to inspire happier lives through practical joy-boosting activities & thoughtful self-care products. Each box is valued at over $120 and includes 6-8 full-sized therapist curated products. Gift a monthly subscription or purchase a one-time box here >>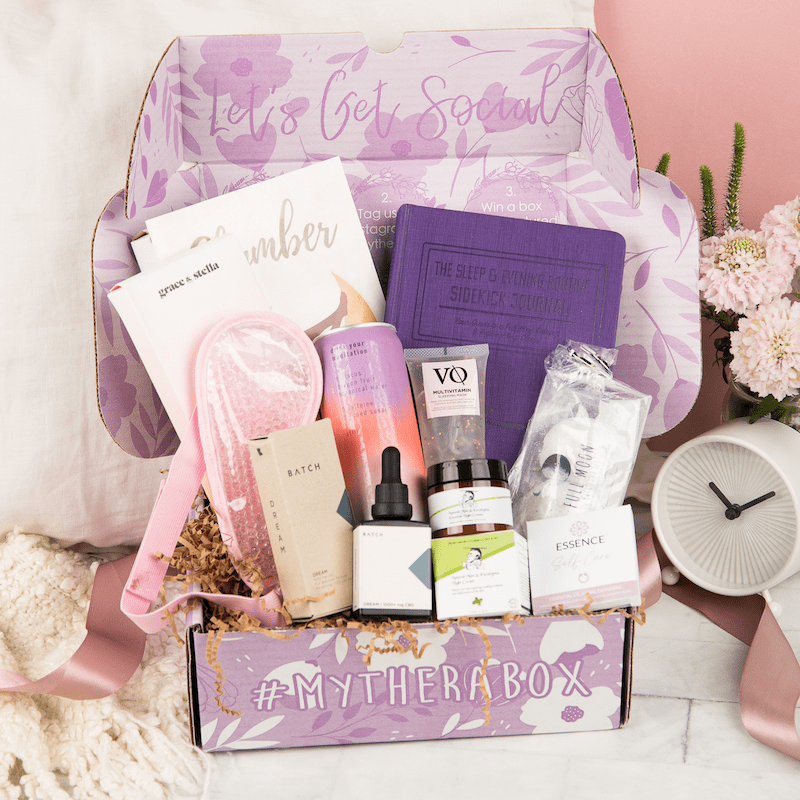 Aromatherapy Bath Bombs. As fun and luxurious as bath bombs are, you want to get your anxiety-ridden friend something to help ease their mind, relax their body, and warm their soul. Aromatherapy bath bombs made to reduce stress and clear your mind are exactly what they'll need. Shop aromatherapy bath bombs here >>
A journal. One of the most common outlets for a reason, writing is a way to get your thoughts out of your head and on to paper. Shop journals here >>
Oil Diffuser. I have a variety of these in my home and they are constantly running. Oil diffusers allow you to create aromatic blends with your favorite essential oils. I personally love to diffuse essential oils to help with my anxiety, to relax before bed, and to get energized in the morning. Shop some top-selling oil diffusers here >>
An Aromatherapy Eye Pillow. These pillows are super soft and filled with natural aromatherapy herbs to relieve tension and stress. For those who deal with migraines, you can pop this in the freezer for some cool relief. Shop this top-selling eye pillow here >>

'Stress Less' Cards – Mindfulness & Meditation Exercises. This deck of cards contains 52 effective exercises to help you relieve stress and deal with anxiety whenever it's needed most. These exercises will help you focus on your breathing, observe your body and awaken positive emotions through effective visualizations. Shop this unique gift-idea here >>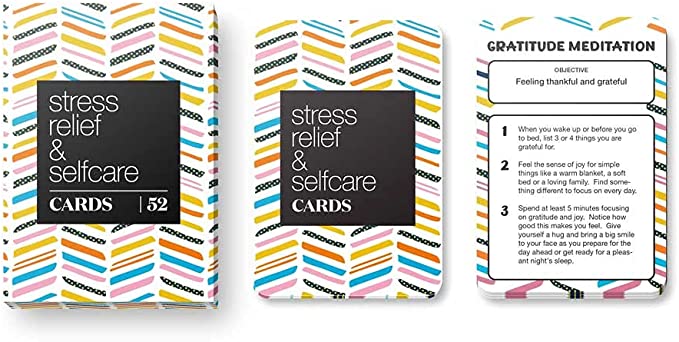 An Inspirational Print. Inspirational wall art can be a subtle reminder for the loved ones in your life that there is light on the horizon and make for great gifts for anxious people. Shop inspirational wall art here >>
A Relaxing Face Mask. One of my personal favorites is the 20-Minute Rescue Mask from Penny & Pine. It's a sulfur and zinc-based mask that draws out impurities, leaving your skin feeling super clean and refreshed. Shop the Penny & Pine 20 Minute Rescue Mask here >>
Moody Reversible Octopus. These octopus plushies are a great gift for a friend with anxiety because it allows them to communicate their feelings without having to verbally communicate. Not to mention, they are so dang cute, they are sure to brighten anyone's day! Shop the Moody Octopus here >>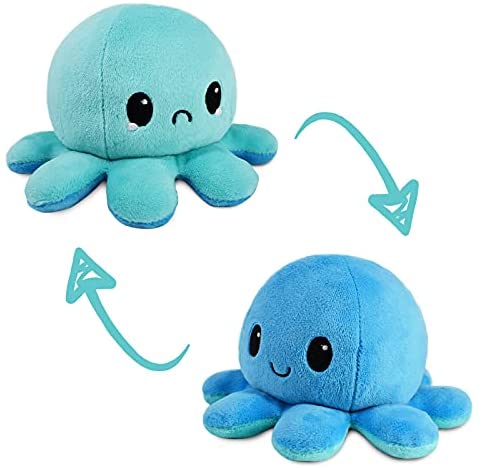 A Book About Anxiety. 'Dare: The New Way to End Anxiety and Stop Panic Attacks Fast' is one of the most rated anxiety books on Amazon and the reviews are phenomenal. Check it out: Shop 'Dare' here >>
Essential Oils. Healing my anxiety and lowering my stress levels was one of the main reasons I got into essential oils to begin with. If you're looking for some great ones to bring some positive energy to you or a loved one, this kit has all the essentials to help with their emotional well-being. Shop essential oils here >>
As an avid user, I firmly believe that good oils are worth paying for. If you're not looking for a whole kit, I highly suggest Peppermint, Lavender, or my favorite, Adaptiv.
A Buddha Board. The purpose of this board is to help you learn to 'live in the moment' and 'let go'. Honestly, the idea is genius. It's an artistic stress reliever that allows you to practice relaxing mindfulness over and over and over again. Shop the Original Buddha Board here >>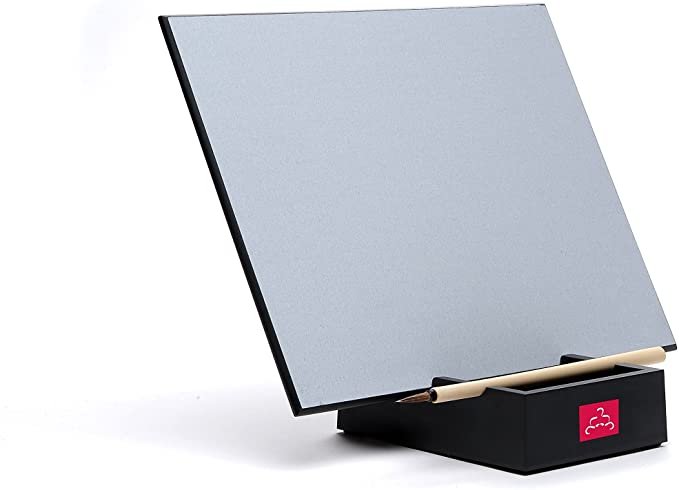 A Mindfulness Journal. Being able to take even just a few minutes out of your day to reflect and understand where your head is at is SO important for those who regularly deal with stress or anxiety. Give them the gift of clarity with a mindfulness journal that prompts them to jot down thoughts. Shop the 5-Minute Mindfulness Journal here >>
A Dammit Doll. It's a fun and therapeutic way to take out frustration or anger. Made to be squeezed, thrown, smashed, or banged, they are a great gift for friends with anxiety. Shop dammit dolls here >>
Subscription to a Meditation App. This is honestly one of my favorite ideas because I can't tell you how many times I have downloaded a meditation app, only to realize that the majority of the functionality is only available with a subscription! Shop the top meditation apps here >>
LOVETUNE Meditation Tuning Necklace. This mindfulness tool uses a single frequency to help align your mind and is proven to reduce stress, prevent burnout, and overall improve your well-being. Shop the tuning necklace here >>
Chocolate. Chocolate makes everyone happier — do I need to go more in-depth? In case you need some gift inspo, shop this assortment of Truffles here >>
An Adult Coloring Book With Stress-Relieving Patterns. Give your loved one hours and hours of fun with this perfect anti-anxiety gift. Don't forget the colored pencils! Shop this highly-rated coloring book here >>
A Daylight Therapy Lamp. Perfect for those who deal with a seasonal affective disorder or for those who feel gloomy during the winter months, these light therapy lamps mimic natural light to improve mood, concentration, boost energy, and more. Shop this best-selling light therapy lamp here >>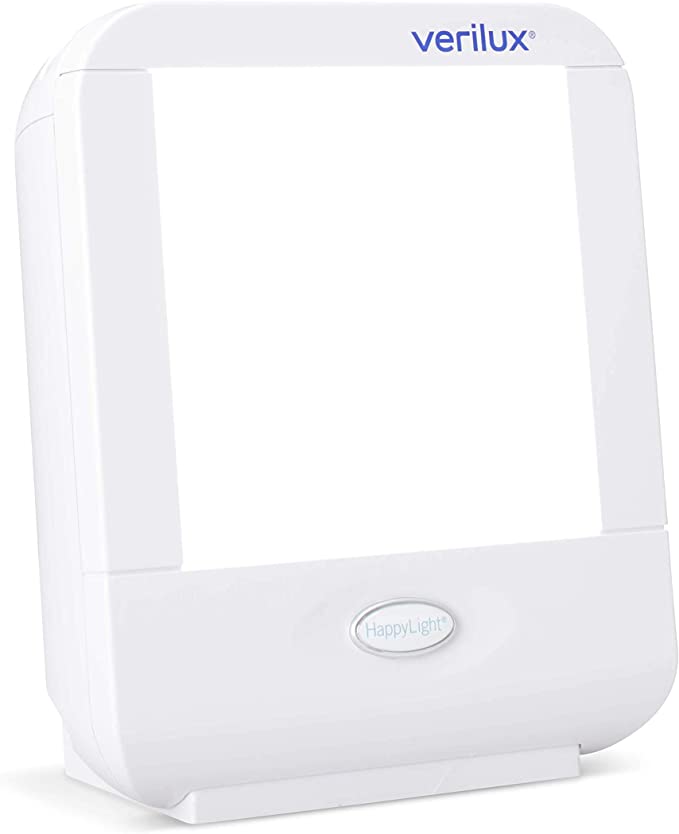 Healing Crystals. Crystals help to balance your chakra, which are the focal points in your body used in meditation. Shop this 5-star healing crystal kit here >>
A Bougie Bath 3-in-1 Kit. Each of the 3 bath sets in this kit include a facial sponge, unique bath bomb, and 3 wonderfully scented hand poured soy candles, and a playlist to set the mood. It's literally like creating a spa experience in your own bathroom! Shop the Bougie Bath Kit here >>
A Fidget Ring. If you have a friend who is a fidgeter or resorts to picking, pulling, or any other harmful habit, these spinning fidget rings are the perfect anti-anxiety gifts! Shop this fidget ring here >>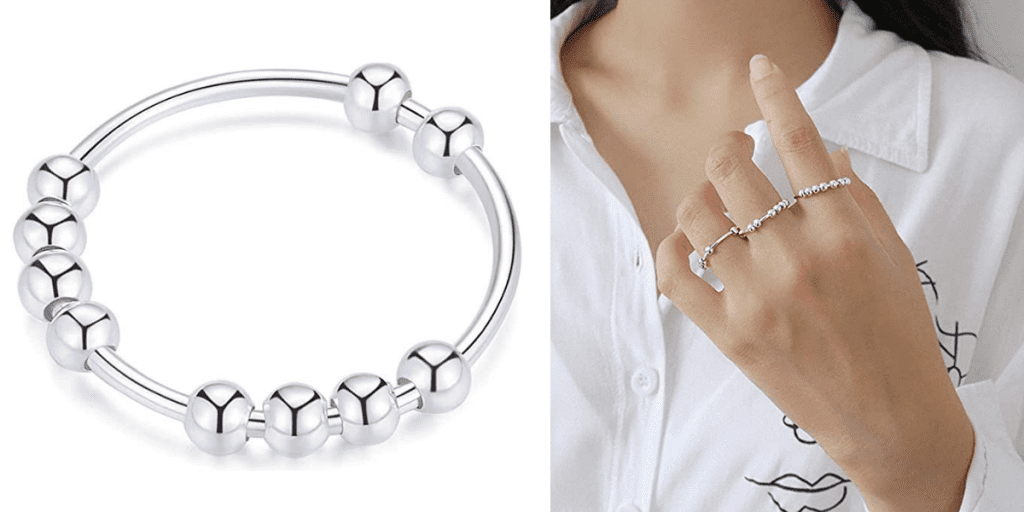 Aromatherapy Bath Salts. Personally, I'm not a big bath-taker, but my friends who love them, SWEAR by their relaxation powers. So if you're looking for the perfect gift for your anxious, bath-loving friends, consider this highly-rated, Happiness Soak, Epsom bath salts that contain wintergreen and bergamot essential oils to inspire happiness. Shop this bath salts set here >>
A Planner/Organizer. Being able to keep my life organized has always been an instant stress reliever for me. It's a place to not only organize plans but thoughts, goals, lists, etc and makes for a super practical gift for people with anxiety. Check out my post on productivity planners here >>
An Acupressure Mat. I have been DYING to try one of these and it's currently on my Christmas list. Curious? It's a spikey mat that you lay on to get blood circulating and release muscle tension. Sound scary? Check out the reviews. They are AMAZING! Shop the best-selling acupressure mat here >>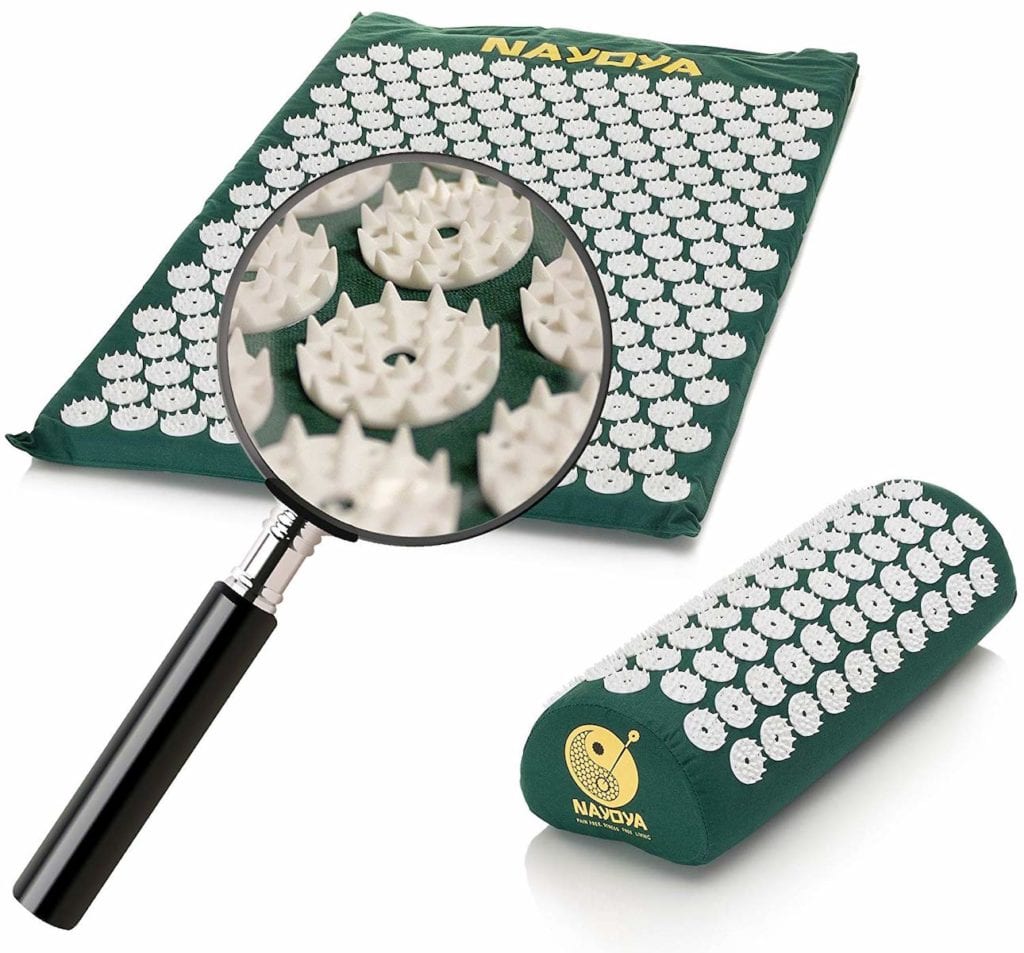 Relaxation Herbal Tea. Classic chamomile tea can go a long way for our stress-induced friends. Not only is this tin set of chamomile herbal tea ADORABLE, but it has insane reviews! Shop this fan-fave herbal tea here >>
Gift Certificate for a Massage. Give the gift of tension relief with a massage gift certificate. If you know the person intimately, give them one yourself. Shop wellness gift cards here >>
A Yoga Mat and Free Class. Yoga is a well-known stress reliever and ALSO gets you in shape. Win, win! Gift your loved one with a yoga mat and free class at a studio for a unique gift idea! Shop yoga mats here >>
A Birthdate Candle. Candles are a great way to unwind and relax and these birthdate candles are extra special because each one is personalized using astrology, numerology, and tarot for each birthday. The scents are also individualized. Save 10% using my code FOREVERBOOKEDUP10 >>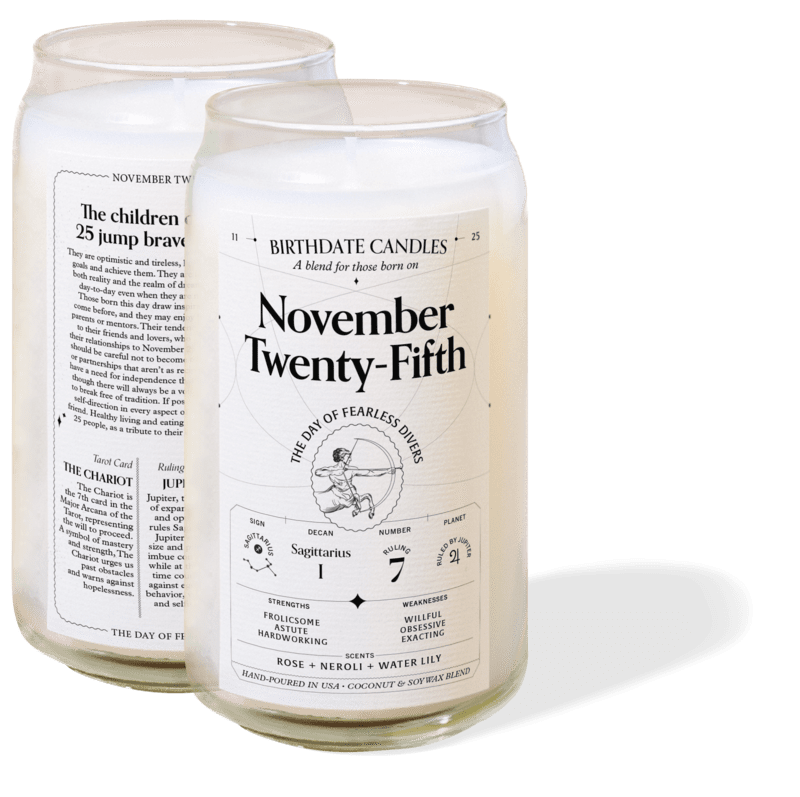 An Aromatherapy Inhaler. Aromatherapy inhalers make carrying your favorite essential oils around a breeze! Lightweight and mess-free, you can throw this in your purse and sniff as needed. Shop these top-rated aromatherapy inhalers here >>
A Lava Lamp. It's not a traditional form of therapy, but the slow movement of a lava lamp can be very therapeutic. Not to mention, they come in super cool colors! Shop top-selling lava lamps here >>
A Weighted Shoulder Wrap. This shoulder wrap uses heat, pressure, and aromatherapy to help relieve tension in the body and mind. It's like getting a warm hug around your shoulders. Shop weighted shoulder wraps here >>
---
Share Your Anti-Anxiety Gift Ideas Here
Hopefully, this list has inspired some unique ideas when it comes to gifts for people with anxiety.
But remember, a lot of times, the greatest gift you can give them is a listening ear and emotional support. While anti-anxiety gifts are great, they by no means will heal anyone's anxiety but are meant to act as a reminder that they are loved and thought of.
I'm curious — what anti-anxiety gifts have you gifted (or been given!)? Leave a comment below and let me know!