Book of the Month: An Honest Review of the Book Subscription Box
Have you been curious about trying a monthly book subscription box? Check out my full review of Book of the Month + don't forget the promo code at the end!
This blog contains my referral links. I don't receive a commission, but I do occasionally get some free books if you decide to give BOTM a try! Keep scrolling and I'll also tell you how YOU can receive free books too!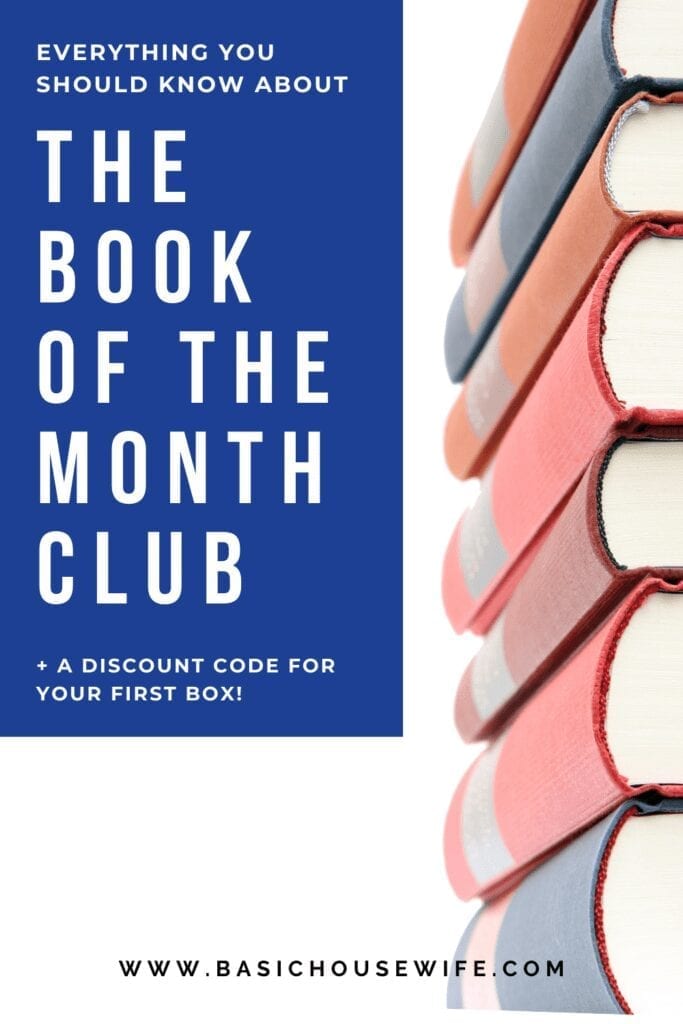 ---
My Hunt for the Best Book Subscription Boxes
If you don't already know, I am a subscription junkie. From FabFitFun and BoxyCharm, to Ipsy and Ellie, I LOVE trying new ones out and there is nothing like getting that rush of seeing the package waiting at my doorstep, ready for me to tear open.
Anyways, you aren't here to listen to me ramble about my bad spending habits, you're here to talk about BOOKS.
I recently rekindled my love for reading and have been spending WAY too many hours browsing bookstores, reading amazon reviews, and following book accounts on Instagram just to find which book would be my next victim.
Shameless plug: I recently created my own #bookstagram account so go follow me @foreverbookedup!
But seriously, I was spending more time researching books rather than actually reading them – but isn't that half the fun?
So I decided to do a little googling to see if there were any options out there that combined my love of reading with my subscription obsession. And you guys…there totally are!
I did a ton of research on different book subscription boxes. The majority of the subscriptions are actually full boxes and not only include a monthly book, but trinkets that relate to the book's theme.
These looked fun, but the trinkets seemed a bit junky and the boxes usually cost anywhere from $30-$50/month. Plus you had NO idea what book you were getting until it showed up at your door. There's definitely some appeal to that, but like, what if I had no interest in that title?
But then I found Book of the Month Club. It seemed a little basic for my preference, but the price was spot on, the book options were great, and honestly, their branding really appealed to me. After all was said and done, I had to try them out.
Let's just say, I have not been disappointed.
---
What Is Book of the Month Club?
Book of the Month Club is a monthly subscription service for book lovers! Each month, the BOTM crew selects 5 books that they think readers will love.
Of those five books, you select one (or even two!). The book(s) will then get shipped within 5-7 business days and shipping is always free! It's a super simple process and is a great way to try out new titles that you might not have considered otherwise.
Keep in mind, these 5 books are not specifically curated for you, but are usually up and coming titles, new releases, early releases, or just cool books they want the world to know about! Everyone receives the same five recommendations. Sorry, you're not that special… 🙂
---
What Types of Books Are Offered In the Book of the Month Club?
When I tell you there is something for everyone, there really truly is! BOTM carries titles from a broad range of genres and offers both fiction and non-fiction options.
So whether you're into YA, mystery, romance, historical fiction, etc., you're bound to find something that's up your alley.
---
What If I Don't Like Any Of The Five Recommended Books?
No worries! They have an entire library of previous BOTM picks that you can select from so you're bound to find SOMETHING that peaks your interest!
---
What If I Want More Than One Book?
Literally every reader's biggest problem. HOW DO I CHOOSE!?! Well…what if I told you that you could choose AS MANY AS YOU WANTED.
BOTM has these things called Add-On's, which is basically just a giant library of previous BOTM picks. Just go to the section called "All books" and browse away!
You can add-on as many of these titles on as you'd like…for an additional $9.99/book. But really, that's still a total steal compared to a traditional book store.
Basically, it's a monthly book subscription box that you get to cater exactly to YOU.
---
Can I Skip My Monthly Book?
If you don't like any of the five book options that they provide, or just aren't looking to spend the extra money, you can choose to "skip" that month. Skipping means that you will not receive a book that month and you will not be charged.
Just make sure to make your selection or skip by the 6th of the month. If you do not make your selection of skip by that date, you will be automatically charged and a credit will be added to your account for you to use the next month.
---
What If I Forget to Choose a Book?
It happens to the best of us! If you don't choose a book by the 6th of the month, you will still be charged, but the credit can be redeemed the following month!
---
How Much is Book of the Month Club?
BOTM offers and caters to all lovers of fiction, especially those looking for new releases, trending titles, and great options for book clubs!
A monthly BOTM subscription costs $14.99/month or an annual BOTM subscription is $149/year.
---
When Will My Subscription Ship?
Your BOTM box usually takes 5-7 business days once you've selected your books and placed the order. Once its been shipped, you will receive a confirmation email with a tracking number!
Keep in mind, shipping can take up to 15 days to states like California and Hawaii.
---
What is a Book of the Month BFF?
This is not only a book subscription box, but a book subscription box with benefits. After 12 months of being a BOTM club member, they offer some awesome perks. Here's everything you get as a Book Of The Month BFF:
A tote bag with a front pocket to perfect fit your current BOTM selection
A FREE add-on during your birthday month
A free book from 1 of the 5 "Book of the Year" finalists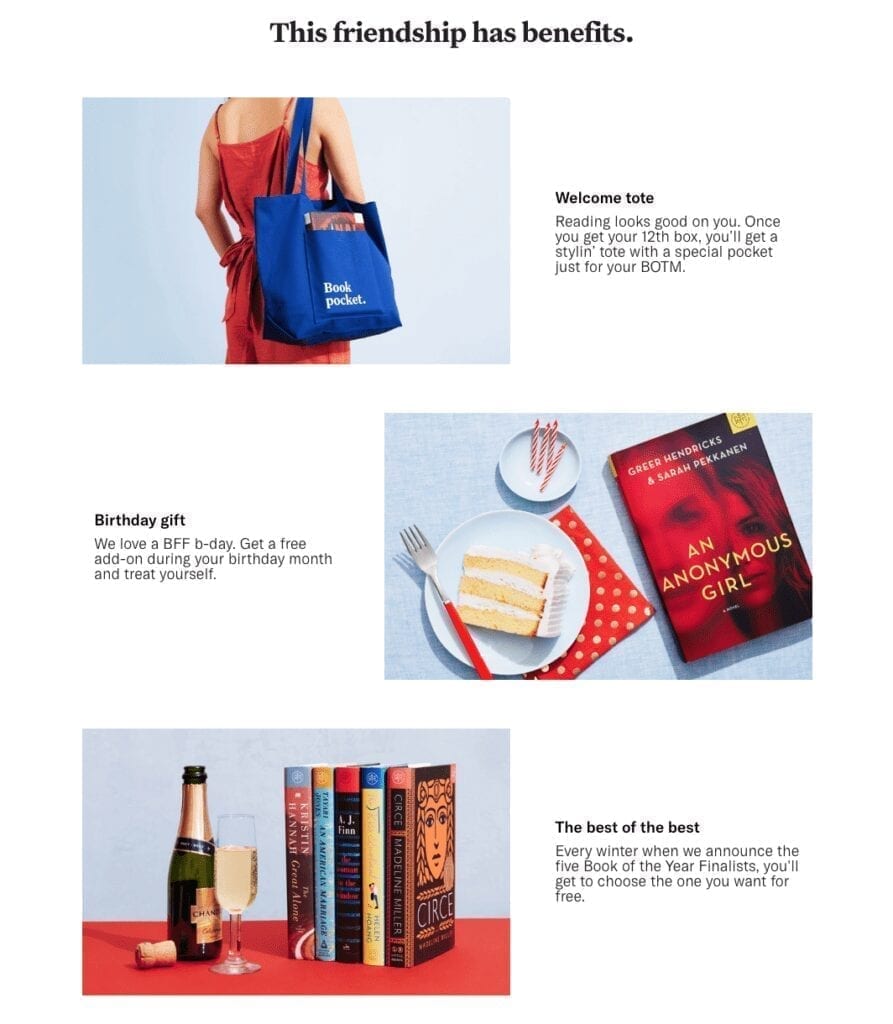 ---
How Can I Earn Free Books?
Once you're signed up, you will get a referral code to share with friends and family. When someone signs up using your code, you'll get a free credit that can be applied toward a book!
This code is usually a really good deal so it will benefit you both!
If you've made it this far and are hoping to sign up, I'd love if you'd use my code for half off of your first box! 🙂
---
How Do I Cancel My Subscription?
Boooo, I'm sad to hear that you didn't love it. But don't worry, if this book subscription box wasn't for you or you just wanted to give it a try, you can cancel anytime! Just give them a call at 1-888-784-2670.
---
Is There Anything You Don't Like About Book Of The Month Club?
Ahhh great question. Besides the fact that I wish it was weekly (lol jk…kinda) I only had one surprise in the beginning, but I immediately got over it.
I don't exactly know how it works, but these books are published specifically for BOTM Club.
What does that mean? All of their books are published to be the exact same size and have a BOTM logo on the front cover and spine.
It's totally not a problem for me, but something I wasn't expecting when I received my first book.
---
Overall, Is Book of the Month Club Worth It?
I am an avid reader, so BOTM allows me to choose titles that I may not have normally picked for myself. It also allows me to keep a pulse on what's new and trending in the literary world. Plus, I freaking just LOVE books so the bigger my collection can get, the better.
So in my opinion, BOTM Club is 100% worth it! To have the opportunity to try new, exclusive (and often early released) books for only $14.99 (+ $9.99 for add-on's!) is a no-brainer for me.
If you're new to reading or wanting to get into the habit, this book subscription box is a GREAT way to get started and to build up your home library.
---
Get Your First Book Of The Month Box for Only $5!
You've come this far, which means you seriously must be interested. As you should be! I wouldn't have written this long ass blog if I truly didn't love this service.
If you're interested in giving it a try, click this link to get your first box for only $5! That's a $10 savings!
Once you've given it a try, drop a comment below and let me know what you think!