30+ Kitchen Accessories & Storage Solutions To Get Organized
Looking for the best kitchen accessories and organization to get your home in order? Whether you're looking for fridge storage, pantry accessories, drawer organizers, or all of the above, there's something to get your whole kitchen in check!
This post contains affiliate links, meaning we earn a small commission when you purchase through them, but your price is never affected and all opinions are our own!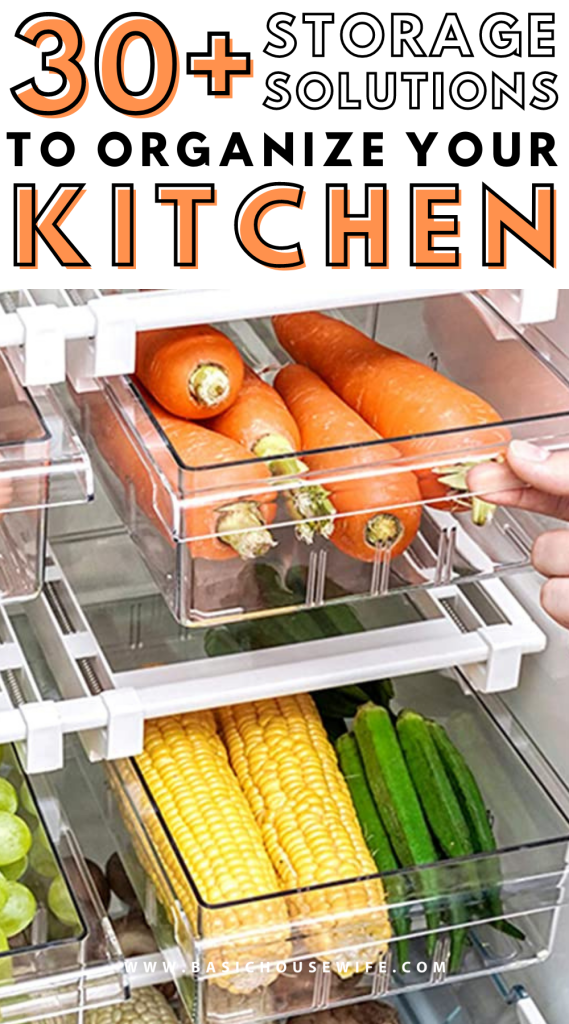 Have you heard the term, "the kitchen is the heart of the home?" I'm guessing for most it's because we spend so much time there as families, but I'd also like to think it's because food just makes us so happy.
But either way, it's important to feel well-organized in a space that you spend so much time in.
I mean, what's worse than a messy kitchen?
I don't know about you, but I always feel like my life is 10x more chaotic when my kitchen is a mess. So that's why finding good kitchen storage solutions is SO important.
So if you're looking to give your kitchen a little organizational makeover, you've come to the right place!
Whether you're looking for pantry storage, fridge organizers, or storage solutions for your cabinets and drawers, there are tons of options below to get your whole space organized!
Ready to dive in!?
Kitchen Accessories For Your Pantry & Cabinets
Whether you're looking for kitchen space-saving solutions or just want to get your food organized, this section has tons of options for tidying up your pantry and cabines!
Can Rack Organizer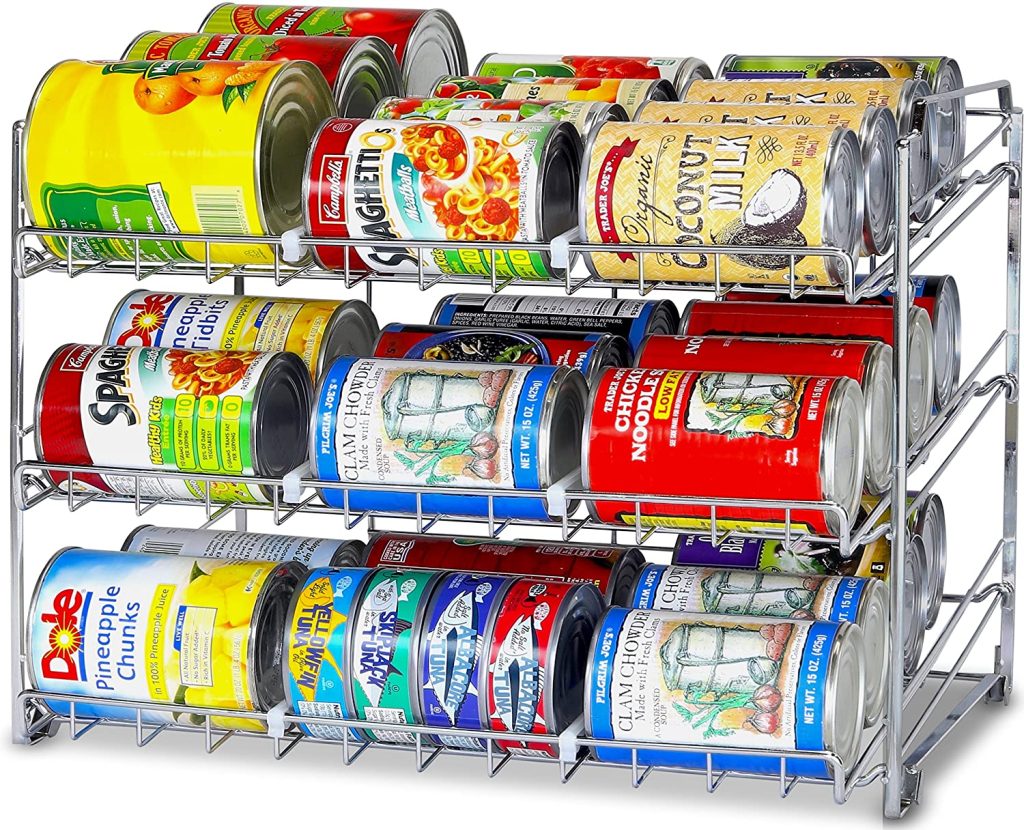 This can rack organizer is the perfect way to conveniently store canned goods without taking up too much space.
---
Kitchen Paper Organizer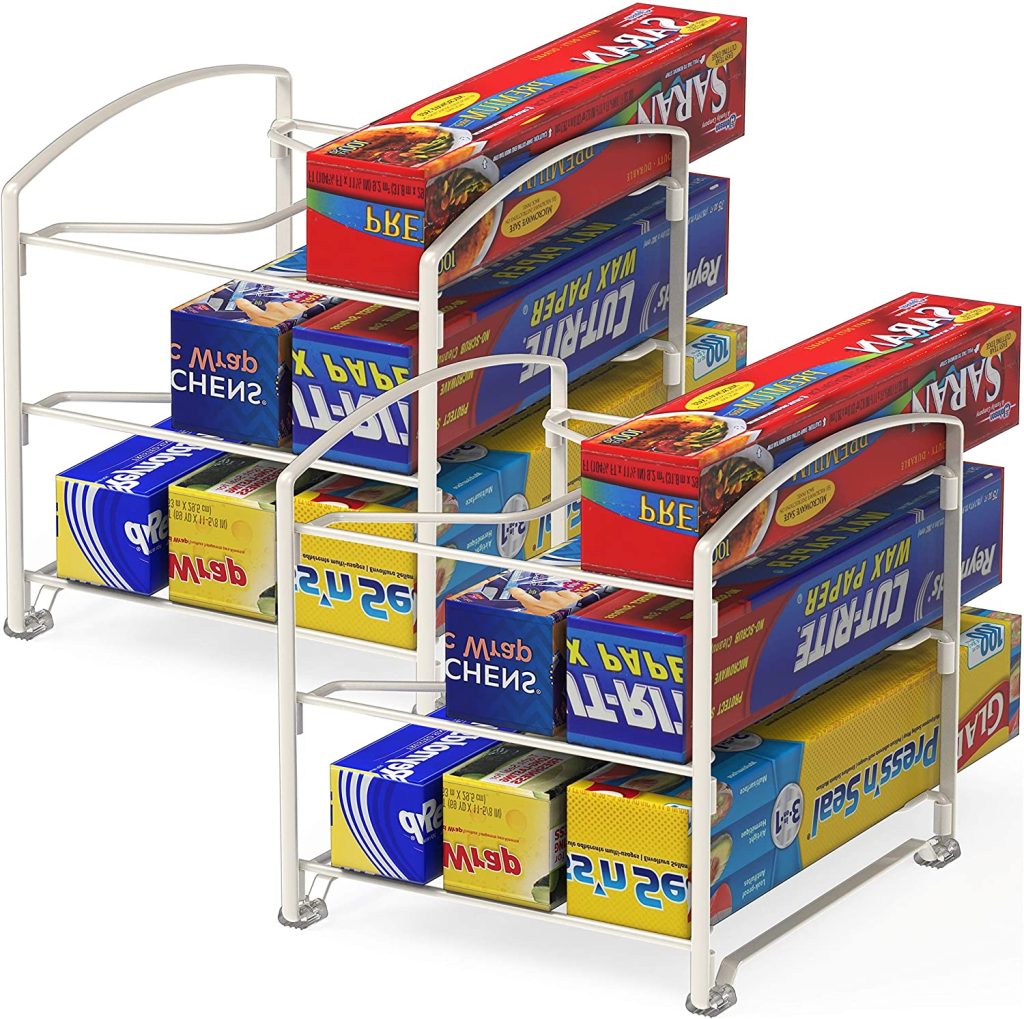 Bake a lot? This stacking paper organizer holds up to 9 boxes of foil, plastic wrap, wax paper, etc.
---
Under Shelf Basket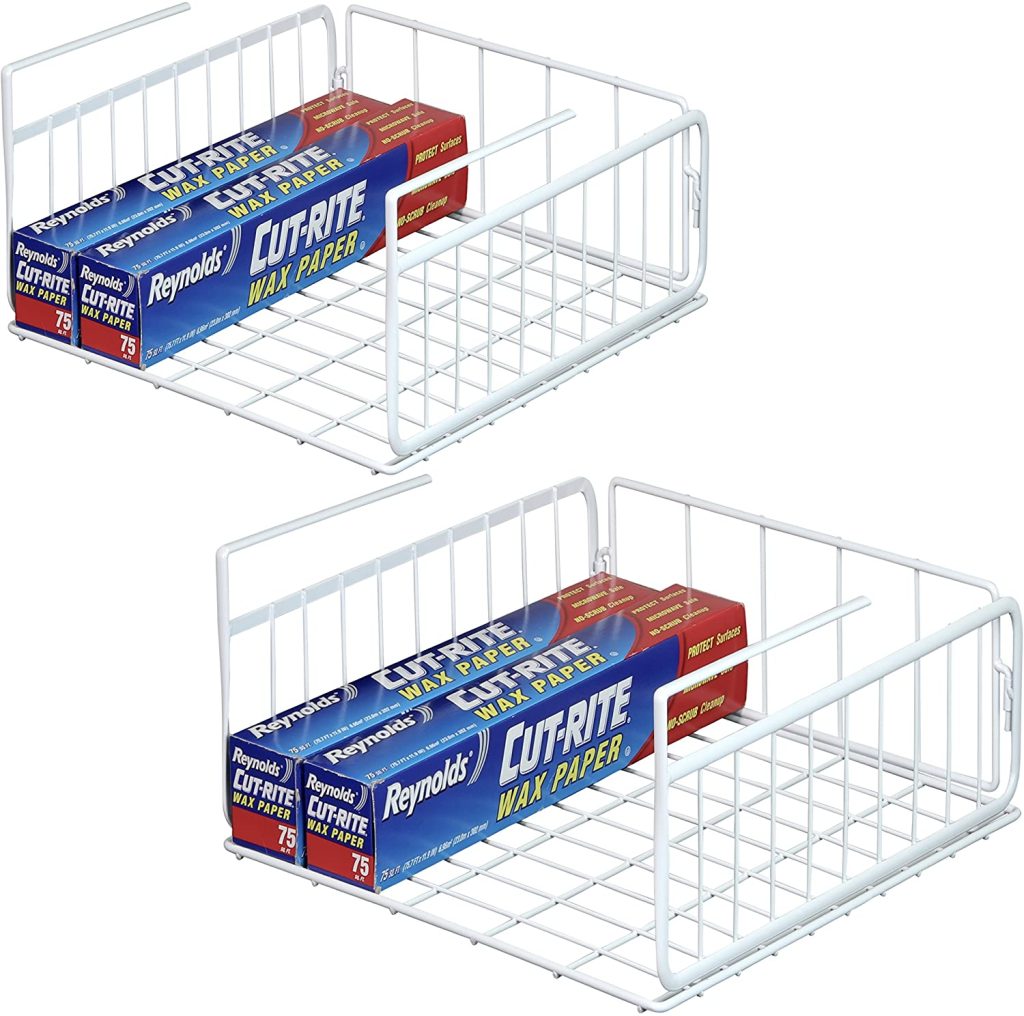 These under-shelf baskets are perfect for adding additional space in your pantry or cabinets and can also store food products like sauces, breads, etc.
---
Airtight Food Storage Containers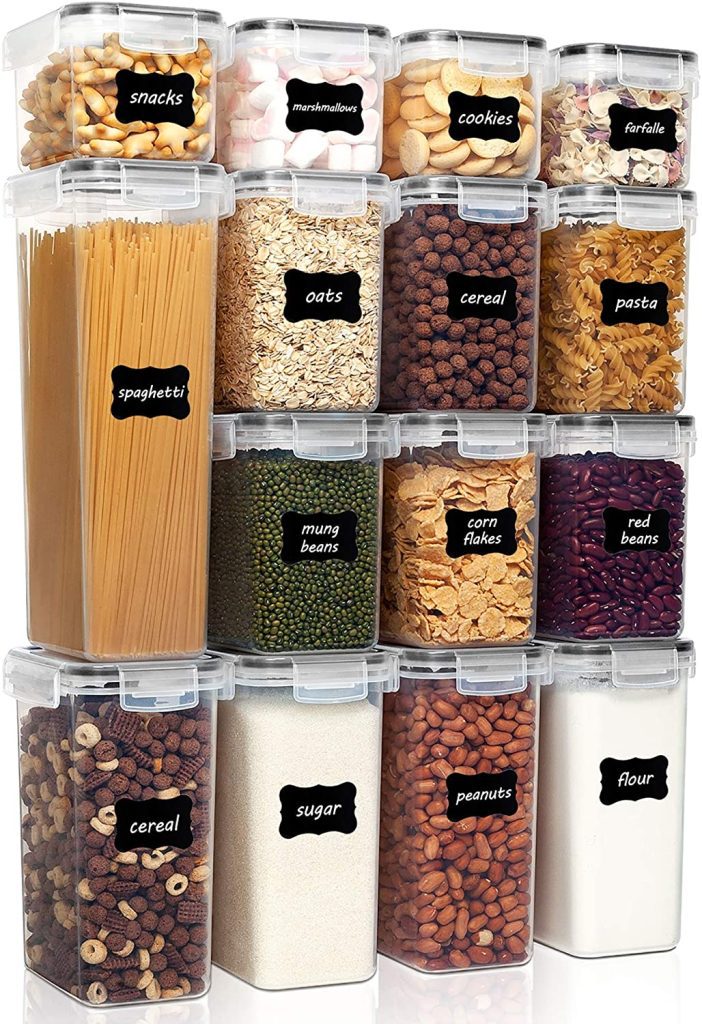 Not only are food storage containers aesthetically pleasing, but the air-tight seal will make your food last so much longer!
---
Small Food Storage Container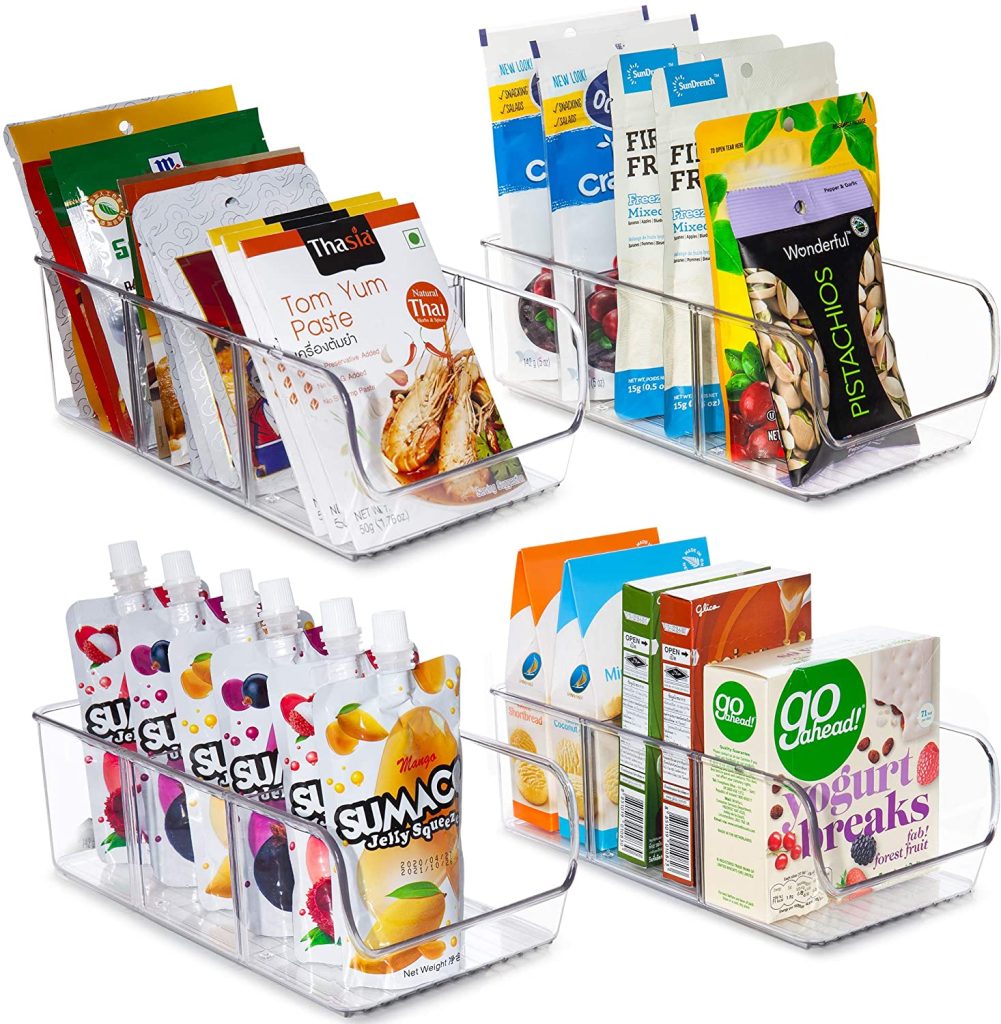 Perfect for small snacks, sauce packs, seasoning packs, etc. — these small food containers are a must.
---
Lazy Susan Bin Storage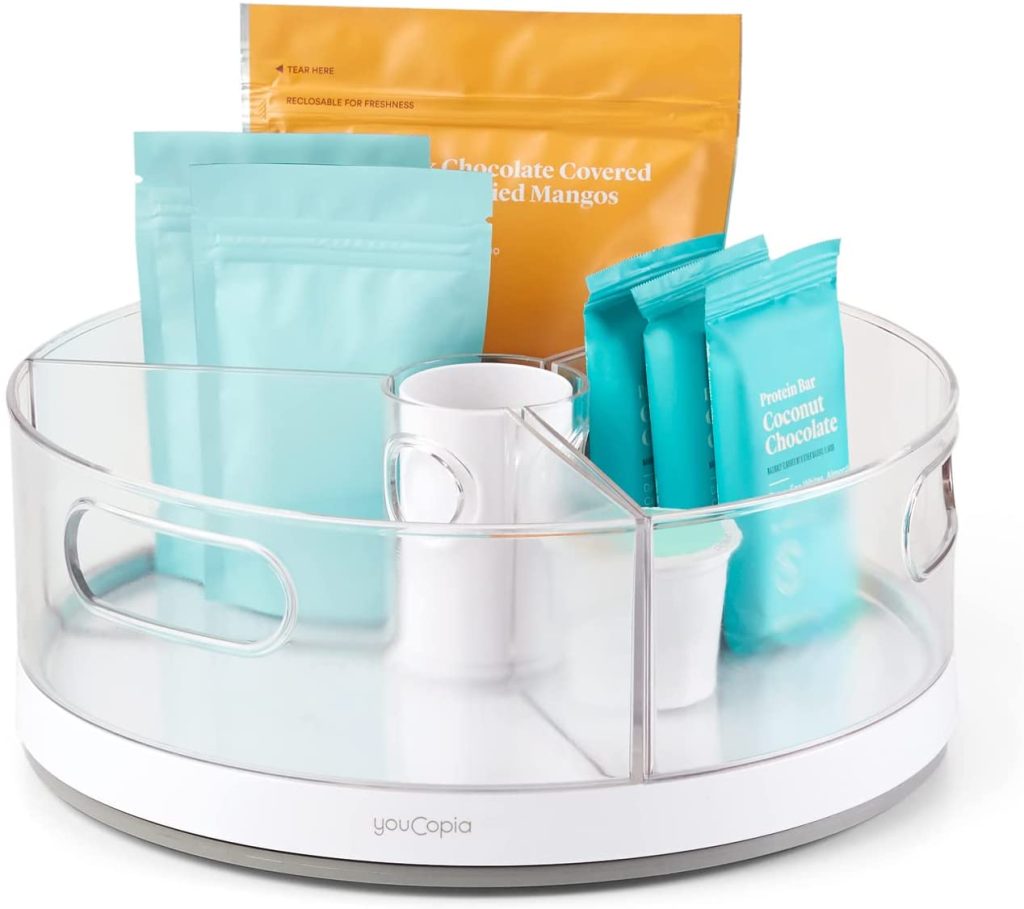 Lazy susan storage bins are a great way to use up awkward space in pantries or cabinets.
---
Stackable Shelf Organizers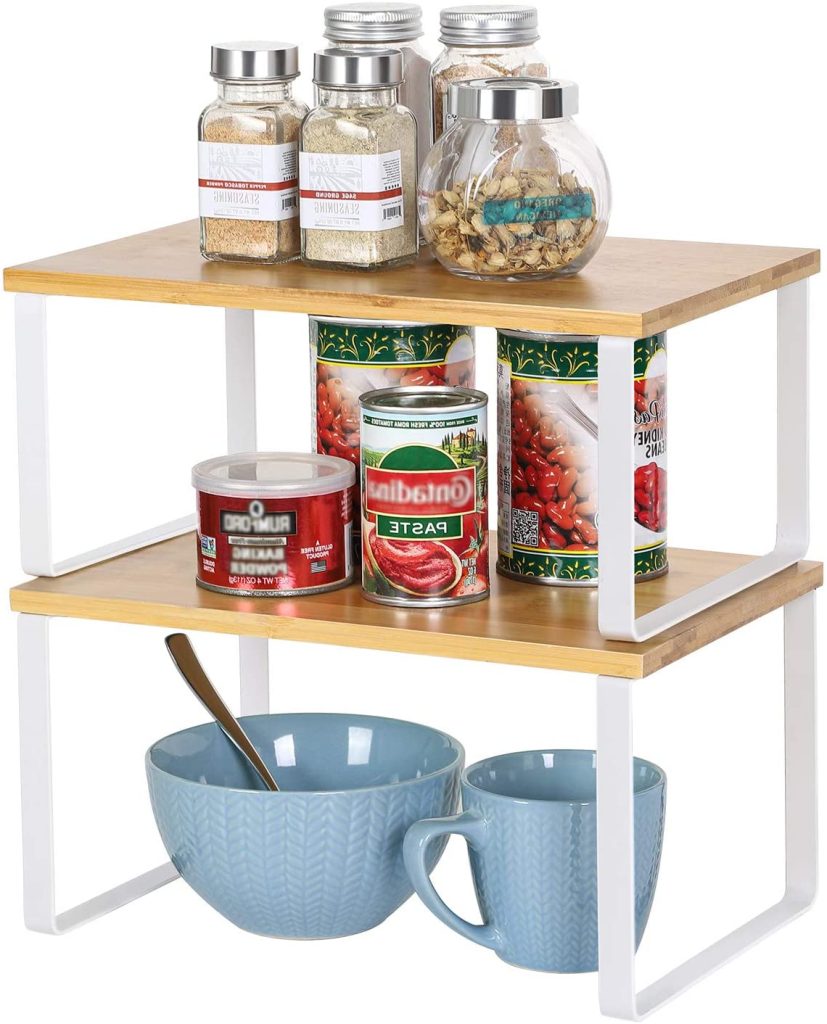 These stackable shelves are perfect for canned goods, seasonings, or even dishes if you're low on space!
---
Mounted Stackable Pan Rack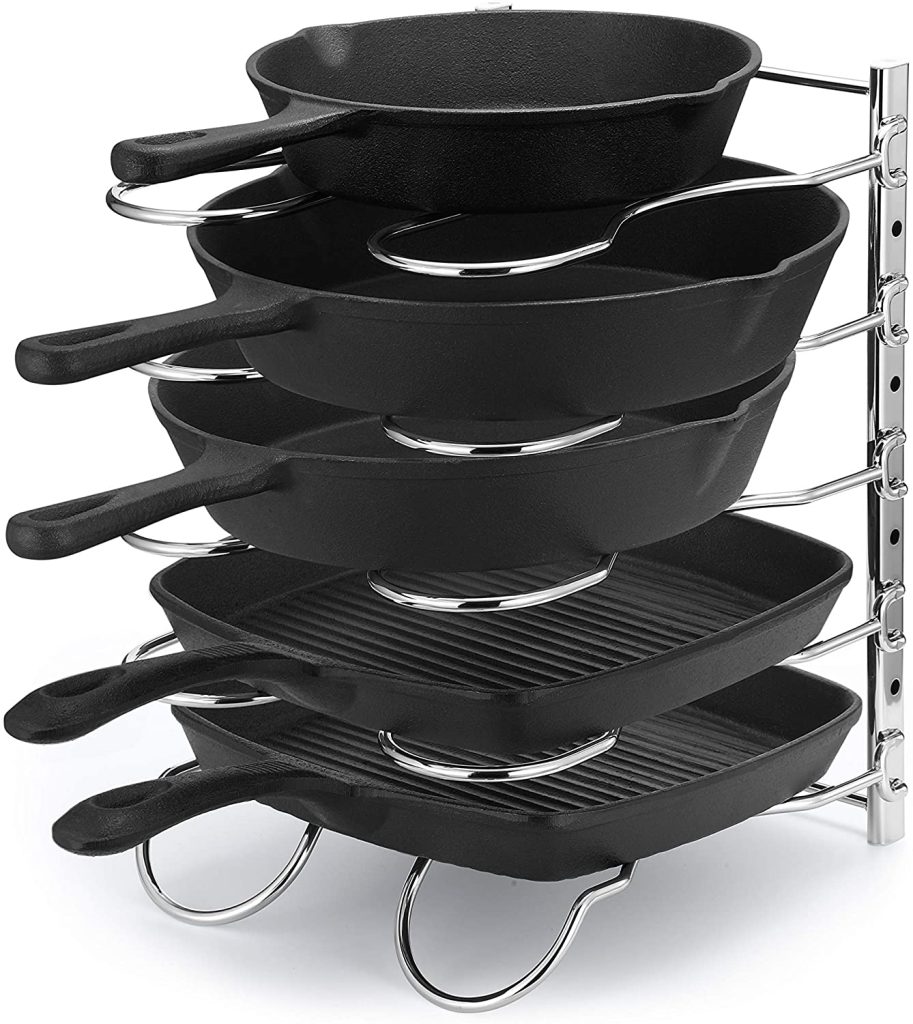 Another great space saver — this mountable, stackable pan rack is a must!
---
Mounted Lid Organizer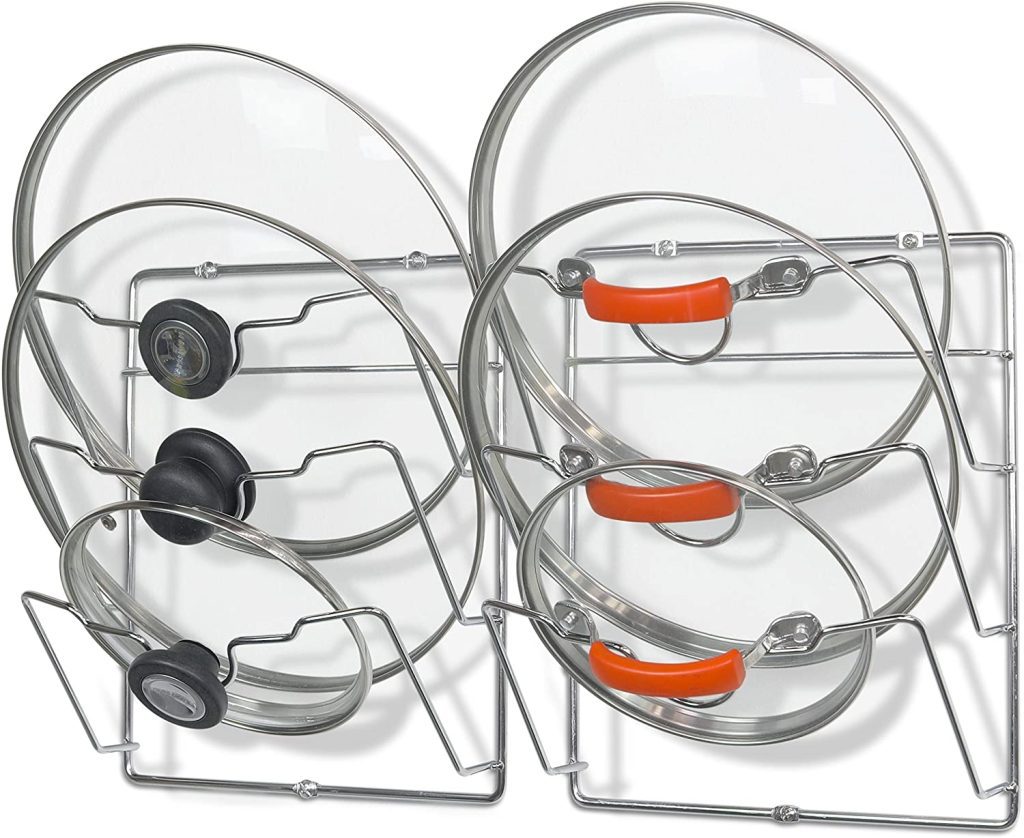 And if you're going to get a mounted pan rack, you're definitely going to need one for the lids!
---
Adjustable Bakeware Storage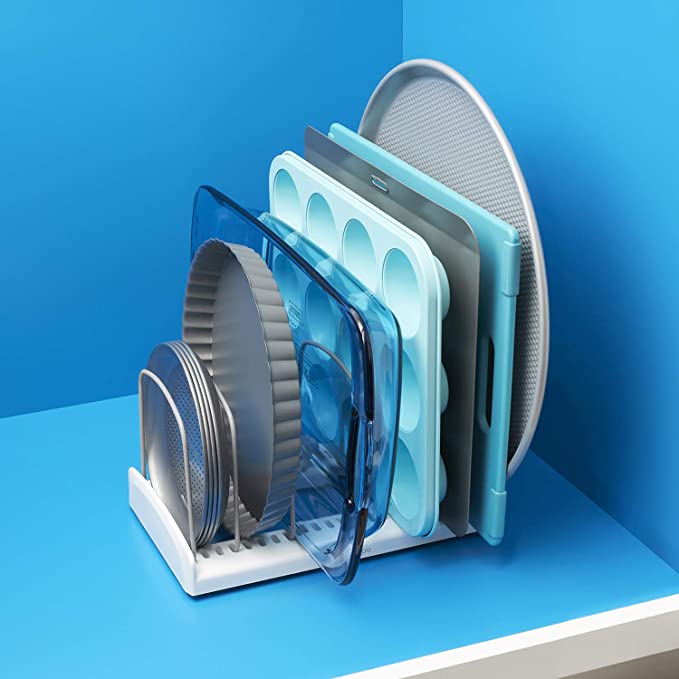 Is it just me or is bakeware always the most awkward to store? Try this adjustable bakeware storage solution that is a major space-saver!
---
Tupperware Lid Organizer
This Tupperware lid organizer makes storing Tupperware so much easier and more pleasant!
---
Stackable Water Bottle Holder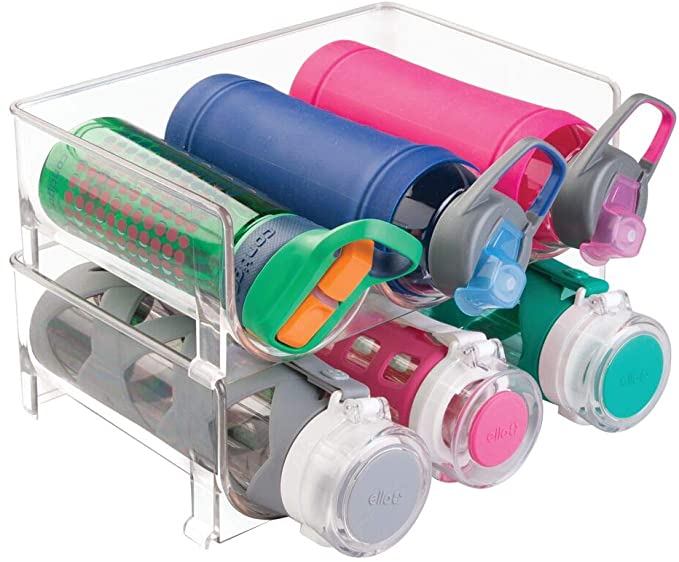 If you're a big water bottle family, this stackable holder is a must and will save SO much space in your cabinets!
---
Large Stackable Food Storage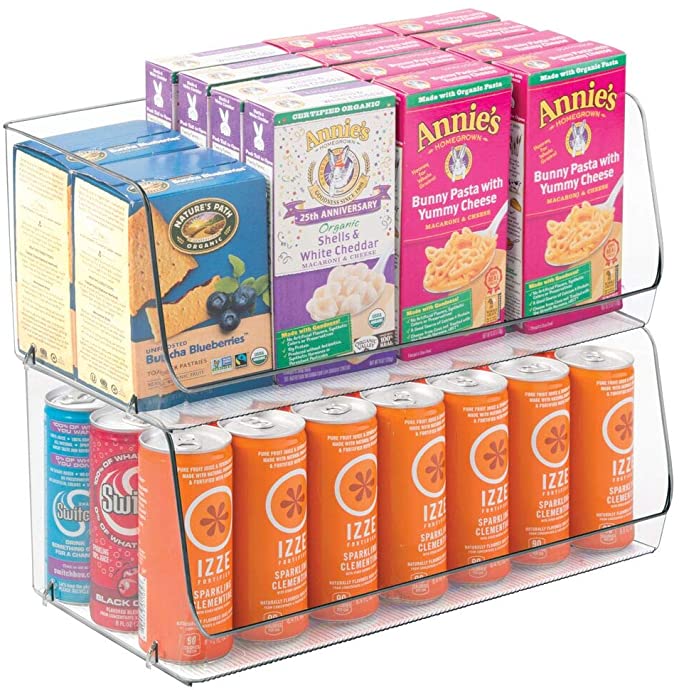 These large stacking storage containers are a must for your boxed foods and snacks!
---
Kitchen Accessories For Your Fridge
Last summer, I purchased a bunch of fridge organizers and it has been GAME changing. I love knowing that everything has a place and I feel like it helps us waste less. If you're looking for good fridge storage solutions, check out the section below.
Fridge Organizer Bins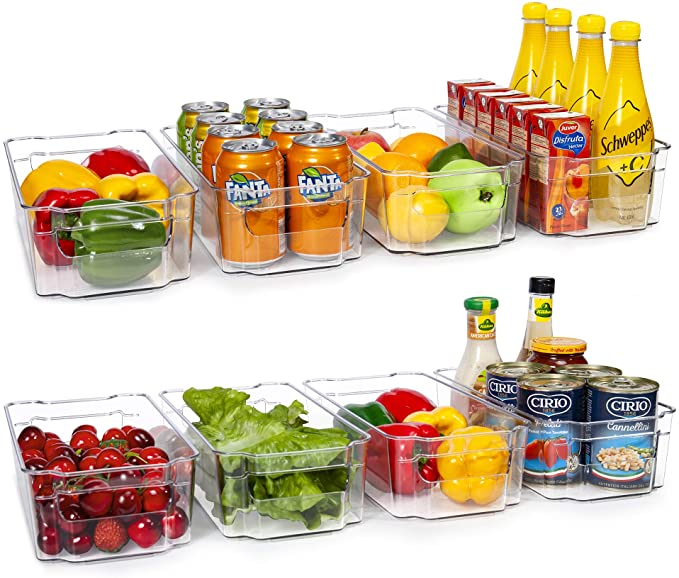 These clear organizer bins will turn your fridge from chaos to clean and literally store anything and everything!
---
Stackable Organizer Bins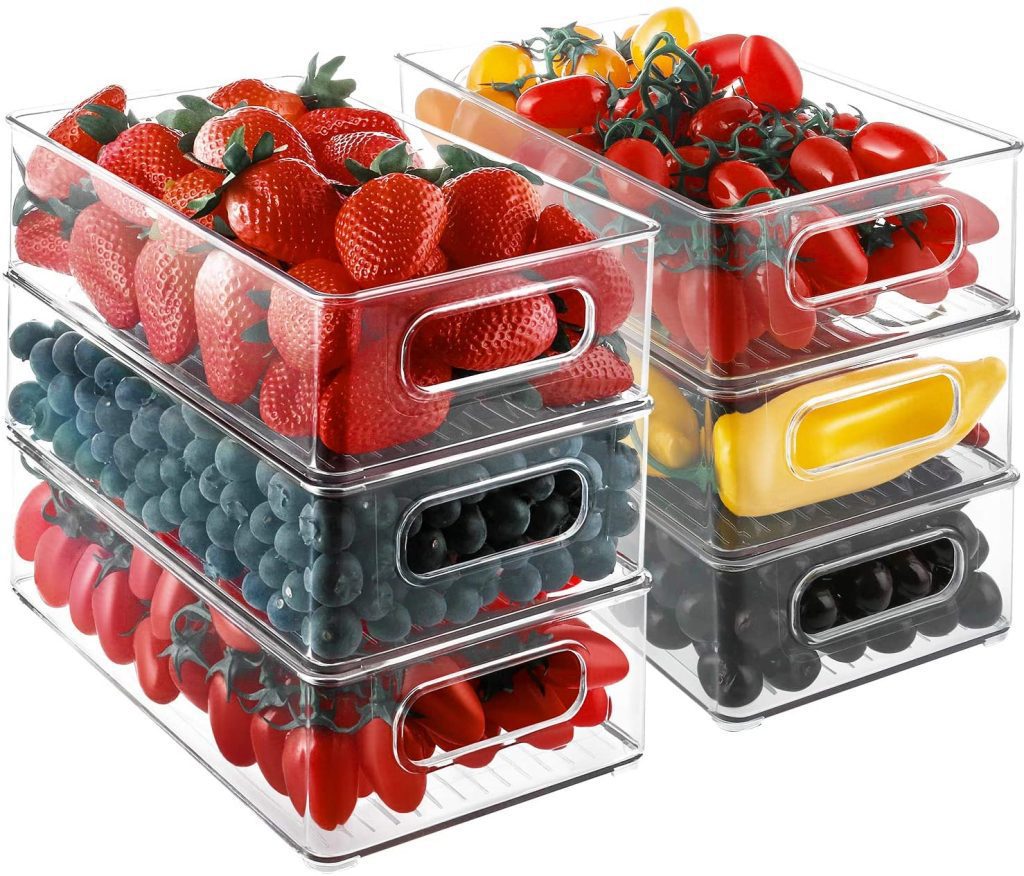 These stackable organizer bins are perfect for your fresh produce and will save SO much space!
---
Beverage Holders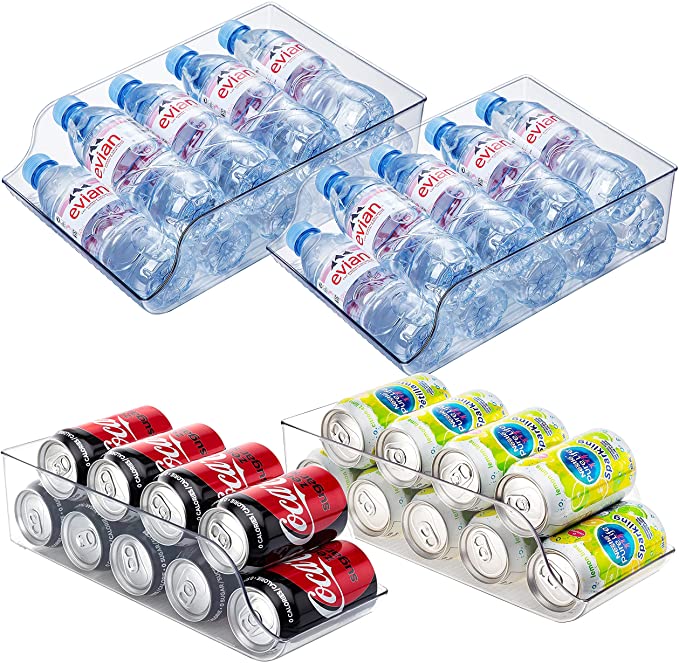 While they might not save a ton of space, they sure look better than cardboard boxes!
---
Under-Shelf Drawers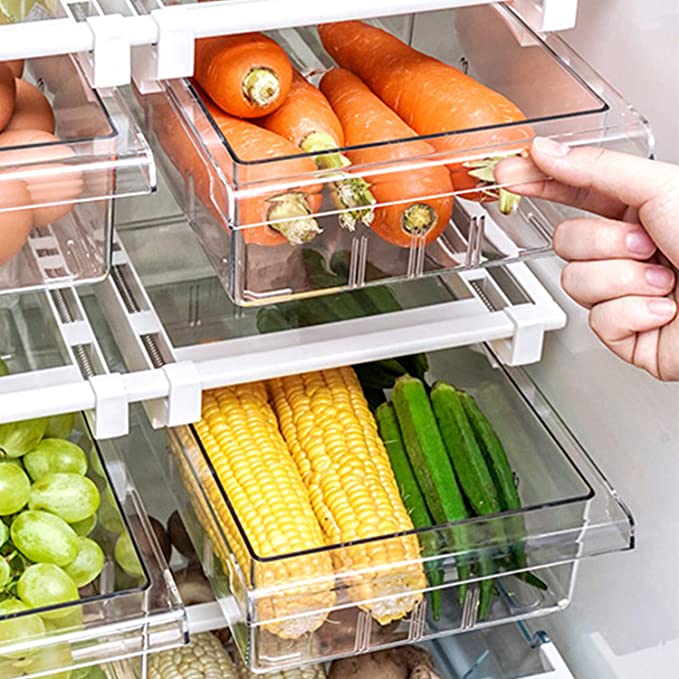 Under-shelf drawers are a great way to add more storage and max out your fridge space!
---
Produce Storage Bins
Keep your produce extra fresh with these produce storage bins.
---
Reusable Snack Bags
Reusable snack bags are perfect if you're looking to make a small change for the environment and ensure that you'll never run out of ziplocs!
---
Kitchen Accessories for Your Countertops
Whether you're short on space or just looking to get more organized, this section has some great kitchen accessories that will take your organization to the next level.
Bamboo Spice Rack Storage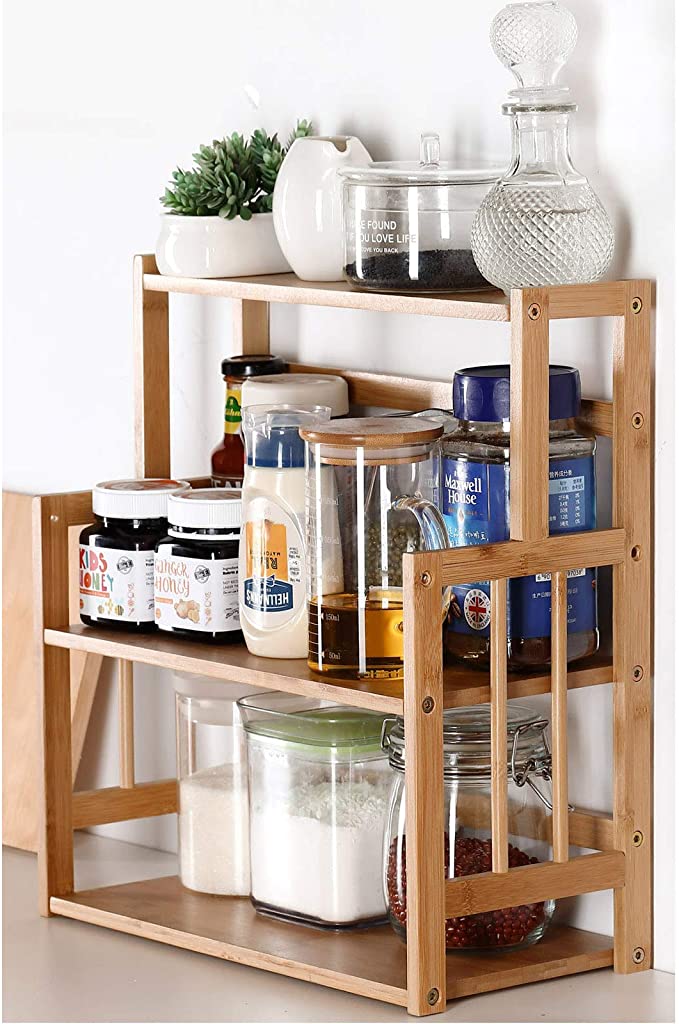 This tall spice rack storage is a great small kitchen storage solution and will look really chic on any countertop.
---
Spice Rack Organizer
Get all of your spices and spreads organized with this sleek spice rack organizer that also acts as a nice kitchen display!
---
Tiered Hanging Baskets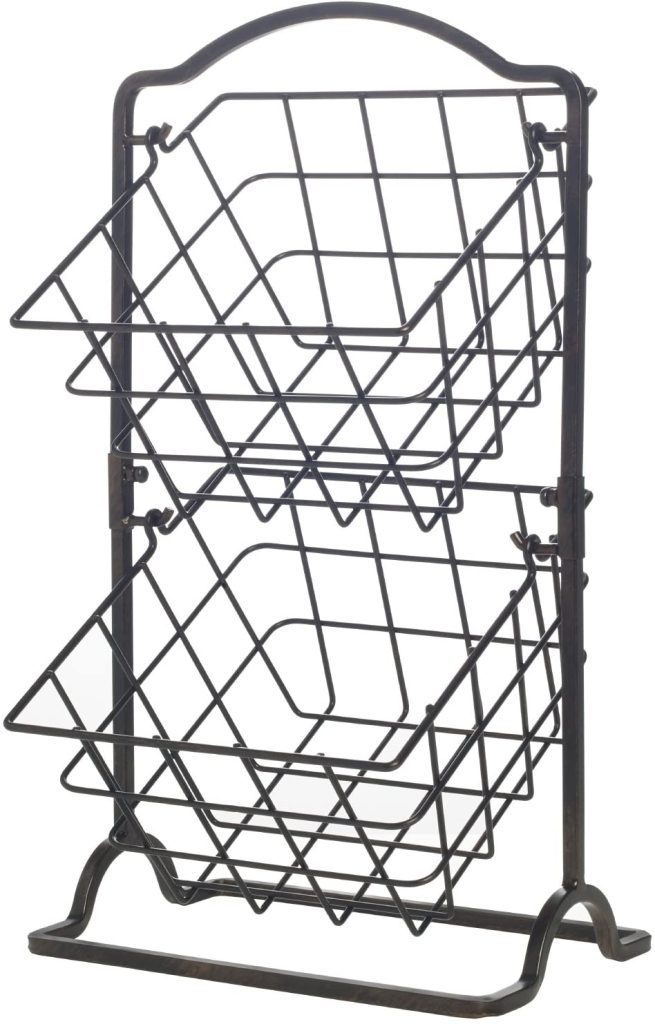 These tiered baskets are perfect for produce like apples, bananas, potatoes, and onions!
---
Roll-Up Dish Drying Rack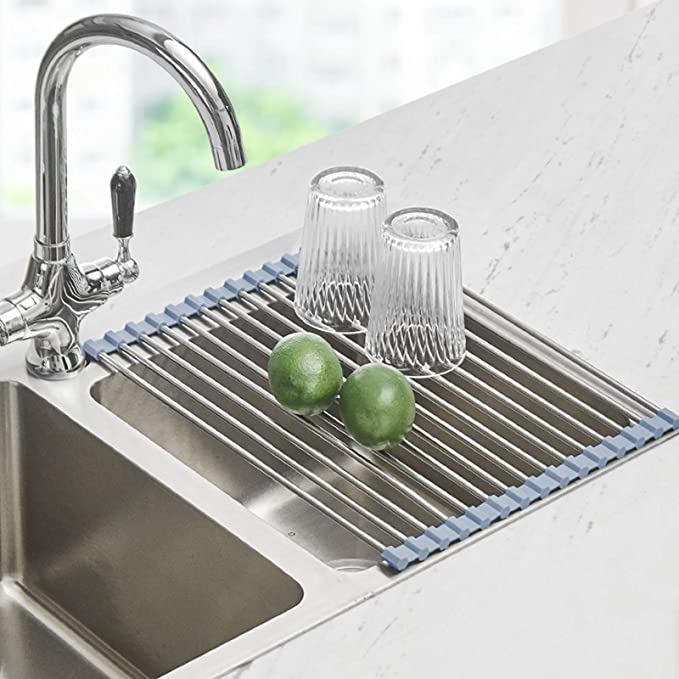 Rather than taking up counter space with a drying rack, try this roll-up dish drying rack that lays across your sink!
---
Kitchen Accessories for Your Drawers
I can't be the only one whose kitchen drawers are a bit chaotic, right!? These kitchen accessories are perfect drawer storage solutions that will make you excited to show off what's inside.
Foil Dispenser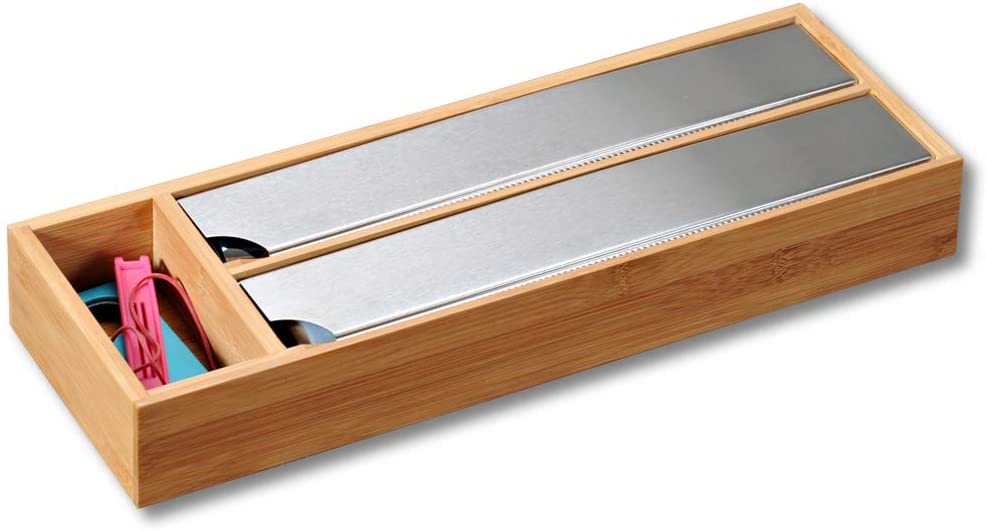 Not only is this a nice, discreet way of hiding your foil and paper products, but it also cuts them as well. Win-win!
---
Expandable Drawer Organizer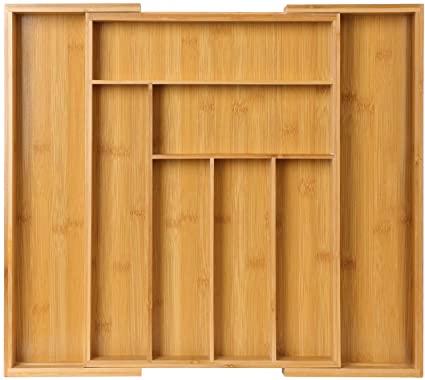 An expandable drawer organizer is a literal must-have for every kitchen.
---
Adjustable Drawer Dividers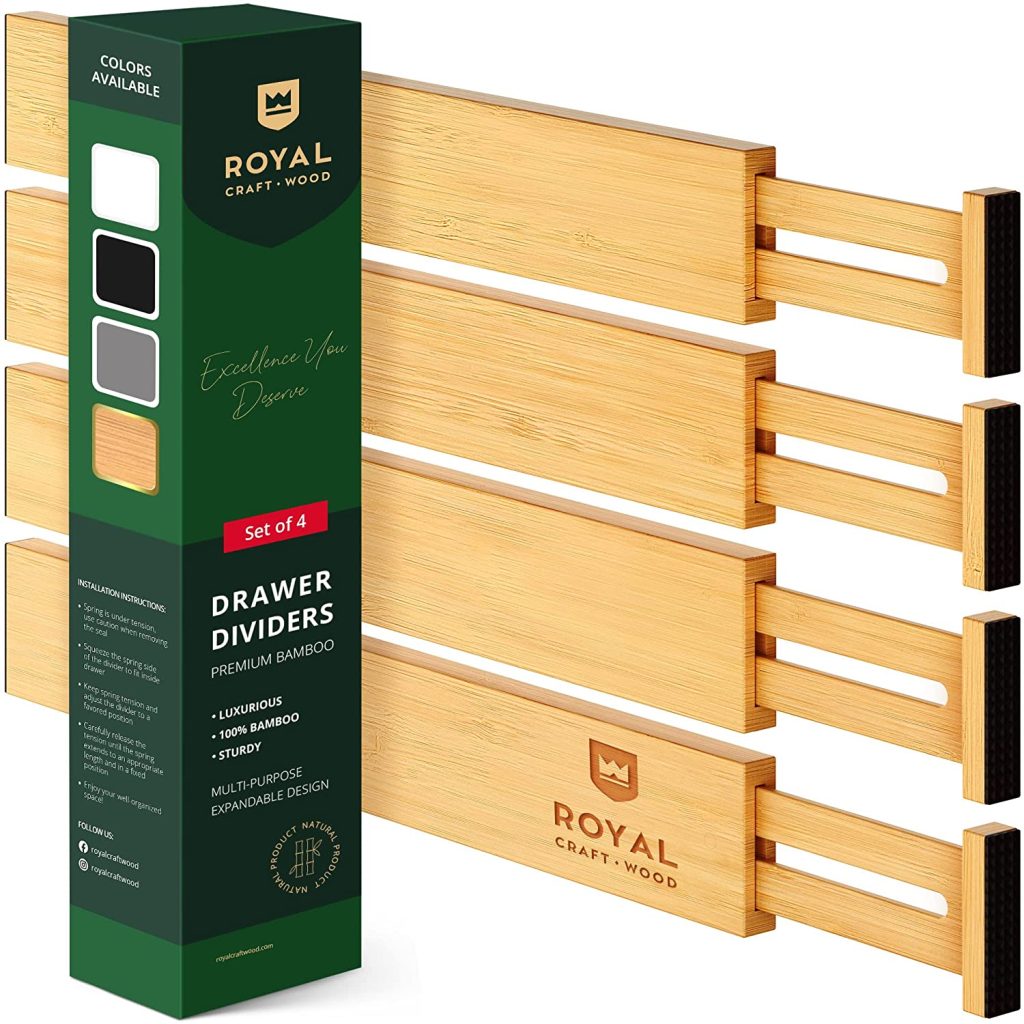 For those pesky kitchen drawers that store all of your random utensils, these adjustable drawer dividers are a must.
---
Compact Cutlery Organizer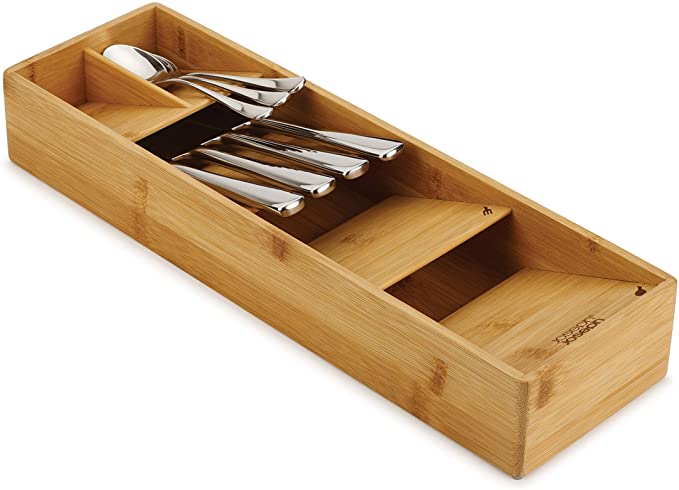 You'll be able to store SO much more in your drawers with this compact cutlery organizer that uses a stacking method to save on space.
---
Knife Storage Organizer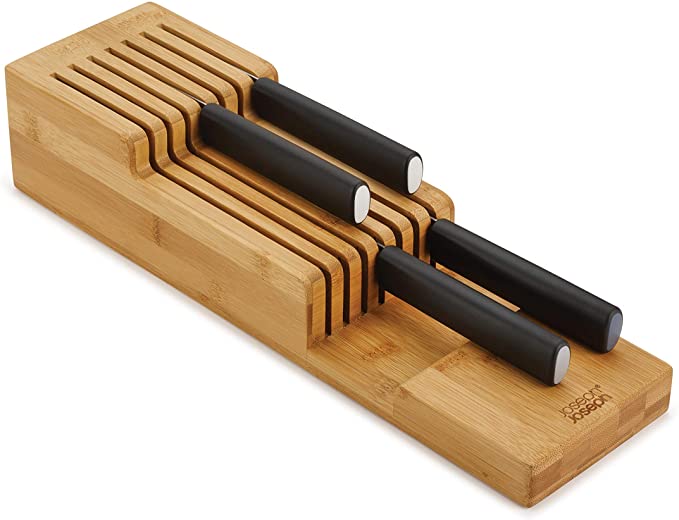 And rather than taking up space on your counter with a knife block, try one of these kitchen drawer knife organizers instead.
---
Stackable Nesting Trays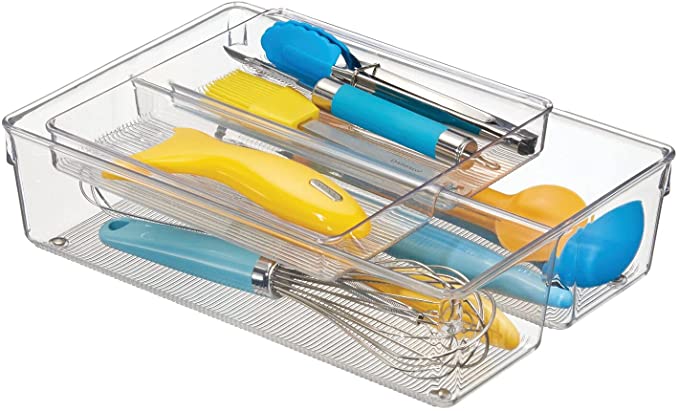 If your drawers are deep enough, these stackable nesting trays will be a lifesaver and help keep your random utensils in order.