A Bloggers Ultimate Guide to SEO for Beginners
Whether you're learning how to start a blog or have already launched and want to get more blog traffic, this guide on SEO for beginners is the perfect place to start!
Plus, don't forget to snag a FREE copy of my Blog SEO checklist at the end of the blog to ensure that every blog post you write is perfectly set up for success!
Is Blogging Really That Complicated?
Whenever I tell people that I blog for a living, I get a lot of confused looks.
There was a time when blogs were considered a glorified form of journaling — people documented their travels, their adventures into motherhood, etc.
But over the years, blogging has become an integral part of most content marketing strategies and if I'm being honest, is a lot harder than it looks. 
Blogging can be super technical and data-driven and if you want to have a successful blog that reaches a wide audience and makes money, you HAVE to be incorporating a strong SEO strategy.
And that is why we're here.
SEO is my absolute favorite part of content marketing and I could literally talk about it for hours. (Seriously…don't get me started.)
But because I know your time is valuable, I'll make this as short and simple as I can.
My hope is that after reading this guide on SEO for Beginners, you'll walk away with a strong understanding of what SEO is, why it matters, how it works, and how to implement it for yourself.
Ready to get started!?
SEO stands for "Search Engine Optimization" and is the practice of increasing the quality of your content and the quantity of your website traffic through organic (non-paid) search engine results.
So basically, when you write a blog post, you are not only writing for the consumer, but for the search engines as well. Better SEO = Better visibility.
This is a deeply technical question and there is a LOT of hefty info that goes into this, but just know that search engines, such as Google, use bots to crawl and understand your site.
So whenever you publish a new page or post, that URL goes into a giant registry of web pages that Google then crawls. When it finds a new page, it analyzes the content (text, images, videos, meta data, etc.) so that it knows what the page is about so that it can properly serve that content to the right audience.
Implementing strategic SEO is a huge step toward getting your site recognized and rewarded by search engines.
So what do I mean by rewarded?
Whenever you Google something, you get a list of results. This is called the SERPs (search engine results page).
Google serves you results that it thinks are most closely related to the keyword or phrase that you searched for. As you can see below, I searched for "best skincare for oily skin" and these are the results it gave me.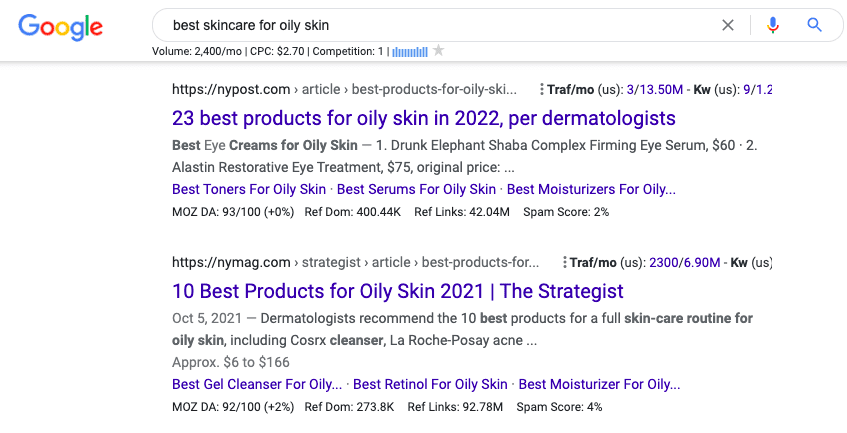 These are all organic results (you know because they don't say "Ad" next to them) that Google deemed worthy enough to be at the top of my SERP.
SO…if you are writing content that you want to be seen by a larger audience than just your friends and family, then your goal should always be to be at the top of the SERP for every new piece of content.
Because guess what? 75% of searchers never scroll beyond the first page of results1 so if you aren't at least in the top 10, the likelihood of your content being seen organically is slim.
Essentially, SEO is a game, we are the player, and Google is the referee that ultimately makes the calls on who wins and loses.
So I'm sure you're wondering — how the heck do I win?
Think of SEO like a steroid. Every website has a certain amount of SEO juice and the more juice you give it, the stronger it will be, and the stronger it is, the more likely Google will put you in the game.
There are a lot of different factors that play into the "strength" of a site, but when it comes to SEO for beginners, the best place to start is with keyword targeting and by optimizing each and every blog post.
Understanding & Implementing Keywords
Keyword research is the backbone to any good SEO strategy and if you are writing content without doing keyword research, don't expect much to come out of it.
Seriously, guys. This is SEO for Beginners 101, so listen up!
Keywords are so important because when you strategically implement them into your content, you are telling Google, "Hey Google, this content is about 'XYZ' so when someone searches for 'XYZ', you should show them my page!"
The easier you can make it for Google to understand your content, the better. 
Afterall, this is Google's world and we're all just living in it.
One of the best free tools for finding keywords is by using the Google Keyword Planner. It allows you to search any word/phrase and it will give you the most searched topics related to it. 
Note that Keyword Planner is a part of Google Ads but you do NOT need to have active Ads to use this free feature.
So when you have a blog topic idea, open Keyword Planner, type in your topic idea, and voila! Keyword Planner will show you a list of keyword ideas that you can use for your blog.
What Keywords Should I Use?
This is subjective to the content you are writing, but here are my three biggest tips:
Focus on keywords that have 10k searches or less.

When using Keyword Planner, the only column you really need to pay attention to is Avg. Monthly Searches. In this column, you will see ranges from 0-1k, 1k-10k, 10k-100k, and 100k-1M.

It might seem intuitive to want the keywords with the highest searches, but that only means you will have that much more competition and it will be nearly impossible to rank in the SERP's.

Keywords with 10k searches or less usually mean there is less content written around it so your chances of ranking higher are much more likely.

Use longtail keywords.

The more specific your keyword is, the better. For example, instead of your keyword being "skincare", use "skincare for oily skin" or even better yet, "natural skincare for oily skin."

The longer the keyword, the less competition there is and the more valuable those visitors will be because they are looking for something very specific and you likely have exactly what they are seeking out.

Research your options.

Each blog should focus on targeting one primary keyword, so once you've narrowed down a few options, search them each in Google and see what your competition looks like.

If all of the top results for one of your keywords are from sites like Buzzfeed, Marie Claire, Washington Post, etc., it's going to be REALLY hard to outrank them because those established sites have a LOT of SEO juice.

So always pick the keyword that seems the most attainable for ranking in the SERP's.

And you can always use those other terms as secondary keywords throughout your content to make it even more SEO friendly. 
Where Should Keywords Be Placed?
Now that you have your primary keyword picked out, it's time to write your content! When writing your content, it's important to use your keyword strategically throughout your blog, but make sure it's being used naturally.
Cramming keywords will result in more harm than good and remember, we are writing for Google AND the reader.
Here's where you should FOR SURE have your keywords placed:
1. Page Title – This is the title of your blog and one of the first things Google looks at. Your title should include your keyword and tell your reader (and Google!) exactly what they can expect from the content.
2. Meta Data – Did you know that your blog actually has TWO titles? There is the page title (mentioned above) and the meta title. Metadata is what gets served to the SERP's and every single page and website has a meta title and meta description.
Here is what metadata looks like when you search for something on Google: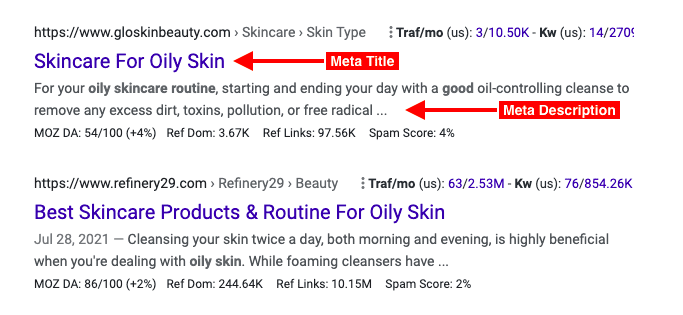 Meta titles & descriptions are your first chance to make a good impression on someone when your page comes up in the SERP, so you want to make sure it's enticing!
Most blogging platforms will automatically input your page title into the meta title field and will pull the first 120 characters from your blog post as the meta description.
This is fine and we're even starting to see Google pull its own meta descriptions for articles, but regardless, I highly suggest editing these and ensuring that your keyword is in both the meta title and meta description in a natural way.
As a WordPress user, I use the Yoast SEO app to easily make these edits on every page.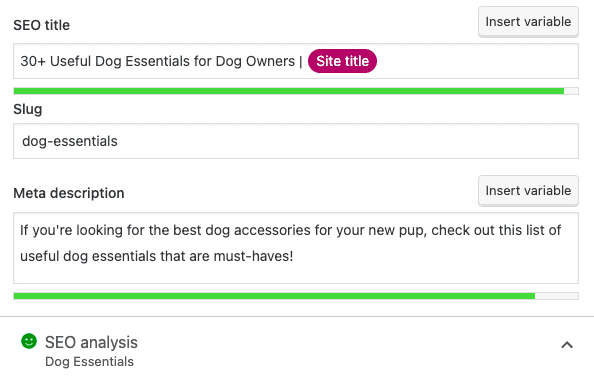 3. URL – Your url should include your targeted keyword and all blogging platforms should give you the option to edit your url slug.
If you aren't sure what a slug is, it's the part of the url that starts with the "/" and comes after your domain.

4. Headings – Subheaders are a great way to break up your content and are also pretty imperative to SEO. Before scanning the full body of your content, Google will scan for headings first.
Subheadings are the use of H2, H3, H4 tags and so forth. These should be used in hierarchal order as much as possible — Google knows that an H2 is more important than an H3 — and you should include your keyword WHEN IT MAKES SENSE. Again, overstuffing is a no-no.
5. Body Content – First and foremost, Google (and readers!) prefer naturally written content over something that's stuffed with keywords.
Focus on writing blogs that sound natural when read aloud, but make sure it's optimized well enough for search engines to understand it.
Your keyword should be placed within the first paragraph of your text (ideally in the first couple sentences) and then naturally throughout.
I can't really say "your keyword should be included X times throughout your blog" because really, it depends on the length of your blog.
Also, it's not necessary to use the exact same wording of the keyword over and over throughout the actual content.
For instance, if your keyword is "skincare for oily skin", it's okay to say something like, "skincare products for oily skin" or "oily skincare products."
Plugins like Yoast might not recognize those variations, because they look for exact matches, but I promise you, Google will.
6. Images – Bet you didn't realize this, but along with the web page, your images are also indexed and crawled by Google.
Here is how you should be including keywords with your images:
Image file names. 00283.jpg is NOT an okay file name. Instead, name it something relevant to the photo and try to use a form of your keyword like, "cleanser-for-oily-skin.jpg"
Image titles. This is the text that pops up when you hover over an image.
Alt text. The best practice for using alt text with images is to make it descriptive to what the image is. Alt text is used for SEO, but is also useful for accessibility to blind readers.
Important SEO Tips for Beginners
Hopefully by now you have a good handle on keywords. It might seem like a lot of work, but once you dive in and start doing your research and implementation, it becomes second-nature and will be a game-changer for your blogging!
Here are a few other tips I want to stress that are also important for SEO:
When it comes to images, bigger is not better.

Big images will really slow down a site and can deeply impact your SEO juice in a bad way.

Make sure to compress your images as small as they can be, without losing quality.

I personally love and suggest using the Smush plugin for WordPress.


Write LONG, quality content.

Google likes quality AND quantity. Your blogs should all be around 1300-2000 words so if that means you only write one blog a week versus three, you'll be better off.

The quality of the content should be unique, shareable, and valuable for readers so if you find yourself writing a lot of fluff just to get to 1,500 words, it's time to do some more research to see how you can expand your topic.


Spend time formatting.

Readers digest information in small chunks and your formatting should reflect that. Make sure to break your content up using headers, bullet points, dividers, etc.

And PLEASE no lengthy paragraphs. Keep paragraphs to three sentences or less.
If you're feeling overwhelmed, that's totally normal and understandable!
This is a lot of information to take in and keep in mind, I've been doing this for 10 years so sometimes I forgot how new it can be to others.
If you have specific SEO or blogging questions, you can always shoot me an email at basichousewifeblog[at]gmail.com.
But to make all this SEO stuff a little easier, I put together a Blog SEO Checklist (because who doesn't love a good checklist!?)
This checklist breaks down everything you should be doing to implement SEO on each and every blog post.
And did I mention it's totally free!?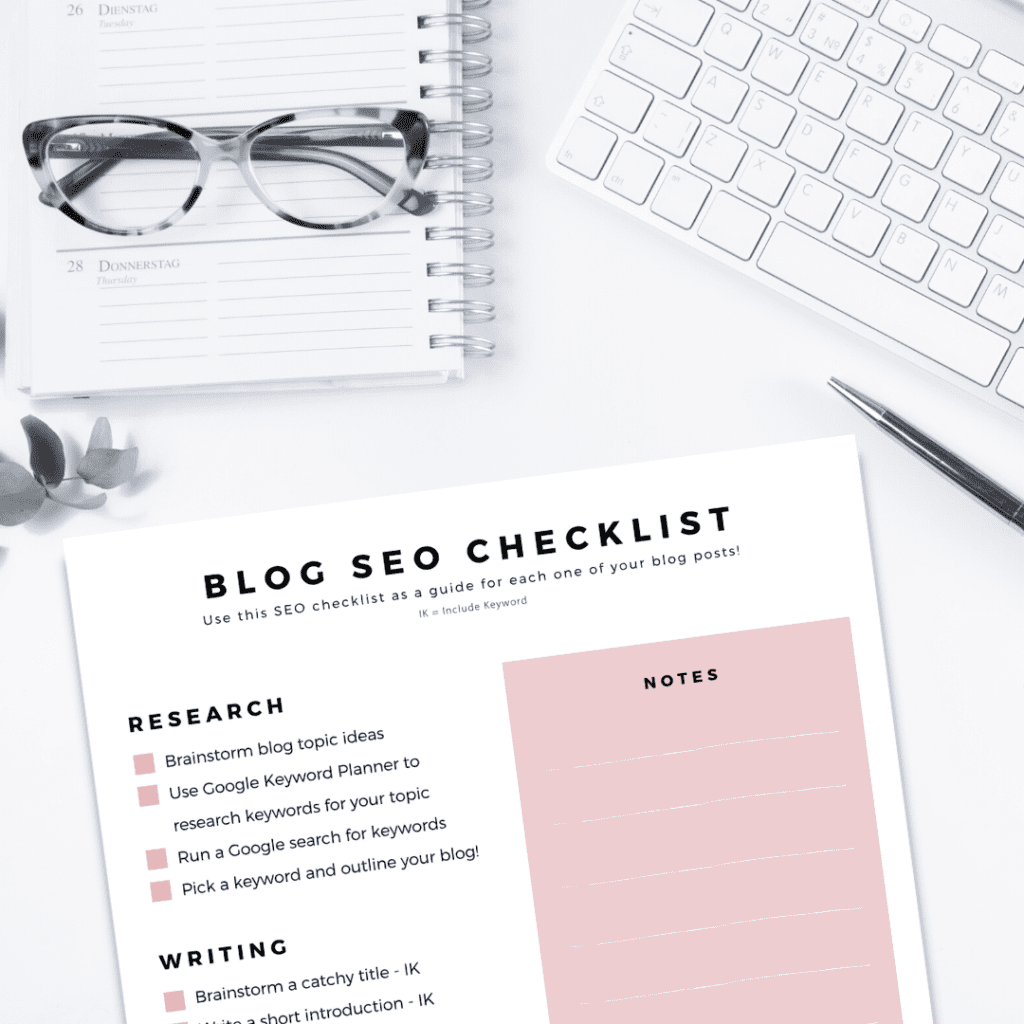 Sign up below and your FREE blog SEO checklist will be in your inbox shortly!