The Best Affordable Blogging Courses I Recommend to All New Bloggers
This post contains some affiliate links, meaning we earn a commission when you purchase through them, but your price is never affected because of this!
Whether you're a new blogger trying to make sense of the blogging world or you're an existing blogger who's feeling stagnant with your traffic income, check out the blogging courses that I have loved and recommend to all new bloggers!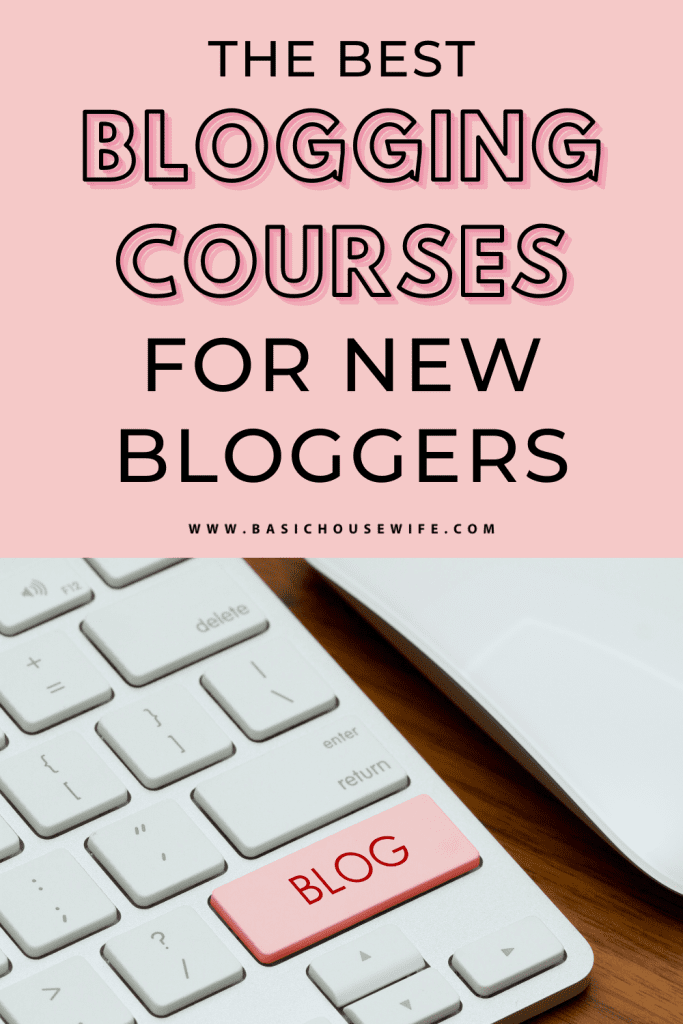 I worked in content marketing for almost a decade prior to starting my blog. So luckily, I was already very well-versed in content marketing, social media, affiliate marketing, etc, and didn't have to do too much education right off the bat.
But just because I already had that knowledge didn't mean I stopped there. Over the years, I have taken a number of blogging courses, both free and paid.
Did I sometimes mentally struggle to fork out the cash to pay for courses on topics I was already well-versed in? Absolutely.
But anytime I invest in a course, I remember that I am ultimately investing in myself. Because investing in your blog = growth.
But the program is, there's a LOT of information out there and it can be hard to know what's worth your time and what's not.
And as a beginning blogger, the amount of information at your disposal can be exhausting and overwhelming, not to mention, expensive.
That's why I'm sharing my favorites with you today and did I mention they're all under $200?
My Favorite Courses for New Bloggers
The industry is constantly evolving and being able to keep up with trends is what sets a good blogger apart from a great blogger.
That's why blogging courses are so important!
Here are the best blogging courses I have taken that are perfect for beginner or intermediate bloggers wanting to learn how to make money blogging, how to set up a blog, how to get more blog traffic, and more!
I can't say enough good things about Perfecting Pinterest! Whether you're a new blogger or experienced, this Pinterest course has literally something for everyone.
For instance, I already had a business account set up on Pinterest and was getting decent traffic so there was a lot of the course I was able to skip. However, Sophia had some strategies that were totally new to me and completely changed the way I pin!
Once I started following Sophia's advice, I got my pin impressions from 100,000 to 1,000,000 in just a few months.
This course is a mix of video and text, which keeps the content fun and interesting. I love Sophia's personality and she's a no-BS teacher, meaning she gets straight to the point and gives you actionable steps to improve your Pinterest strategy.
Best For: New & Intermediate Bloggers
Format: Video & Text
Length: Complete at your own pace
Cost: $139
---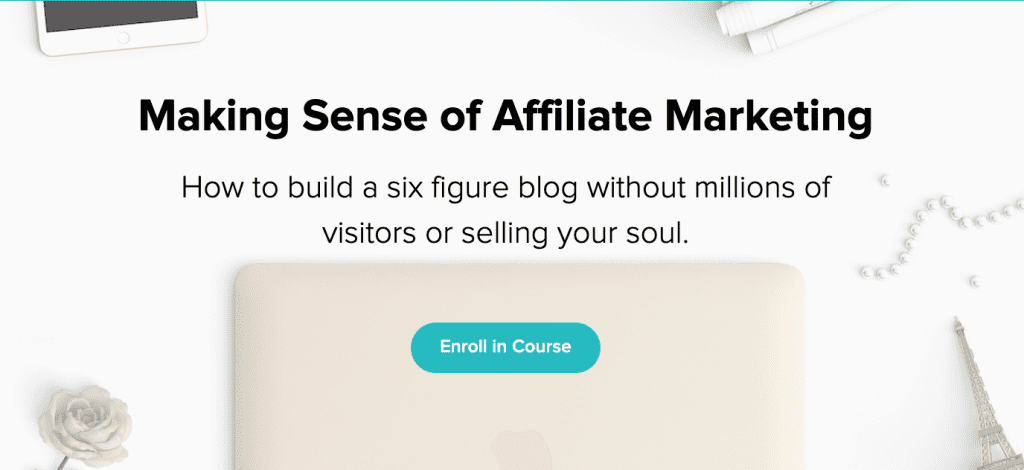 This is an excellent course for new bloggers who want to understand the ins and outs of affiliate marketing.
It shows you the exact strategies that Michelle used to take her affiliate income from $0-$50,000!
This is the most recent course I've taken and I'll be completely honest, I was not the intended audience. My affiliate strategy is almost the exact same as Michelle's (which made me feel very validated!), but keep in mind, that I've been doing affiliate marketing for 6+ years!
That being said, if you're new to affiliate marketing, this course would be AMAZING!
It's completely text-based, but the sections are small and digestible. She gives you her exact affiliate marketing strategies, examples of affiliates she works with, worksheets, and so much more!
Best For: New Bloggers
Format: E-book
Length: Complete at your own pace
Cost: $197
---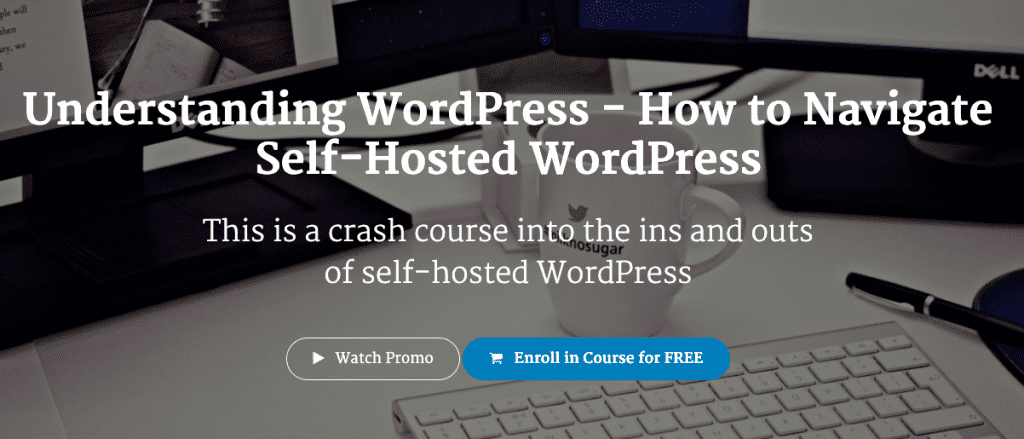 Understanding WordPress is a super helpful crash course into the ins and outs of using self-hosted WordPress. Using screencasts and screenshots, it walks you through everything you need to know, from how to use it to how to customize your site, in digestible chunks.
I always recommend that bloggers use self-hosted WordPress vs WordPress.com so to overcome that learning curve, this course is great!
One thing I'd like to note is that this course specifically does not recommend using Bluehost as a hosting site, which is the host I recommend to most new bloggers.
If you want to know why I recommend it, click here.
I personally used Bluehost for years (until my blog got to a certain size) and I truly think it's a great and affordable option for new bloggers and it's pretty easy to switch down the road when you're ready to spend the money on something bigger and better.
Best For: New Bloggers or bloggers switching from hosted to self-hosted
Format: Video & Text
Length: Complete at your own pace
Cost: FREE
---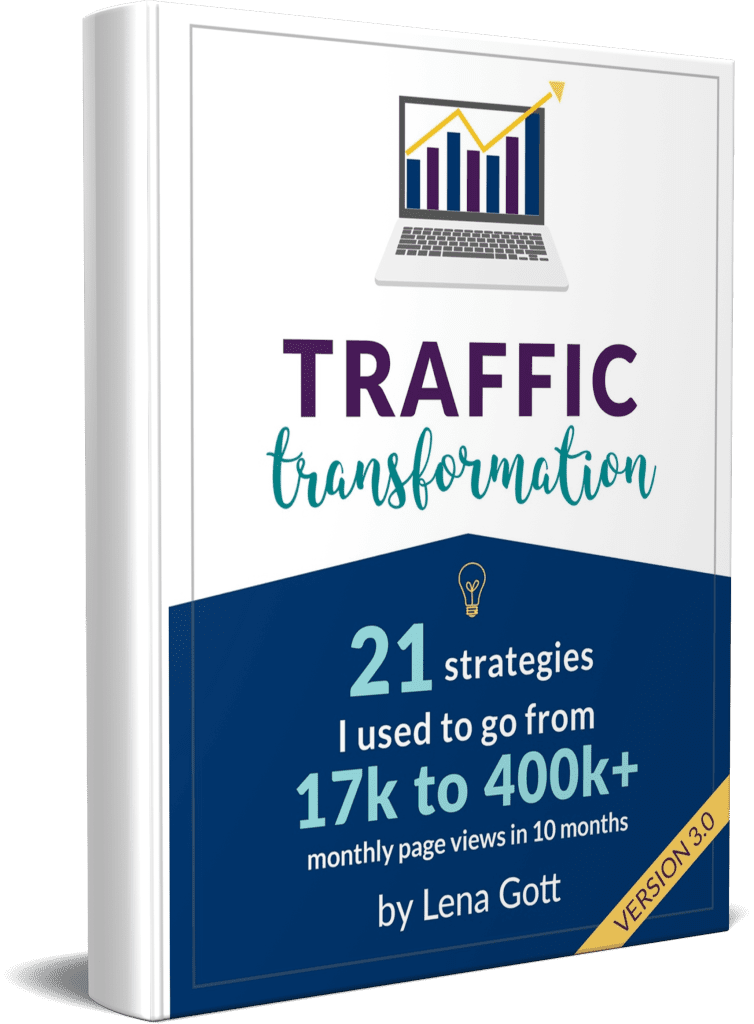 If you've been struggling to get traffic to your site or are a new blogger wanting to start off on the right foot, Traffic Transformation is a godsend.
Lena provides 21 actionable steps that you can take to improve your blog traffic. These are all strategies she used to get from 17,000 monthly page views to 400,000 in less than a year!
Traffic Transformation is a LOT of info to process (the ebook feels a bit clunky, in my opinion) but the content is worth it and can significantly increase your traffic if followed! The examples are very specific, which really sets this course apart from the rest.
Best For: New or Intermediate Bloggers
Format: ebook
Length: Complete at your own pace
Cost: $79
Have you tried any of the above courses? What other courses have you taken that you've loved?
I'm always on the hunt for new and interesting blogging courses so leave a comment if you have any you recommend!