Summer 2022 Beachly Review & Unboxing – Spoilers!
The Beachly Summer box is officially available and is filled with summer essentials and beach accessories valued at over $300! Below you'll find my full Beachly review of the Summer 2022 box and everything that came inside this beach subscription box!
LIMITED TIME PROMOS:

Purchase a seasonal box and get a free bonus box with up to $100 worth of goodies when you use the code BONUSBOX here >>
or
Save $30 on your first seasonal box when you use the code HOUSEWIFE30 here >>
*This box was gifted and this post contains commissionable links, but all opinions are my own and I truly appreciate your support.
Beachly: The Best Beach Subscription Box
If you aren't already familiar with this subscription box for beach lovers, Beachly is a quarterly subscription box filled with beach accessories. From apparel to home decor, each box includes 6-8 items valued at $250 or more, but you only pay $99/season!
It's the perfect beach subscription box for men and women (yes, they offer two variations of the box!) who love spending their time at the beach, the lake, or even poolside.
If you want to know all there is to know about the Beachly box, click here to check out my full review.
---
They also now offer a beauty subscription box! The Beachly Beauty Box includes 4-6 cruelty-free & clean beauty products that are perfect for beach-lovers. The Beauty Box is $29 per season, with a $75+ retail value in every box. Check out the Beachly Beauty box here >>
---
Summer Beachly Box Review – SPOILERS!
The 2022 Summer Beachly box is one of their best to date, filled with $300+ worth of products including exclusive merchandise, and even offers a customization option for members.
From summertime picnic staples to laid-back, seaside styles, the Beachly Summer Box is filled with beach accessories that are essential for creating fun summer memories with your loved ones.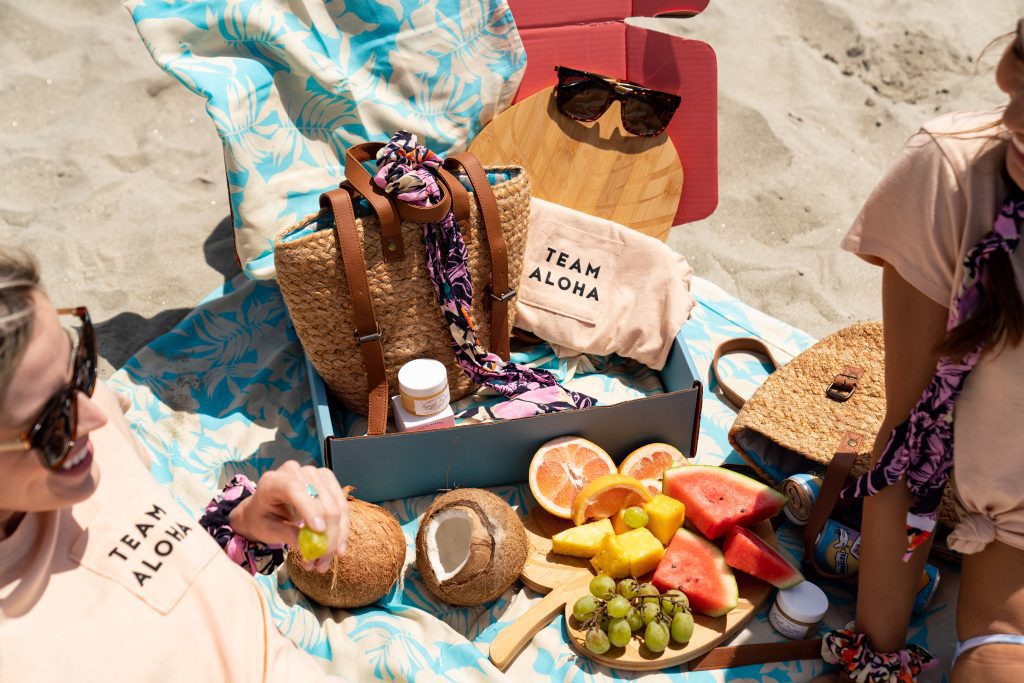 The Summer 2022 Beachly box includes the following items:
The Shorebreak Picnic Cooler Bag by XIX Palms ($99 value – Beachly Exclusive)
The Monstera Cutting Board by Beachly ($44 value – Beachly Exclusive)
The 'Team Aloha' Pocket Tee by Guava Shop Hawaii ($44 value)
The Waimea Hair Tie & Scarf Set by Maaji ($20 value – Beachly Exclusive)
The Bella Sunglasses* by Diff ($75 value)
The Endless Summer Throw* by XIX Palms ($75 value – Beachly exclusive)
A surprise beauty item ($18+ value)
Total Retail Value of Box: $300+
*Members will have the option to choose between one of these items for their box.
The latest Beachly box is now available! Get your box here >>
---
Unboxing the Summer 2022 Beachly Box
---
Thoughts on the Summer Beachly Box
Oh my gosh, what a fun box! As always, Beachly has crafted a beach-inspired box that's perfect for summer! I love that Beachly is creating more exclusive products and the quality seems to be top-notch, as always!
What I loved? I'm obsessed with the t-shirt, the face balm, and the sunglasses!
I've already worn the Team Aloha t-shirt more times than I'd care to admit. It's SO comfy and I love how lightweight it is for those hot summer days.
Earth Harbour is always a win for me. Their products are unique, effective, and SO aesthetically pleasing.
I also love love love the Diff Sunglasses! I can honestly say that I've never received a pair of sunglasses in a subscription box that I actually liked (I'm super picky!) but these have become a new favorite.
What was meh for me? The cutting board, backpack cooler, and hair accessory set were all SUPER cute but I'm just not sure I'll actually use any of them. I definitely plan to give them away as gifts, though because I think some of my friends will really enjoy them!
Overall, it was a fun box and I got some products that I'm super excited about!
Use one of these promos to try Beachly yourself!

Purchase a seasonal box and get a free bonus box with up to $100 worth of goodies when you use the code BONUSBOX here >>
or
Save $30 on your first seasonal box when you use the code HOUSEWIFE30 here >>