My Fool-Proof Process for Finding The Best Blog Post Ideas
Do you find yourself struggling to come up with blog post ideas? Are you not sure what topics your audience is looking for? Are you writing about topics without researching them beforehand?
In this guide, I'll walk you through my fool-proof process on where to look for blog post ideas and how to research them to ensure you're writing the right content for your audience.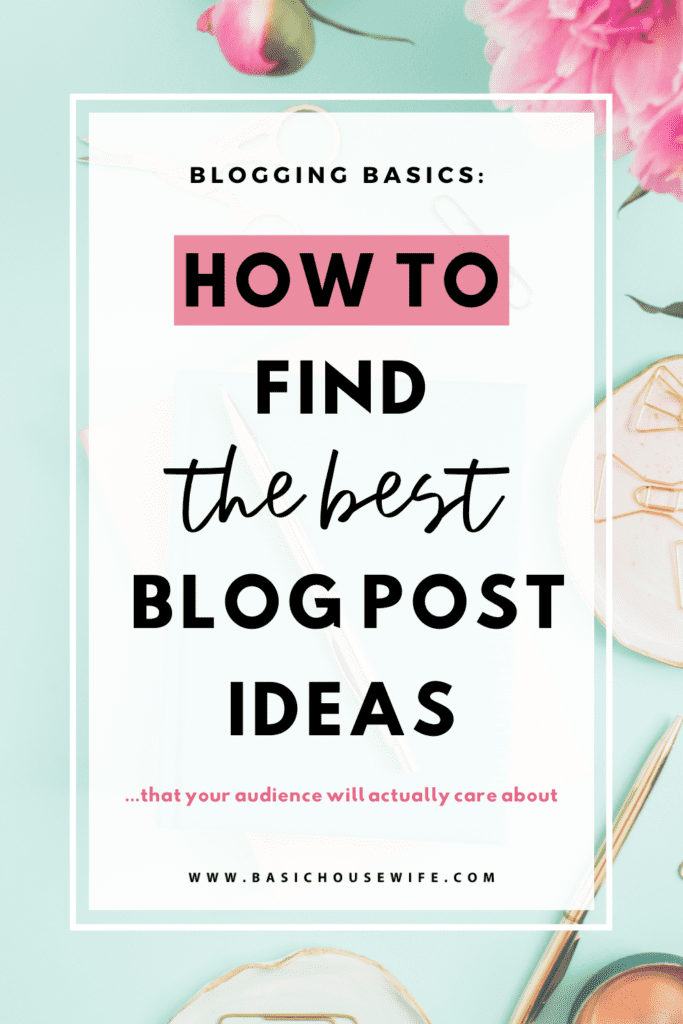 There's no denying it — the blogging world is big and it's easy to get lost in the sea of blogs. Now more than ever, being able to come up with the best blog post ideas for your niche is going to be key to your success.
It's not just about what we as bloggers want to write, anymore. It's what our audience wants us to write about.
And while "Meet the Blogger" and "My Weekend Trip to Aspen" posts are fun — I'm going to be super blunt real quick — your reader doesn't care.
Unless you have an established audience, don't waste your time on fluff posts when you could be spending time on content that has been well-researched and that you KNOW people want.
But you're probably asking: WHERE do I find these blog topics? How do I know what people want?
In the next few sections, I will walk you through my process on where to look for blog post ideas and then how to research those ideas to ensure you're writing the right content.
But first…
Exercise #1: Before we dive in, I want you to jot down your blog's main categories and any sub-categories. Then, I want you to write down 2-3 blog topic ideas for each. These can be broad ideas that will be narrowed down through research in the following steps. The topic I will be using throughout is 'kitchen organization'.
---
Brainstorming: 5 Places to Look for Blog Post Ideas
Sometimes, brainstorming blog post ideas is the hardest part of blogging. The options can seem endless or you might be in a total creative funk and unable to think of anything good.
The 5 methods listed below are the exact methods that I use to find blog topics. I refer to this as the Brainstorm Phase.
Exercise #2: Take your list of topics and use the following methods to create a master list key-phrases that you find within this Brainstorm Phase. The more you write down the better! These will be narrowed down in the research phase.
Google Auto Suggest & Related Searches
Open Google in an incognito window and start typing in a general topic idea. You'll notice that Google is auto-completing the search phrase for you.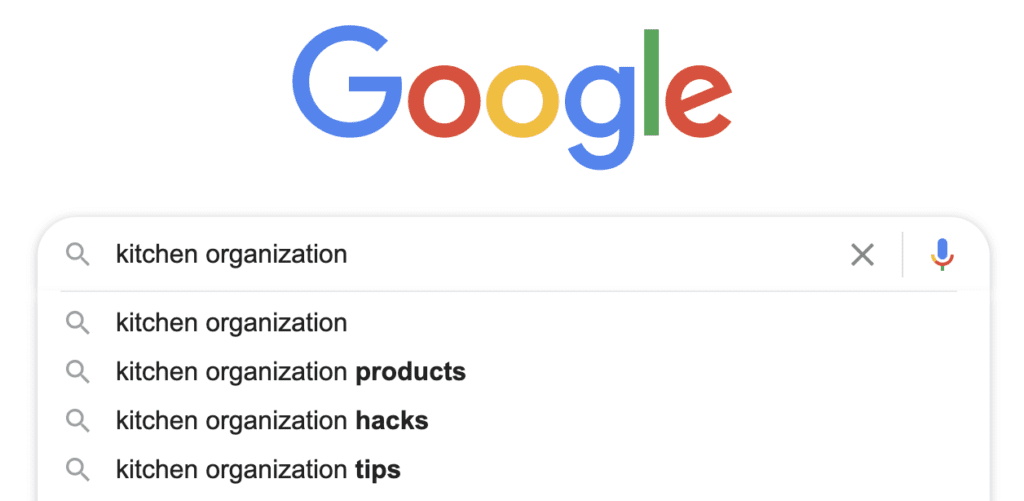 This is Google's way of telling you, "These are the most commonly searched keywords around that topic!" and is a great way to narrow down a broad idea to something more specific.
For example, even though I went in with the idea of writing about kitchen organization, 'kitchen organization products' is a more niche keyword that will allow me to target a more specific audience.
Once you've completed a search, if you scroll down to the bottom of a search page, you'll also see the "related searches" section: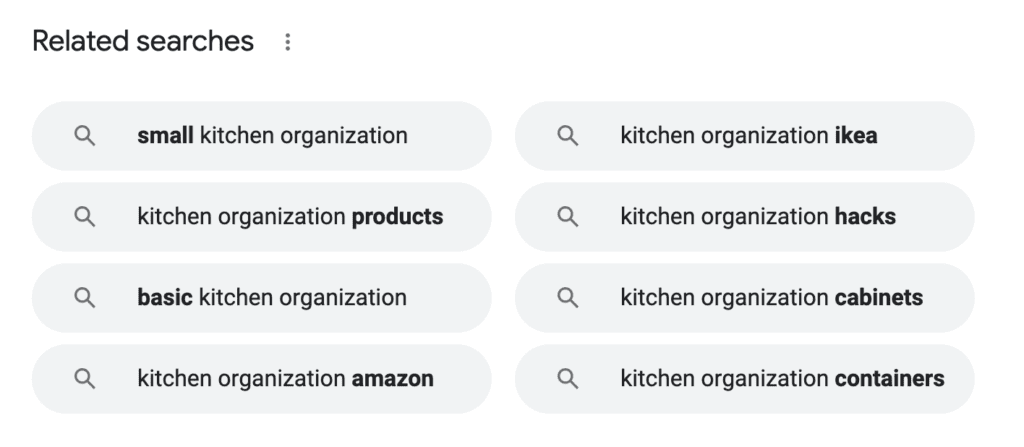 Again, Google is basically handing you popular keyphrases and topic ideas so now it's your job to make killer content with them!
Pinterest
You'll want to do a similar thing with Pinterest as we did with Google above.
Log into your Pinterest account and in the search bar, start typing in your topic idea. Pinterest will auto-populate suggested searches.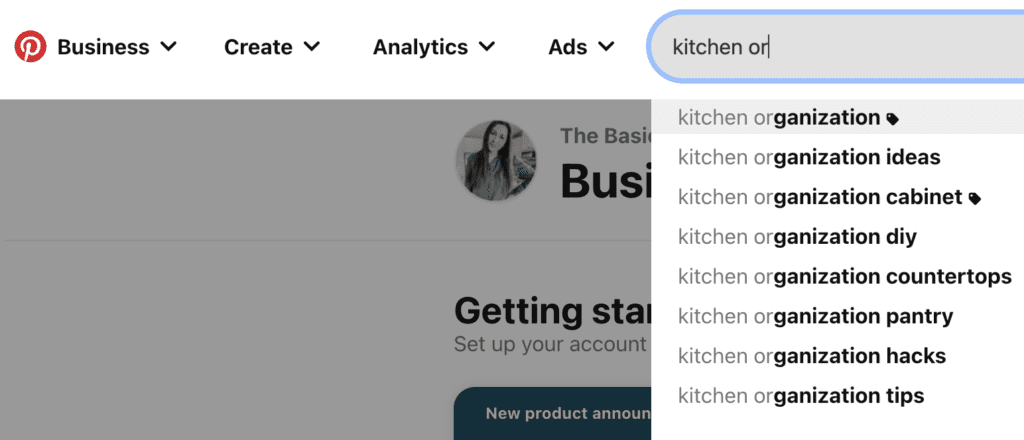 Pinterest is literally telling you that these are the most popular phrases that people are typing into the search bar.
Quora
Quora is basically a giant discussion board where people come to ask and answer questions from every type of niche out there. And for you, it's GREAT place to see what type of content people are in need of.
Just type in your topic idea into the search bar and see what questions people are asking around that topic.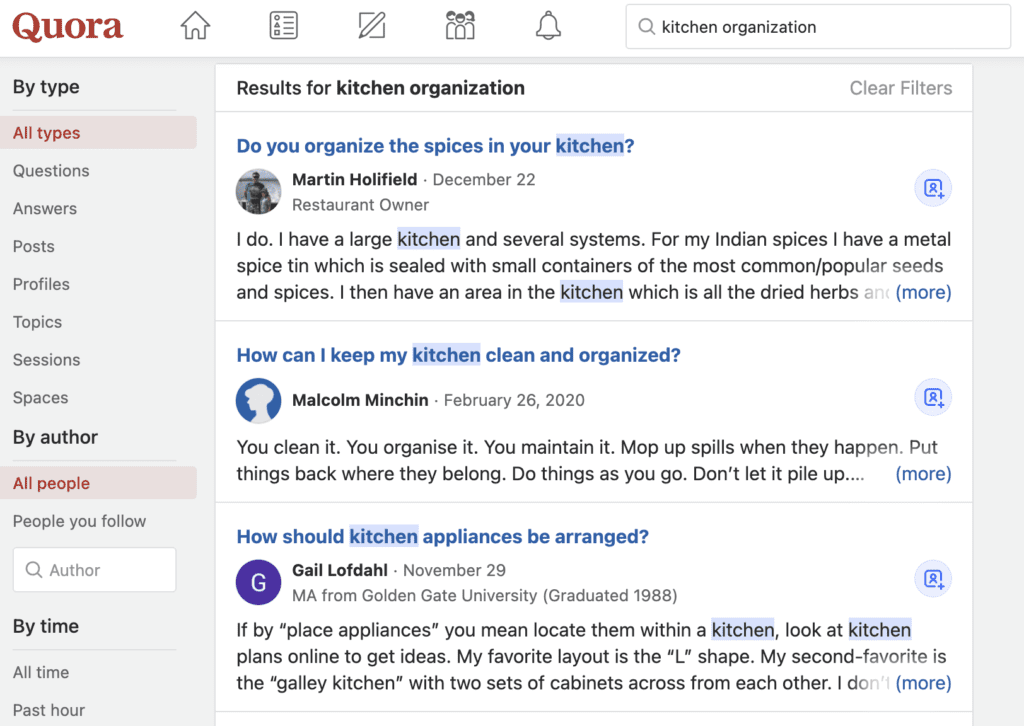 Quora will not only help you find new blog topics, but it will also help you outline your existing topics as well.
Let's say I was writing The Ultimate Guide to Kitchen Organization. I might want to include a section on 'spice organization' and/or 'tips to keeping a kitchen clean' because I see that people are actively searching for suggestions.
---
Review Existing Content
If you already have content on your website, look into your analytics and make a list of your top 10 posts from the past 3 months, 6 months, and 1 year.
What do these posts have in common? Can you repurpose any of it into fresh, new content? Can you expand upon any of these topics or refine some?
If certain topics are already doing well for you, it's to your benefit to capitalize on that!
---
Ask Your Audience
If you have an engaged audience on Facebook, Instagram, Twitter, etc., don't be afraid to ask them what they are looking for!
Remember: You are making content for them so it's a win-win for everyone when you are writing content they care about.
You can ask them to submit specific questions they would like answers to or just general topics that they might want to know more about. You could post a poll, do a this or that, or just straight up ask "Would you guys be interested in a post on [insert blog topic]?"
---
Researching: 3 Steps To Narrow Down the Best Blog Post Ideas
Once you've brainstormed your master list of key-phrases, it's time to find the best of the best. We do that in the Research Phase.
Because here's the truth: Just finding a topic that you think is great is not enough.
You've got to put some time in to make sure that it's worth your time. And not all of the topics that you found in the brainstorm phase are going to be worth your time.
Researching your topic allows you to avoid topics that are:
Too broad or too niche
Too competitive and that you'll never rank for
Not actually what your audience is looking for
Etc.
Exercise #3: Take your list of ideas from the Brainstorm Phase and complete the following three steps for each key-phrase that you found. This will help you narrow down the best of the best.
1. Check the Search Volume of Each Keyword
The Search Volume is the number of times a specific topic/keyword is searched per month.
PS: If you have no idea what I mean by keyword or search volume, you should probably start here.
You can find this information either by using the Adwords Keyword Planner Tool (free) or the Keywords Everywhere extension.

The search volumes (SV) that you target are going to vary by blog size. When first starting, I recommend targeting keywords with a SV of 3,000 or less. If you are ranging from 10k-20k visitors/month, I'd recommend targeting keywords with a SV of 10,000 or less.
This step will weed out a lot of topic ideas, but will help you find ones that are going to be much easier for you to rank for!
2. Scope Out the Competition
Take any potential topic ideas and run a Google search in an incognito window. This will show you all of the sites that are currently ranking for that topic already.
Here are some things to consider when looking at your competition:
Are the top-ranked spots dominated by names like Huffington Post, Buzzfeed, etc? If so, it might be really hard for you to rank beside them.

Can you create better content than what's currently ranking? ie. More original photos, more words, more informational, a longer list, etc.

What spins are people putting on the topic? Is everyone writing basically the same thing? How can you change it up?

What titles are people using? Even if the content is similar, how can your title be more enticing than the ones that are already ranking?
You always want to make sure that your article is a step-up from the competition. Otherwise, how do you ever expect to rank?
If you see an article that is "The 10 Best Kitchen Organization Products", then make yours "15 Must-Have Kitchen Organization Products".
If you see an article that is "My Favorite Cookie Recipe", title yours something like, "The Cookie Recipe That Will Change Your Life" and make sure it's a damn good recipe and blog post.
3. Check The Trends
One of the most frustrating things about creating content is that it takes time for it to rank on Google and even Pinterest.
Google takes 3-6 months to start ranking a new URL. Pinterest takes 2-3 months to start ranking a new pin.
That being said, it's super important to plan, write, and publish content well ahead of when that topic is trending. And to better understand when you should be writing about certain topics, you need to look at trends.
By using Google Trends you can type in topics to see when people are searching for those key-phrases.
My recommendation: Always write and publish your content 3 months before it's trending.
So if 'Kitchen Organization' is most highly searched in January, I would want to write a blog on 'Kitchen Organization' in October at the latest.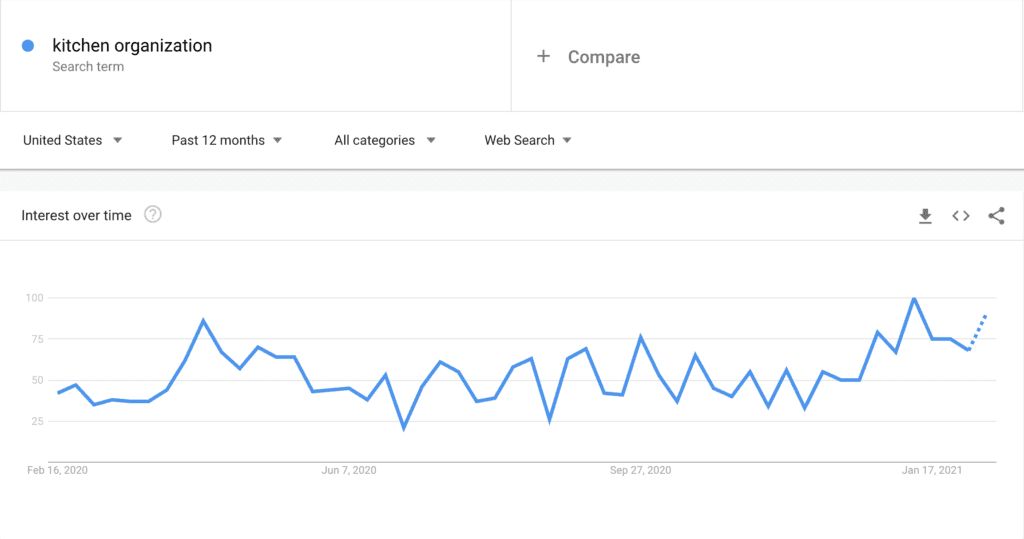 You can do this same thing with Pinterest Trends to see when people are searching for certain topics and phrases in Pinterest.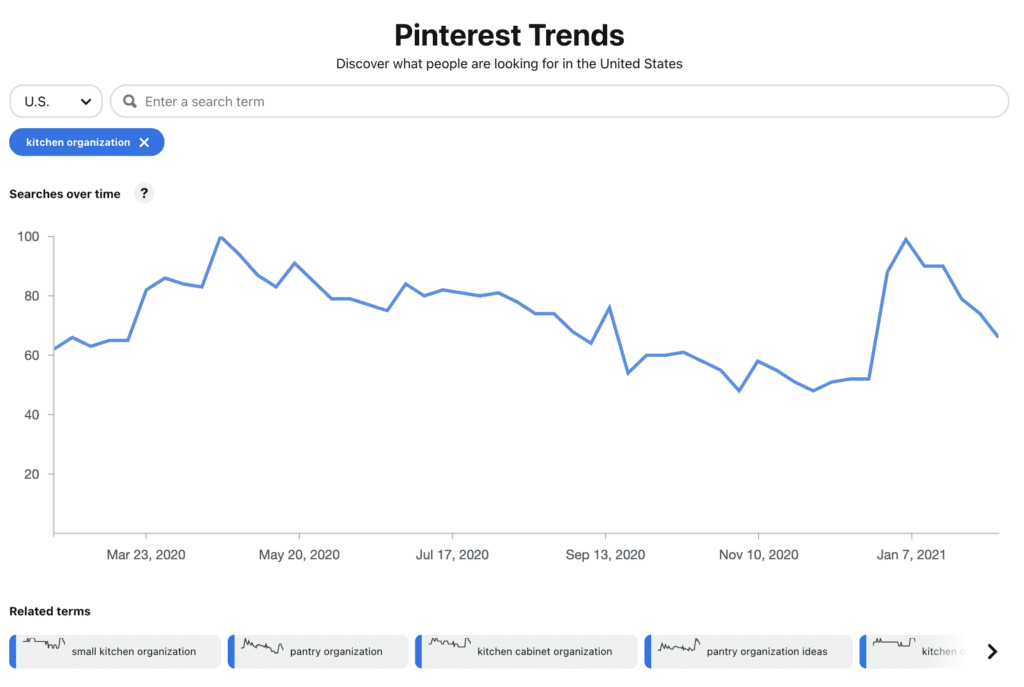 One of my favorite features of these trend tools is that they also offer related search terms, making this another great resource for finding new blog post ideas!
---
And That's It!
Coming up with new blog topic ideas doesn't have to be challenging. In fact, it should be fun and insightful!
Going through this process gives you great insight into what's trending, what's popular with your audience, and what content you can create. But it will also weed out a lot of topic ideas and that's okay.
If this process seems overwhelming, just think of it as a two-step deal: Brainstorm & Research. It's that simple.
In the comments below, let me know if you have other/additional methods for brainstorm and research! And if you have questions, feel free to drop them below as well.
Happy blogging!