The Ultimate List of Essential Oil Accessories
Recently, I was re-introduced back into the world of essential oils. I say "re-introduced" because I tried them years back, and while I definitely saw their appeal, I never got into the habit of using them on a consistent basis.
But a few months ago, oils were brought back into my life and my god — what have I been missing out on all these years!?
I have become obsessed and will likely publish a blog regarding my journey thus far (if you are interested!) but this is neither the time or place for that.
I'm here to talk to the already oil obsessed. I'm here to talk about…dun dun dun…you probably guessed it from the title…essential oil accessories!
50+ Must-Have Essential Oil Accessories
You might be thinking…accessories? What accessories could oils possibly need? Girl…the real question is, what don't you need?
From diffusers to storage containers, there is a plethora of different essential oil accessories to complete your collection.
Ready to jump in and check out this list? Let's goooooo.
Roller Bottle Carrying Case. The perfect accessory to throw in your purse, travel bag, work bag, etc. This hardshell roller bottle case will keep your oil blends protected and convenient for when you need them most!
Shop the top-rated roller bottle case here.
---
Car Diffuser Vent Clip. Apply oil to the felt pad, clip it into your car's vent, and enjoy a magical, therapeutic car ride wherever you go. Plus, the stainless steel locket design is super pretty!
Shop the highly-purchased car diffuser clip here.
---
Amber Glass Roller Bottles. This is the perfect way to concoct blends that you can take on the go. Best part? This kit comes as a 24 pack of 10ml bottles, PLUS you get two droppers and a bottle opener. STEAL!
Shop these glass roller bottles here.
---
Tassel Car Diffuser. This pack of tassel car diffusers is so cute and the perfect car accessory! The best part? You get a pack of 6, so you can give some away as gifts!
Shop these tassel car diffusers here.
---
Essential Oil Recipe Book. The perfect gift idea for any essential oil lover, this blank, linked journal is where they can write down all of their favorite blends, recipes, and more.
---
Essential Oil Diffuser Bracelet. Not only will this make a total fashion statement, but it offers some major health benefits as well. Available in a variety of colors, this diffuser bracelet is a must-have for any oil lover!
Shop this customer-favorite oil diffuser bracelet here.
---
Essential Oil Diffuser. This is a staple for every oily-lover, and let's be honest — you likely have at least a few. Either way, you can never have too many! This diffuser offers multiple mist times, 7 different LED colors, 2 levels of mist function, and more!
Shop this top-rated essential oil diffuser here.
---
Metal Essential Oil Key Tool. This universal opener and remover is a must-have for anyone who frequently makes blends in roller bottles. The various holes allow for this tool to be used on bottles from 1ml to 30ml.
Shop this essential oil key tool here.
---
Wooden Essential Oil Storage Box. This gorgeous and sturdy case holds 25 5 or 10ml essential oil bottles. It's also lightweight enough to easily transport it from room to room!
Shop this wooden essential oil storage box here.
---
'I Have An Oil For That' Kitchen Towel. This adorable kitchen towel makes for the perfect addition to any oil lover's home!
Shop this handmade kitchen towel here.
---
Amber Glass Spray Bottles. Great for cleaning blends, hair products, facial sprays, and more, these amber spray bottles are perfect for concocting blends to maintain a healthy home!
Shop these amber glass spray bottles here.
---
'Essential Oil for Beginners' Book. This guide discusses everything from different ailments, cosmetic uses, home uses, and more! It's a must-have for anyone just starting or oil-vets.
Shop this essential oil book here.
---
Triangle Lava Stone Necklace. Who knew this adorable piece of jewelry could also be a diffuser? Just rub a couple drops of oil onto the stone and allow the oil to soak into your skin and work its magic. It's a must-have!
Shop this lava stone necklace here.
---
'The Essential Life' Book. This is literally my oil bible and has completely upped my essential oil game! This book includes detailed information on each oil, how to treat (just about) any ailment you can think of, recipes for blends, cleaning supplies, cooking recipes, and so much more. It's a must-have for any oily.
Shop 'The Essential Life' book here.
---
Reusable Wool Dryer Balls. Rid your family and your home of those toxic dryer sheets and start using these reusable dryer balls instead. You just apply a few drops of oil, throw them in the dryer, and voila!
Shop these reusable wool dryer balls here.
---
DIY Fresh Deodorant Kit. Learn to make homemade deodorant that will leave you feeling clean and fresh! All you need to provide are the oils!
Shop this DIY fresh deodorant kit here.
---
Essential Oil Portable Bag. This adorable little bag fits perfectly in a purse, diaper bag, work bag, or more! Not only is it super chic, but it conveniently fits 12 bottles and comes in a variety of colors.
Shop this essential oil bag here.
---
Essential Oil Recipe Cards. Keep a recipe card box for yourself of give these whenever you gift oils or blends to loved ones. Either way, they are too cute to pass up!
Shop these essential oil recipe cards here.
---
Multi-Colored Roller Bottles. I just recently bought these and am OBSESSED. I love that not only are these glass bottles, but the roller ball is also glass, allowing for a smooth application. These are a must-have in my book!
Shop these multi-colored roller bottles here.
---
'Oily Mama' Pop Socket. Literally, could you imagine a cuter pop socket?
Shop this adorable phone accessory here.
---
Adjustable Lava Stone Diffuser Bracelet. This chic aromatherapy accessory makes for the perfect essential oil gift! You just rub the oil on the lava stone and allow it to soak into your skin throughout the day.
Shop this lava stone diffuser bracelet here.
---
Ultimate Roller Bottle Essentials Kit. This collection includes everything you need to make some successful roller bottle blends. It includes 72 bottle labels, 2 openers, 6 droppers, 6 funnels and a cleaning brush.
Shop this roller bottle essentials kit here.
---
Essential Oil Diffuser. This is one of my favorite diffusers and has CRAZY great reviews online. This diffuser is whisper-quiet, runs up to 7 hours, has optional color-changing LED lights, and its vertical shape fits conveniently in any space!
Shop this essential oil diffuser here.
---
'I Run on Essential Oils & Coffee' T-Shirt. Honestly, this is the perfect gift for any oily-lover. Available in various sizes and colors, it's a must-have!
---
Essential Oil Inhaler. This is a great way to use your oils on the go. Just drop a couple drops onto the cotton wick inside the inhaler, pop on the cap, and sniff throughout the day.
Shop this set of essential oil inhalers here.
---
Vinyl Essential Oil Roller Bottle Labels. These labels are the perfect way to spice up all of those roller bottle blends you create. They also are the perfect way to dress up bottles that you give as gifts!
Shop these roller bottle labels here.
---
Wooden Display Rack. It's like a spice rack, but for your oils! This is a great way to easily store your oils for maximum accessibility!
Shop this wooden display rack here.
---
Pure Fractioned Coconut Oil. This is my personal favorite carrier for diluting oils and making blends. Plus, a little goes a long way!
Shop this fractioned coconut oil here.
---
Gemstone Roller Bottles. If you aren't using the combination of gemstones and essential oils, you are missing out! These bottles come with chips from popular gemstones such as rose quartz, amethyst, black obsidian, and more!
Shop these gemstone roller bottles here.
---
Locket Diffuser Necklace with Lava Beads. Whether you're looking to relieve anxiety or keep a clear mind, this aromatherapy pendant necklace will allow your oils to work their magic all day long.
Shop this locket diffuser necklace here.
---
Essential Oil Car Diffuser. If you want the same misting effect of other home diffusers, this is exactly what you've been looking for! This diffuser conveniently fits in your cup holder, plugs into a cigarette lighter port, and provides 3-5 hours of continuous mist!
---
Floral Perfume Bottles. Mix your favorite scents with some witch hazel to create perfumes that can be spritzed throughout the day! Create a set of blends would also make for an amazing gift.
Shop these perfume bottles here.
---
'I Have An Oil For That' Coffee Mug. This coffee mug is an ideal gift for the oily and coffee lover in your life!
---
Veggie Capsule Holder. The capsule holder from Oil Life is designed to make the process of creating your own pill capsules hassle and mess-free.
Shop this veggie capsule holder here.
---
Mini USB Office Oil Diffuser. This is a must-have oil accessory for every #girlboss! Plug this mini diffuser into your computer or laptop to take full advantage of your oils all day long!
Shop this USB office oil diffuser here.
---
Essential Oil Travel Carrying Case. This carrying case is perfect for the oily on the go! It holds 30 5-30ml bottles and also holds roller bottles!
Shop this oil travel carrying case here.
---
Lucy Libido Says 'There's An Oil For That" Book. This book is the ultimate girls guide to using essential oils between the sheets. Based on reviews, it is funny, informative, and has crazy good ratings!
---
Magnetic Essential Oil Holders. These magnetic holders are essential for keeping your oils on hand and convenient at all times! Keep bottles on the fridge, on your washer or dryer, or anywhere you can attach these to!
Shop these magnetic essential oil holders here.
---
Essential Oil Reference Guide and Wheel Chart. This product comes from the popular AromaTools brand and is a must-have for your collection! This collection will help you choose the right oils for your moods and emotions.
Shop this reference guide and wheel chart here.
---
Pipettes. These are great for concocting blends in a clean manner. I can't tell you how many times I've been pouring coconut oil into a roller bottle and it spills all over. These are a game-changer.
---
Essential Oil Cap Stickers. Organization is the first step to a happy, healthy life. I totally just made that up, but it sounds good, doesn't it? These particular stickers are for doTERRA oils, but you can find alternatives anywhere on Amazon!
Shop these oil cap stickers here.
---
Oil Applicator & Back Scratcher. This handy little tool works with your roller bottles and allows you to apply your favorite essential oils and scratch your back all at the same time! Genius!
Shop this back scratcher here.
---
Oil Travel Pouch Bag. You probably are sick of seeing bags by now, but honestly, can you ever really have too many!? This small travel pouch fits perfectly in a purse and is SO DANG CUTE. It's also available in different colors if green isn't your thing.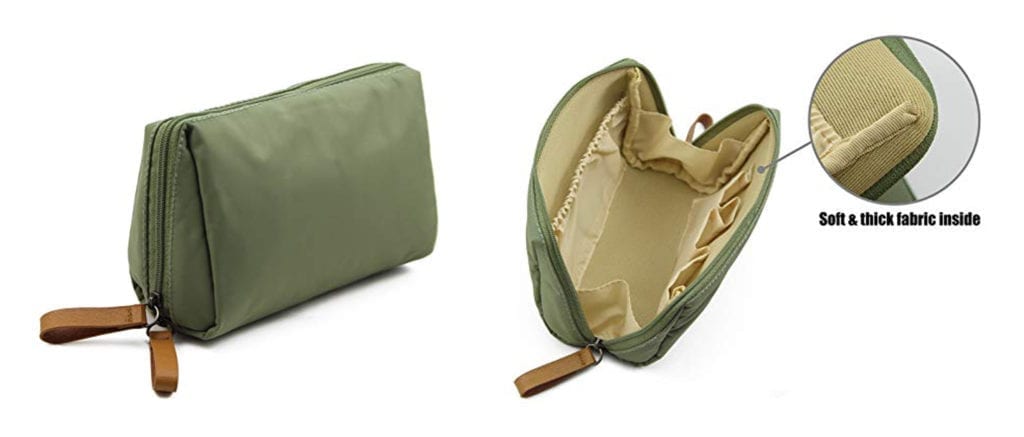 Shop this oil travel pouch bag here.
---
Solid Carrier Stick. When I first saw this, I thought, 'what the heck is this thing?' But honestly, it's quite brilliant! To use, just simply swipe the stick on your skin and apply your oils over it. The carrier keeps the essential oils close to your skin to aid in maximum absorption.
---
Rotating Essential Oil Rack. Upgrade your oil game with this wooden display, showcasing up to 124 of your favorite oils on this unique, rotating platform.
Shop this rotating essential oil rack here.
---
Retractable Aromatherapy ID Badge Holder. Perfect for a doctor, nurse, or teacher, this aromatherapy ID badge will allow you to keep your oils on hand throughout your work shift!
Shop this aromatherapy ID badge holder here.
---
Essential Oil Demonstration Travel Tote. This is ideal for anyone who sells oils, hosts parties, and needs to carry around their business tools! I'm also thinking this tote could easily double as a diaper bag as well!
Shop this oil demonstration travel tote here.
---
Essential Oil Accessories for Kids
We certainly can't forget about oil accessories for kids in this list! Check out some of these products that will get your children into loving and using oils as much as you do!
Aromatherapy Slap Bracelet. These are a-dor-a-ble! Available as a pack with a variety of felt colors, these are a great for you to send your kiddos off to school with their favorite scent attached.
Shop these aromatherapy slap bracelets here.
---
'My Monsters' Roller Bottle Labels for Kids. Get your kids excited about using oils with these adorable monster-themed roller bottle labels. Labels include 'Happy', 'Focus', 'Sleepy', 'Owie', and more!
Shop these 'My Monster' labels for kids here.
---
Cat and Dog Aromatherapy Diffuser Necklace. These stainless steel diffuser necklaces are so dang cute and definitely child-approved! Did I mention, both locket styles are included in this kit?
Shop these cat and dog aromatherapy necklaces here.
---
doTERRA Kid's Essential Oil Collection. This collection is formulated specifically for developing minds, bodies, and emotions, all while being gentle on delicate skin! It's the perfect way to get your kids started into oils at a young age. It includes 6 roll-on oils, a carrying kit, caps they can attach to backpacks, and flashcards that teach them about the oils!
Shop this essential oil kit for kid's here.
---
Plush Aromatherapy Stuffed Llama. Not only is this stuffed plushie adorable, but it will provide your kiddos immense comfort at bedtime. It has a removable and washable sachet inside that you can add oils to so they can rest peacefully.
Shop this plush aromatherapy stuffed llama here.
---
Whale Essential Oil Diffuser for Kids. This super cute whale oil diffuser will be a hit with your kids! It changes between 7 soothing colors with just the tap of a finger and the cool mist can run up to 5 hours.
Shop this whale diffuser for kids here.
---
DIY Happy Baby Bum Kit. This kit makes up to 5 baby bottom pastes that'll keep your baby's bum soft and free of irritation. All you need to provide are the oils!
Shop this DIY baby bum kit here.
---
---
Silicone Roller Bottle Protective Sleeves. These silicone sleeves are perfect for your littles to carry around their fave rollers. They can be attached to their backpacks, jackets, to a stroller, etc.
Shop these silicone sleeves here.
---
Unicorn Lava Stone Aromatherapy Bracelet. This rubber bracelet will be your kid's new favorite accessory! Rub your child's favorite oil into the lava stones and allow them to enjoy the benefits all day long.
Shop this lava stone aromatherapy bracelet for kids here.
---
5lb Weighted Lap Pad Stuffed Animal. Not only does the weighted aspect help with anxiety in kids, but this stuffed animal comes with a removable and washable pouch that you can add oils to for a therapeutic experience.
Shop this weighted lap pad for kids.
---
Share You Favorite Essential Oil Accessories Below
You've seen my list, now I want to know yours! What products can you absolutely not live without? Which accessories do you use on a daily basis!?
Leave a comment below and let me know what I'm missing out on because I'm dying to know!