My Honest FabFitFun Review: Everything You Need to Know + What's Inside!
This blog contains commissionable links, however, I purchase all my own boxes and all opinions are my own.
Have you been curious about a FabFitFun box? From how it works to my honest FabFitFun review, this article has everything you need to know before purchasing your first box!
---
So What Is FabFitFun?
FabFitFun is a quarterly subscription box, meaning you'll receive a box four times a year.
Each fabfitfun box contains the best in makeup, skincare, fashion, wellness, home decor, and more! – all hand-picked by the FabFitFun team! (I'll go over more specific items later.) I'm talking FULL-SIZE products, you guys.
You won't find any of the junkie little sample bottles at FabFitFun – they only give you full-sized, authentic, name-brand products.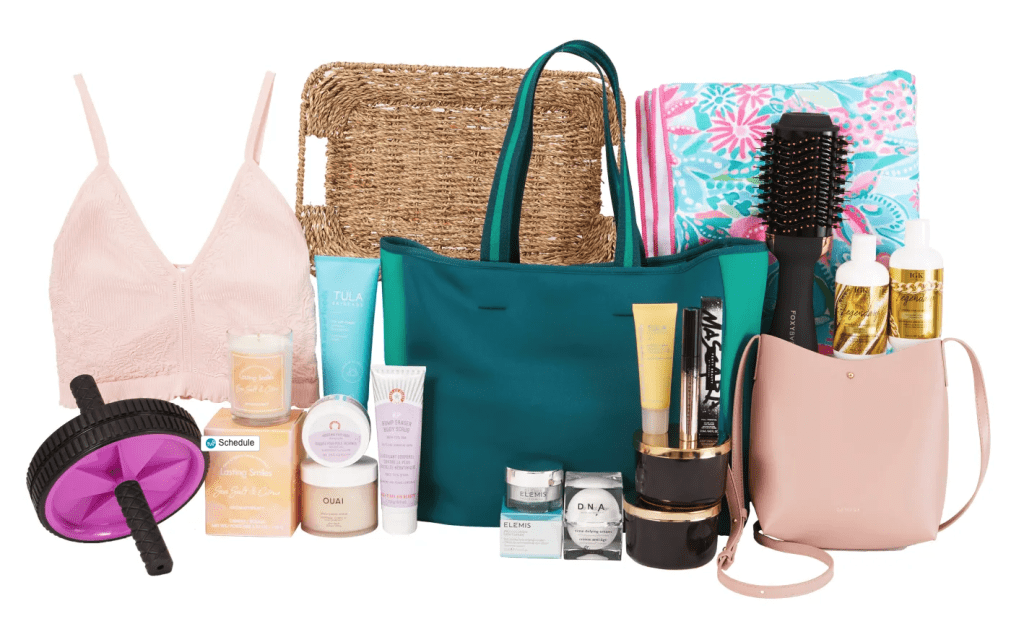 How Much Does FabFitFun Cost?
You're probably thinking – If I'm getting full-size products in my box, it must cost a ton, right? WRONG.
In fact, many times just ONE PRODUCT alone exceeds the value that I paid for the entire box.
---
How Does FabFitFun Work?
There are two different FabFitFun memberships that you can choose from – Seasonal or Annual – and the costs vary depending on which membership you choose.
As a seasonal member, you will receive a quarterly box and will simply be charged each quarter, just before your box ships. Your subscription automatically renews each season unless you decide to cancel before your upcoming bill date.
As an annual member, you will pay one upfront fee and will receive all four boxes for the year. Your subscription automatically renews each year unless you decide to cancel before your renewal date.
FABFITFUN TIP: As a Select Member, your box will be shipped first, you'll have more box customization options, and get first dibs on add-ons before seasonal members. More on all of that coming up.
FabFitFun does charge a small shipping fee to select states and countries so just keep that in mind when budgeting this out!
I personally had the seasonal subscription for well over a year before I switched to annual. Either way, I never once thought I was overpaying for the product that I received.
In my opinion, either subscription is well worth it, but being an annual member does have its perks.
---
How FabFitFun Box Customization Works
FabFitFun has seriously upped its game when it comes to creating personalized boxes.
No matter your membership level, they now let members select most or all of the products that they'll receive!
How does it work? Weeks before your FabFitFun box is packed and shipped, ALL members receive an email letting them know that customization has begun. At this time, you can log into your account, and depending on your membership, you can choose all or most of the items that will come in your box.
Annual Members will get to choose ALL of the products in their box. You will also receive early access when the customization options open!
Seasonal Members will get to choose 3-4 of the products in their box.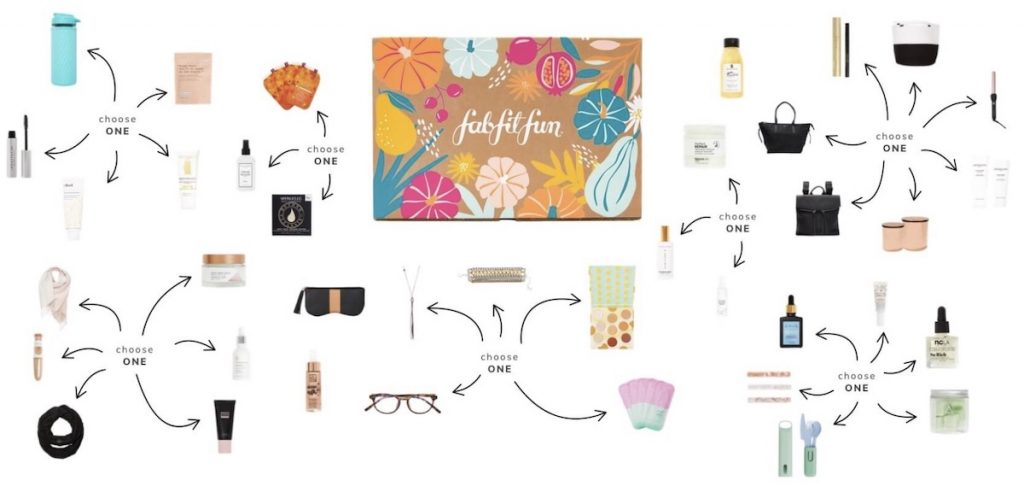 There is also the option to purchase add-on's for your box. If there are extra customization options that you want, you can pay to have them included.
Around the same time as customization, they also open an Add-On shop where can browse their catalog of deeply discounted products that you can add to your box.
FABBITFUN TIP: FabFitFun prioritizes anyone who spends extra cash, so as a Seasonal Member, if you purchase an Add-On, even for just $5, your box will get shipped before all other seasonal membership boxes.
---
FabFitFun Membership Perks
Along with customization, a FabFitFun membership comes with some fun perks!
FabFitFun is more than a subscription, it's a community, and they do their hardest to make you feel a part of it. They want their subscribers to be as involved as possible and do so with features such as customization, add-ons, FabFitFun TV, and more!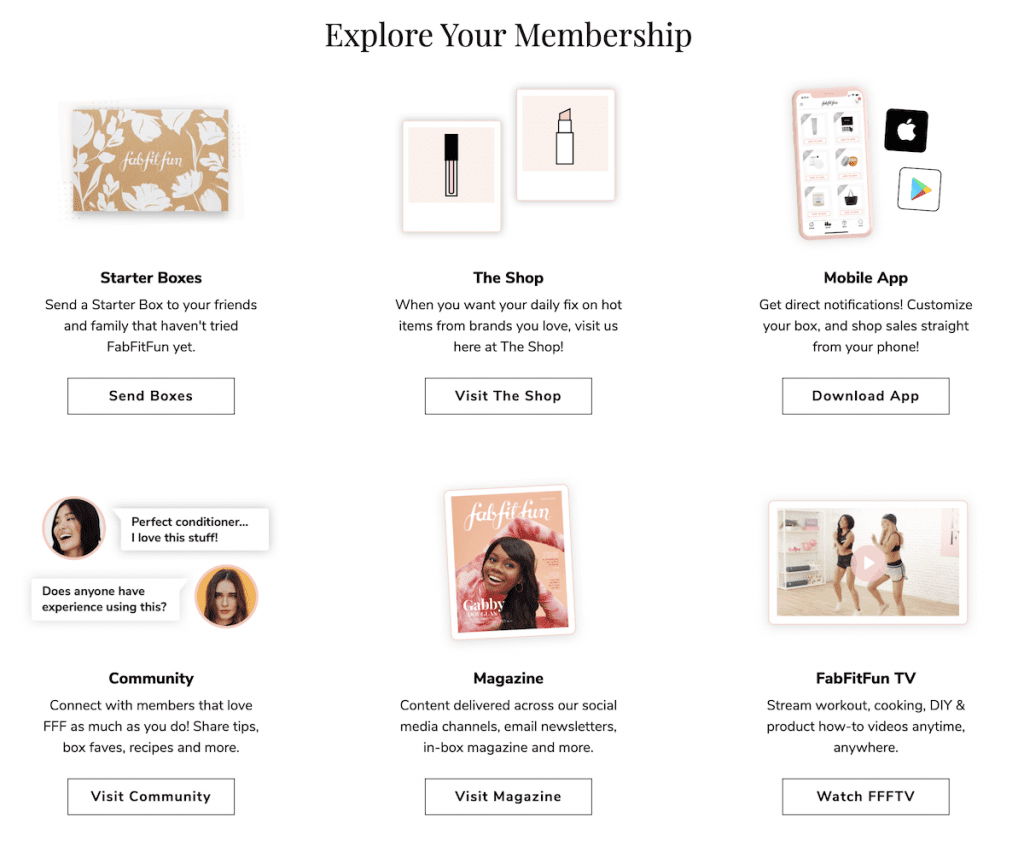 ---
What's Inside A FabFitFun Box?
I'm sure this is the question you've all been dying to know! If you want to see a recent box that I received, check out my unboxing below. Otherwise, you can continue reading!
Each box contains FULL-SIZED products. And not just full-sized, but often high-end products from top brands such as Tarte, Vasanti Cosmetics, dpHUE, Living Proof, NuMe, Maji Sports, and much more.
Considering you get one box person season, the items are usually somewhat seasonal.
For instance, my summer box included an SPF face moisturizer, a waterproof cooler, and beach wave hair spray. Whereas my winter box included a blanket shawl, coffee mug, hydrating lip masks, and more!
FABFITFUN TIP: You might receive items now and then that you don't love or aren't going to use. GIVE THEM AWAY AS GIFTS. People will think you spent way more than you did.
To give you a better idea of what actually comes in a curated box, I've listed out some of my absolute favorite items that I've received below.
Favorite Products I've Received In the Past:
Not to mention, most of the boxes have a retail value of $200-300. Crazy!
---
My Honest FabFitFun Review
Let me start by saying that I've been a FabFitFun member for 6+ years.
Had you asked me a couple of years ago — before customization was a thing — I would have told you to give it a shot, but wasn't over the moon about it.
I always ended up with a few products in every box that weren't my favorite, so while I still enjoyed the box, it wasn't fully serving,
HOWEVER, box customization is a game-changer.
Being able to choose some or all of the items that you receive ensures that you are getting products that you want. Not stuff that's going to sit in a corner collecting dust.
If you're even slightly considering, I would say that it's 100% worth trying!
---
Save $10 On Your First FabFitFun Box
Need that extra little push to get you over the edge?
Follow this link to save $10 on your first box >>
If you hate it, you can always cancel it and come back to tell me how wrong I am, but if you love it, trust me – you'll thank me later!
---
Let's Chat
Leave a comment below and let me know your thoughts on subscription boxes, this FabFitFun review, or the FabFitFun box. Do you love them or hate them? Do you have a favorite box you swear by?
You might also like:

– Beachly Review: Everything To Know About The Beach-Inspired Subscription Box
– Book of the Month: An Honest Review of the Book Subscription Box
– An Honest Review of the BootayBag Panty Subscription